Created: 01-Jul-2020 09:07 - Updated: 08-Dec-2020 15:12
Help file

- Omise Charge Schedules

This is an overview for Members to see how our Quarterly and Monthly Payment Schedules work. Firstly, please contact our staff to agree on the number of Payments that will be best suited for your business.

Once the schedule has been agreed, you will then receive an email, where you can check the details. After checking the details, click on the link in the email which will take you to a page where you can securely enter your Credit Card details.

Note: Our Database does not store any Credit Card information, these details are sent to Omise where they are then linked to the Member via a token which is generated earlier in the process when creating the Charge Schedule.

Note: All the data shown here is Test Data to illustrate the process.

1. As a Member, you will receive an email similar to the following, which shows the full details of your Charge Schedule. At this stage you can now complete the process and register your Credit Card details with Omise.
Providing the details are correct, you can now click the link in the email which will take you to a page where you enter your Credit Card details, as shown in the image below.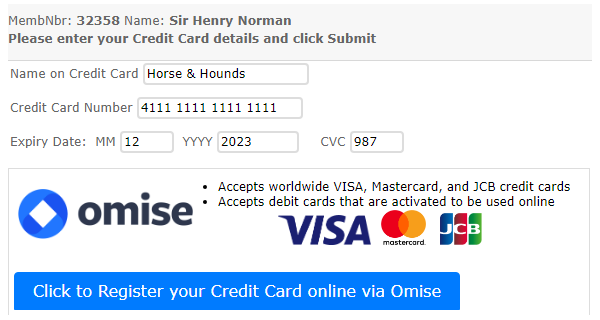 Once the Credit Card details have been entered, clicking the blue button posts the details, at which time the button changes to a green colour with a message confirming that the Credit Card details have been successfully registered at Omise.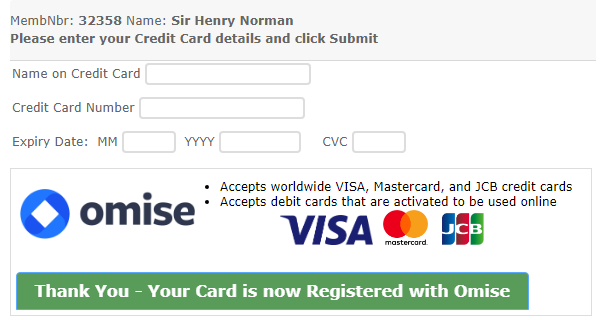 Your Credit Card details are now registered alongside your Member details and the Charge Schedule. The form fields are automatically cleared and the first payment will be made as per the details shown in the email you received.
2. Every month, on the last Thursday of the month, your Credit Card will be charged the amount as set out in the agreed Charge Schedule. As soon as the Credit Card is debited, an email is sent to you, the cardholder, see example below. These monthly payments will continue until the end of the Charge Schedule.