Swissotel Bangkok Ratchada
---
Swissotel Bangkok Ratchada
Unveils 'Goodies To Go' – A Festive Culinary Delight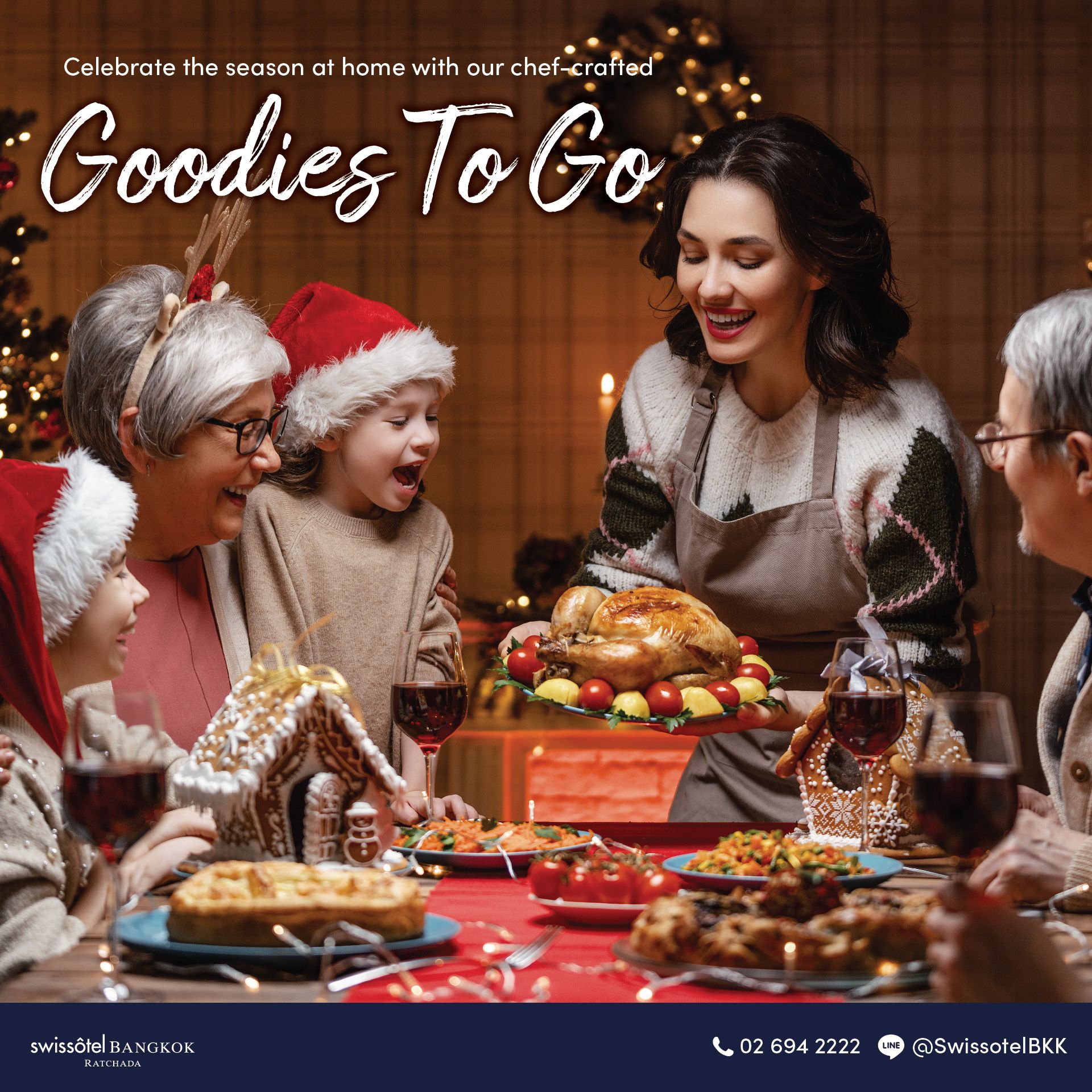 Bangkok, 20 November 2023 – Swissotel Bangkok Ratchada is delighted to announce the launch of its 'Goodies To Go' festive collection, a specially curated selection of gourmet delights perfect for the holiday season. This exclusive range includes both traditional and innovative culinary creations, designed to bring the joy of festive dining to your home.
A Feast of Flavors with Whole and Portion-Served Turkey and Glazed Honey Ham
Our 'Goodies To Go' collection features the classic holiday centerpiece – a whole, succulently roasted turkey, seasoned to perfection and accompanied by an array of delightful side dishes. For smaller gatherings or those preferring individual servings, we also offer portion-served turkey, ensuring everyone can enjoy the festive flavor.
In addition, our Glazed Honey Ham, available as a whole or in portions, is a must-try. This honey-spiced, caramelized ham is accompanied by a selection of sides, creating a perfect balance of sweet and savory.
Bakery Delights: A Sweet Symphony of Festive Treats
Our Bakery Delights are a true testament to the season's spirit, featuring an array of sweet treats including Pumpkin Pie, Pecan Pie, Mince Pie, and the much-loved Christmas Gingerbread. Each item is crafted with care, using only the finest ingredients, to ensure every bite is as delightful as the festive season itself.
Ordering Made Easy
'Goodies To Go' is available for order from now until December 31, 2023. We recommend placing your orders at least 7 days in advance for the Turkey and Glazed Honey Ham, and 3 days in advance for Bakery Delights, with full payment required upon ordering.
Celebrate the Season with Swissotel Bangkok Ratchada
We invite you to bring the magic of the holidays into your home with our 'Goodies To Go'. Whether it's a family gathering, a special gift, or simply indulging in festive flavors, our collection is sure to add a touch of Swissotel elegance to your celebrations.
For more information or to place your order, please visit xxxxxxx or
contact us at 02 694 2222
For more information or reservations, please call
or contact us through Line OA: https://lin.ee/qGVMugr (@SwissotelBKK)