Mazars (Thailand) Ltd.
---
Legal and Taxation Training for Industrial Estate Entrepreneurs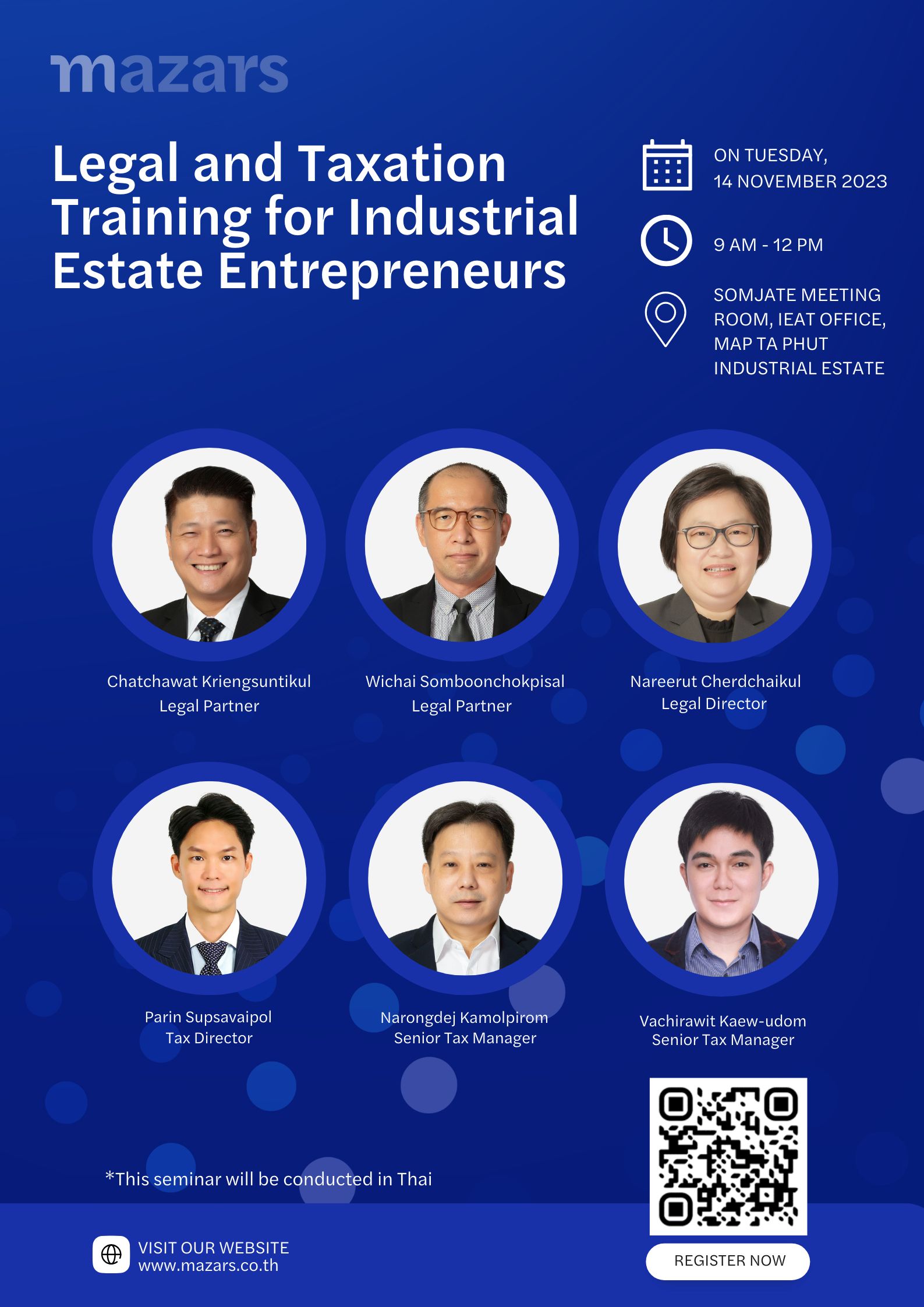 Hosted by: Industrial Estate Authority of Thailand (IEAT) and Mazars (Thailand) Co., Ltd.
Date: Tuesday, 14 November 2023
Time: 9 a.m. to noon
Location: Somjate Meeting Room, IEAT Office, Map Ta Phut Industrial Estate
📚 Join us for an informative event! 📚
Are you an industrial estate entrepreneur in Thailand? Are you looking to enhance your knowledge of legal and taxation matters? The Industrial Estate Authority of Thailand (IEAT) is thrilled to invite you to its exclusive legal and taxation training program, held in collaboration with Mazars (Thailand) Co., Ltd.

Training Topics:
Legal Training:
📜 Reviewing Legal Compliance
🤝 Investment Incentive Measures
🔍 PDPA Policy
⏰ Labor Law Compliance

Taxation Training:
💰 Tax Filing and Cautions
💹 Corporate Income Tax Returns
📊 Tax Adjustments for 2023
📈 Accounting Profit Adjustment
💼 Transfer Pricing
🔍 Tax Audit
** Language: Thai
This event is designed to provide valuable insights for senior and mid-level managers involved in the accounting and taxation aspects of their organizations. Don't miss this opportunity to stay updated on the latest legal and tax regulations that may affect your business!
To confirm your participation, please submit your registration through this link: https://bit.ly/46UlLYp.
Mark your calendar for this essential training event. We look forward to seeing you there!
IEATThailand #MazarsinThailand #LegalTraining #TaxationTraining #IndustrialEstateEntrepreneurs