Bangkok Marriott Marquis Queen's Park
---
Celebrate the Magic of Loy Krathong
on the "River of Kings" at Sirimahannop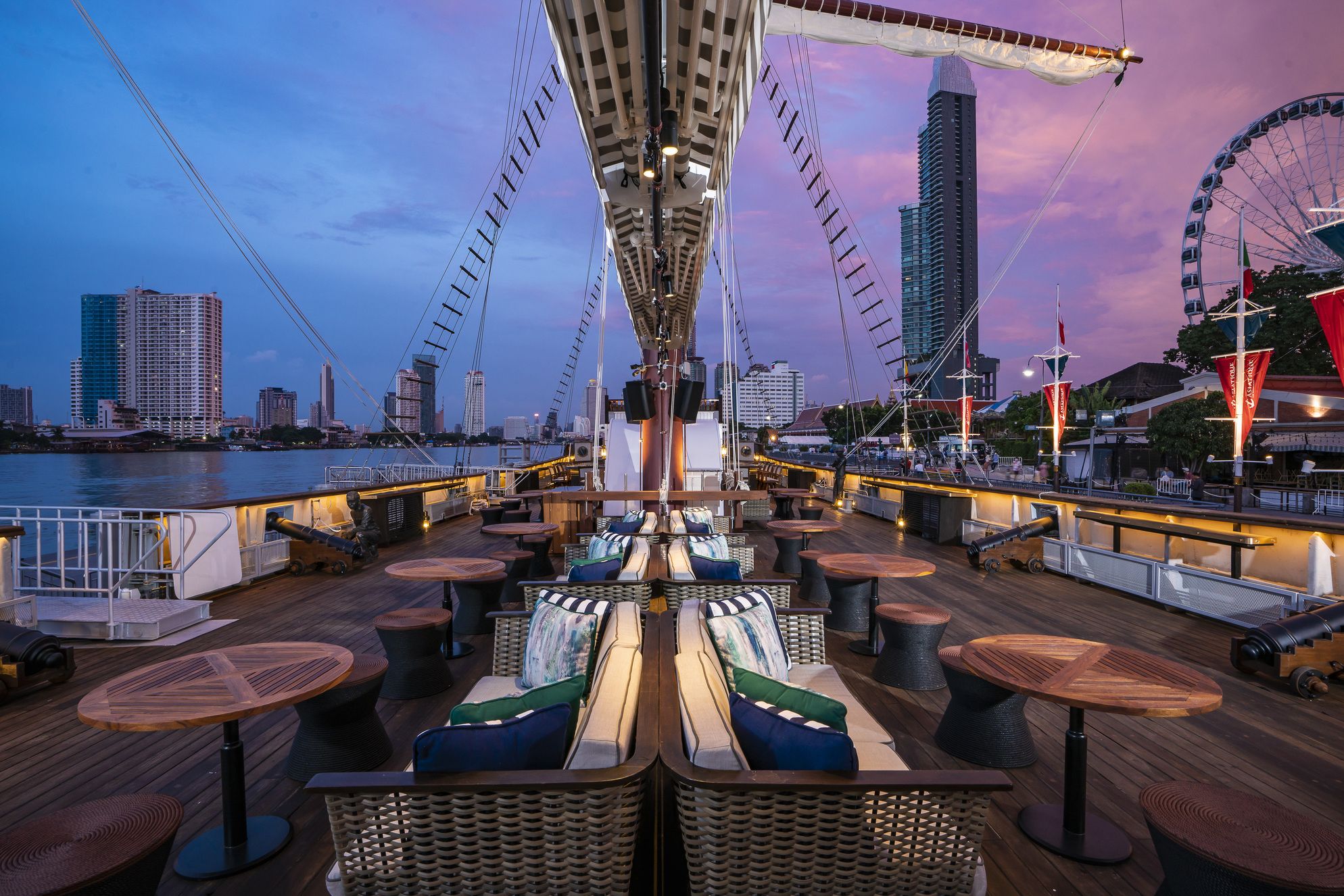 Bangkok, Thailand, 30 October 2023 – Sirimahannop, the reimagined Thai tall ship and refined dining destination at Asiatique The Riverfront, is inviting couples, families and friends to experience an enchanting evening this November as it celebrates Loy Krathong, Thailand's captivating "Festival of Lights" on Bangkok's Chao Phraya River.
Loy Krathong Celebration Dinner
On 27th November 2023, the Loy Krathong Celebration Dinner will showcase a delectable selection of dishes, including the freshest seafood, vibrant live stations and sweet treats, overlooking the glistening "River of Kings." Diners will enjoy a "Sharing On The Table" seafood on ice platter, stacked with freshly-shucked Fine de Claire oysters, succulent tiger prawns and mouth-watering Dutch mussels, accompanied by seafood sauce and pineapple mignonette.
A series of live stations will also be available, as Sirimahannop's talented chefs prepare Thai-style Australian wagyu beef brisket with seasonal vegetables and spicy Thai eggplant guacamole, and spaghetti "pad khee mao talay" with prawns, squid and asari clams, fried together with chili, garlic, holy basil and young peppercorns. Diners can also enjoy handcrafted Vietnamese rice dumplings filled with minced pork, served with carrot pickle and crispy shallots, and baked whole Atlantic halibut with a Thai-inspired galangal and lemongrass crumb, accompanied with coconut velouté and seafood sauce.
And of course, every evening can end on a sweet note with a choice of Thai desserts, including mango sticky rice, red ruby water chestnuts in creamy coconut syrup, and pandan vermicelli in palm sugar and coconut milk.
The Loy Krathong Dinner will be staged for one night only on Monday 27th November 2023 (From 18:00 hrs. onwards), priced at THB 1,499++ per adult and THB 749++ per child (5-12 years old). Every booking receive a complimentary Krathong. Book via https://mtix.me/siri-lkt2023
Loy Krathong Special Cocktails
To enhance the festive spirit, the talented mixologists at Sirimahannop will craft a collection of Loy Krathong Special Cocktails. Discover two tempting options: Wan Phen (which means "full moon"), an enticing concoction of Mekhong Thai whiskey, pineapple juice, apricot liqueur, coconut syrup and lime juice, and Sai Nham ("river water"), which blends vodka, amaretto, lemongrass, blue curacao and lime juice.
The Loy Krathong Special Cocktails can be enjoyed from 24th to 27th November 2023 (16:00 to 23:00 hrs), priced at THB 355++ per glass.
Permanently docked at Asiatique The Riverfront, Sirimahannop transports every guest into a world of heritage and gastronomy. This unique venue is easily accessible by road and river, including shuttle boat services from the pier next to Saphan Taksin BTS skytrain station. So, whether you're seeking after-work drinks, a vibrant night out with friends, a family gathering or a romantic meal, Sirimahannop sets the stage for unforgettable evenings.
For more information and to book your Loy Krathong experience on the "River of Kings", please call +66 (0) 2259 5999 or email restaurant-reservations.bkkqp@marriotthotels.com.
Connect with us via these channels:
Website: www.sirimahannop.com
Facebook: www.facebook.com/sirimahannop
LINE: @Sirimahannop
Instagram: @Sirimahannop