Dusit Thani Pattaya
---
Food for Thought at Dusit Thani Pattaya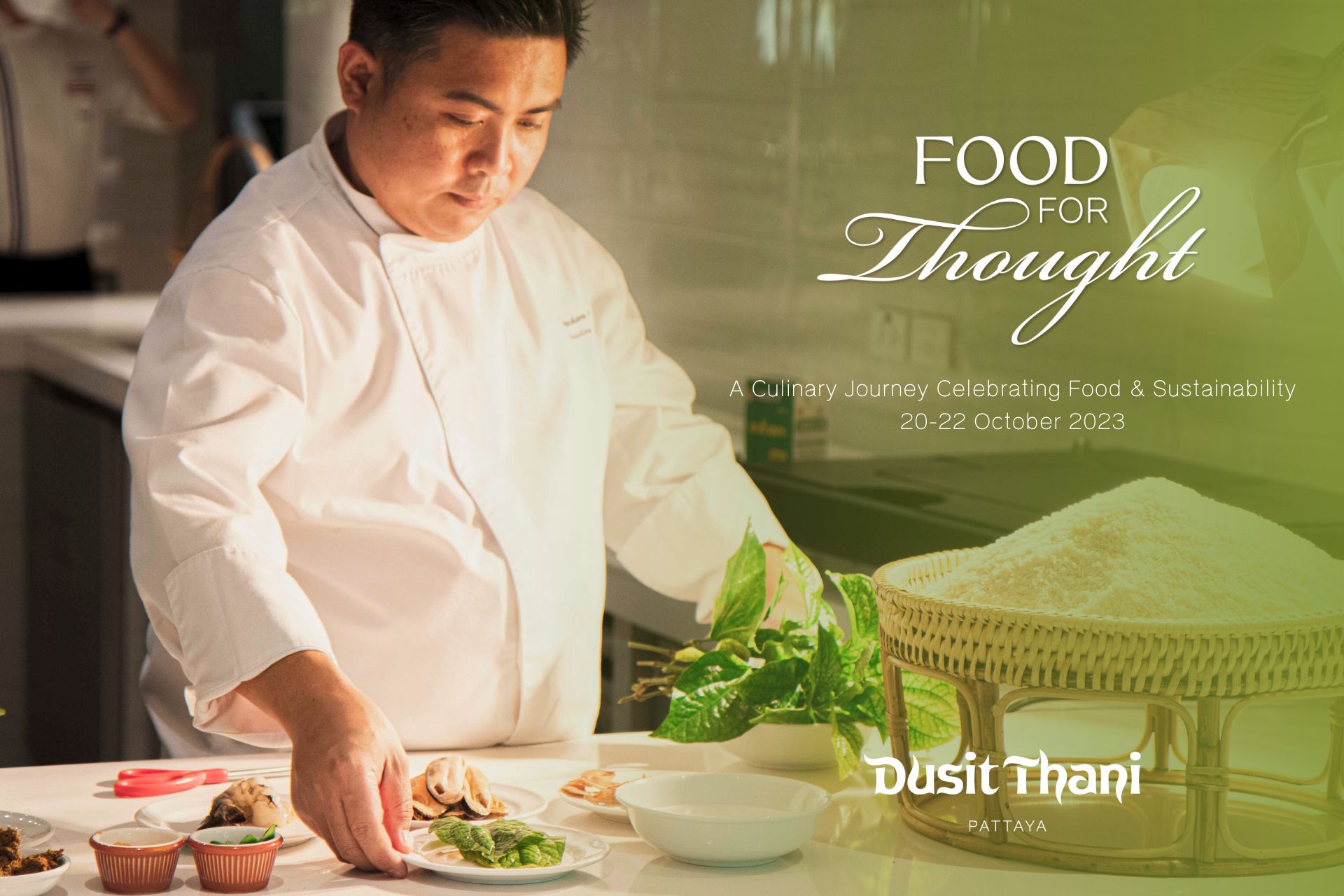 Embark on a gastronomic journey with a heart.
Join us for a Food for Thought experience at Dusit Thani Pattaya.
Pattaya, Thailand – October 2023 – Introducing a one-of-a-kind event that merges the essence of World Food Day and International Chefs Day into a vibrant and engaging celebration of the culinary profession. Our event aims to honour the artistry and skill of chefs worldwide while educating the next generation about healthy food choices and sustainability and making a positive impact on our community.
Join us at Dusit Thani Pattaya for an unprecedented festivity marrying World Food Day and International Chefs Day, celebrating culinary arts while fostering community, nutrition, and sustainability. Immerse in delectable creations, learn from the masters, and be part of the positive change, aligned with our noble values. Come, relish the excellence, and embark on a gastronomic journey with a heart.

20 October 2023, 11:30 – 12:30 hrs.: From Kitchen to Kindness: Specially prepared by our chefs, the charity meals for Anti-Human Trafficking and Child Abuse Center (Baan Kru Ja), spreading the love with us.
20-22 October 2023, 18:00 – 22:00 hrs.: Savour the exquisite dinner buffet of Seafood by The Bay dinner x Authentic Local Feature of Chonburi, showcasing the finest local seafood to delight your culinary journey such as Jang Ron, Pla Kok, Hoy Jor, Khao Larm, Nam Ya Phoo and many more. This special dinner buffet is priced at THB 1,399++ per adult, THB 700++ per child aged 5-11, and free of charge for children under 4.
21 October 2023, 13:00 – 14:00 hrs.: Cook for a cause while creating a delectable meal in our Savouring Sustainability Cooking Class, supporting local Khao-Yai cow milk. The hands-on activities and captivating demonstrations that ignite a passion for cooking, healthy eating, and sustainability. Let your culinary adventures begin. Only at THB 1,000 per person.
World Food Day and International Chefs Day provide a unique opportunity to not only celebrate culinary professionals but also address important societal issues such as food insecurity, nutrition, and community support. Through engaging & interactive activities, we'll showcase the creativity and dedication of these talented professionals. By combining these two occasions, we can create an event that not only showcases the talents of chefs but also makes a positive impact on our society. Come together to celebrate their culinary mastery and the delicious delights they bring to our tables.
For more information and reservations, please call +66 3842 5611 or visit https://www.facebook.com/dusitthanipattaya or direct message to LINE https://lin.ee/XuG8FWea