Chlaad Research & Insights
---
20% Discount for all BCCT members!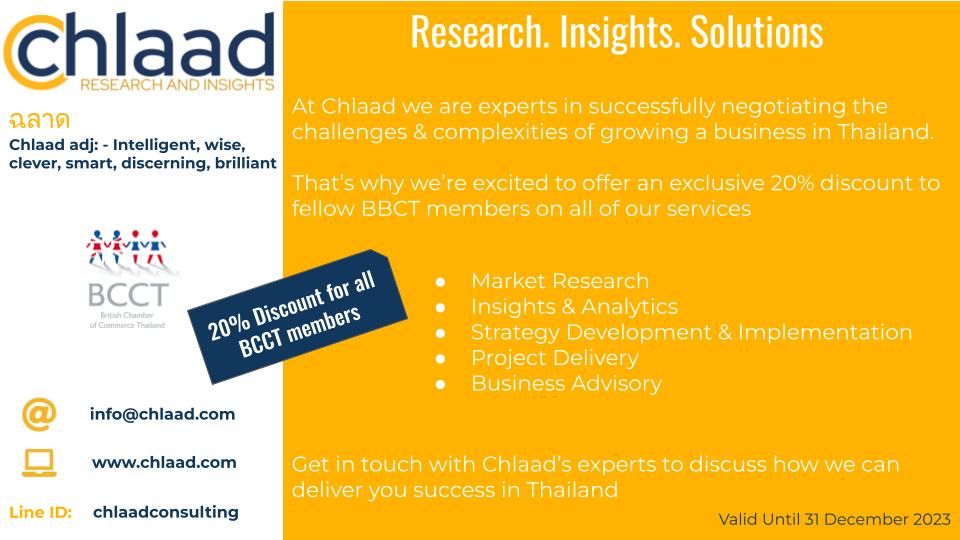 At Chlaad we offer start to finish services for companies looking to grow their business in Thailand; from those thinking of starting out in the country to those already established. We have a great deal of experience in delivering success in Thailand from initial research through to strategy implementation and delivery.
Local Expertise: With a dedicated team of seasoned researchers, project managers and strategists, we possess an in-depth understanding of the Thai market. Our fieldwork and data collection capabilities can be invaluable to your clients seeking to expand into or understand this growing market.
Research Excellence: We take pride in our commitment to delivering high-quality research services. Our methodologies are adaptable and can be customized to suit the unique requirements of each project.
Data-driven Insights: We leverage the latest technologies and analytical tools to provide data-driven insights that empower clients to make informed decisions.
Cultural Sensitivity: Our team's cultural sensitivity and language proficiency ensure that we can navigate the nuances of the Thai market effectively.
Cost Efficiency: Collaborating with us can help your agency access the Thai market without the need for extensive investments in infrastructure or resources.
Broad Range of Skilled Professionals: With bases in both Bangkok and London we boast a diverse team of skilled professionals in a number of areas, including market analysis, visual design, business advisory as well as strategy development and implementation. This diversity of expertise enables us to tackle a wide range of research challenges and deliver comprehensive solutions tailored to clients' needs
We are proud to offer our fellow BCCT members a 20% discount on our services.
Please get in touch to discuss how we can deliver success for you in Thailand and beyond.