Sindhorn Kempinski Hotel Bangkok
---
Sindhorn Kempinski Hotel Bangkok Presents Likay Adaptation of Khun Chang Khun Phaen
Bangkok, 18 September 2023 – Sindhorn Kempinski Hotel Bangkok is proud to present an exclusive Likay performance on 6 October 2023. This one-of-a-kind event aims to celebrate and preserve Thailand's traditional theatrical arts, blending seamlessly with Sindhorn Kempinski's ethos of melding Western luxury and Eastern traditions.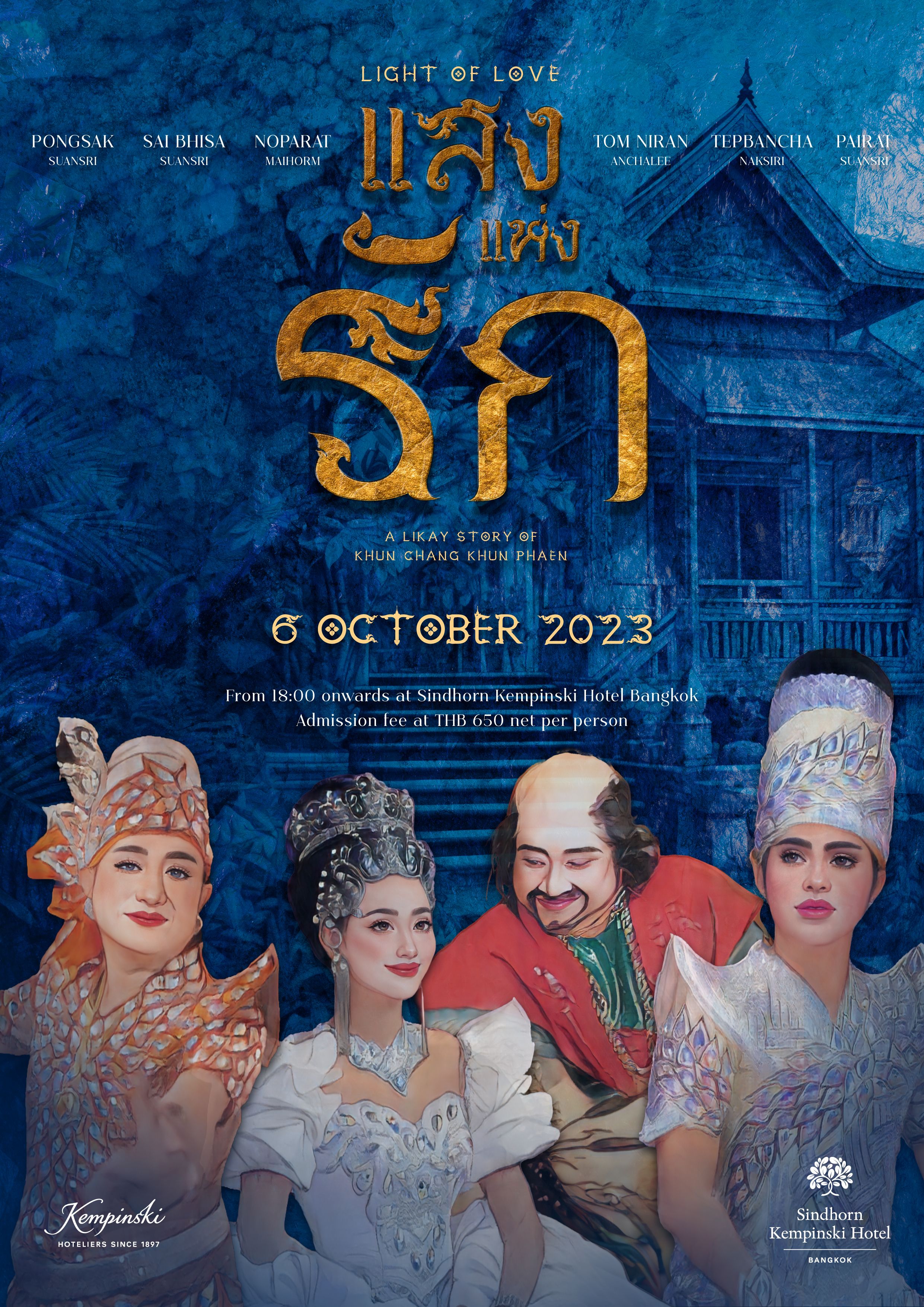 This special evening features a captivating adaptation of the iconic Thai story "Khun Chang Khun Phaen", a tale of love, rivalry, and heroism that has been a pillar of Thai literature and folklore for centuries. The ensemble of talented performers promises to bring the legendary characters to life in a spectacle of drama, dance, and music. The show starts at 18:00, and the ticket price is THB 650 net per person.
Likay, a traditional Thai folk theatre that combines singing, dancing, and comedy, is a popular form of entertainment that has been around for centuries. The story of Khun Chang Khun Phaen revolves around the complex love triangle between two men, Khun Phaen and Khun Chang, who vie for the affections of a beautiful woman named Wanthong. The tale, encompassing themes of love, war, and morality, captures the essence of human relationships and social dynamics, all set against the backdrop of the Ayutthaya period. It's a timeless story that has captured the hearts of the Thai people and visitors to the Kingdom.
Embracing the likay tradition signifies Sindhorn Kempinski Hotel Bangkok's commitment to supporting local culture. "We are thrilled to offer our guests the unique opportunity to experience a classical Thai Likay performance," says Christian Ruge, General Manager of Sindhorn Kempinski Hotel Bangkok. "Our hotel is a sanctuary where Western and Eastern cultures meet. Through events like this, we wish to deepen the understanding and appreciation of Thailand's rich cultural heritage among our diverse clientele."
Don't miss this unforgettable evening that celebrates the art of traditional Thai storytelling. To secure your seat at this exclusive event, contact Sindhorn Kempinski Hotel Bangkok at Tel 02 – 095 – 9999 or visit our website at https://www.kempinski.com/en/sindhorn-hotel