Le Méridien Bangkok
---
EXPERIENCE THE SENSATIONAL VINO VOYAGE WINE EVENT
AT TEMPO, LE MERIDIEN BANGKOK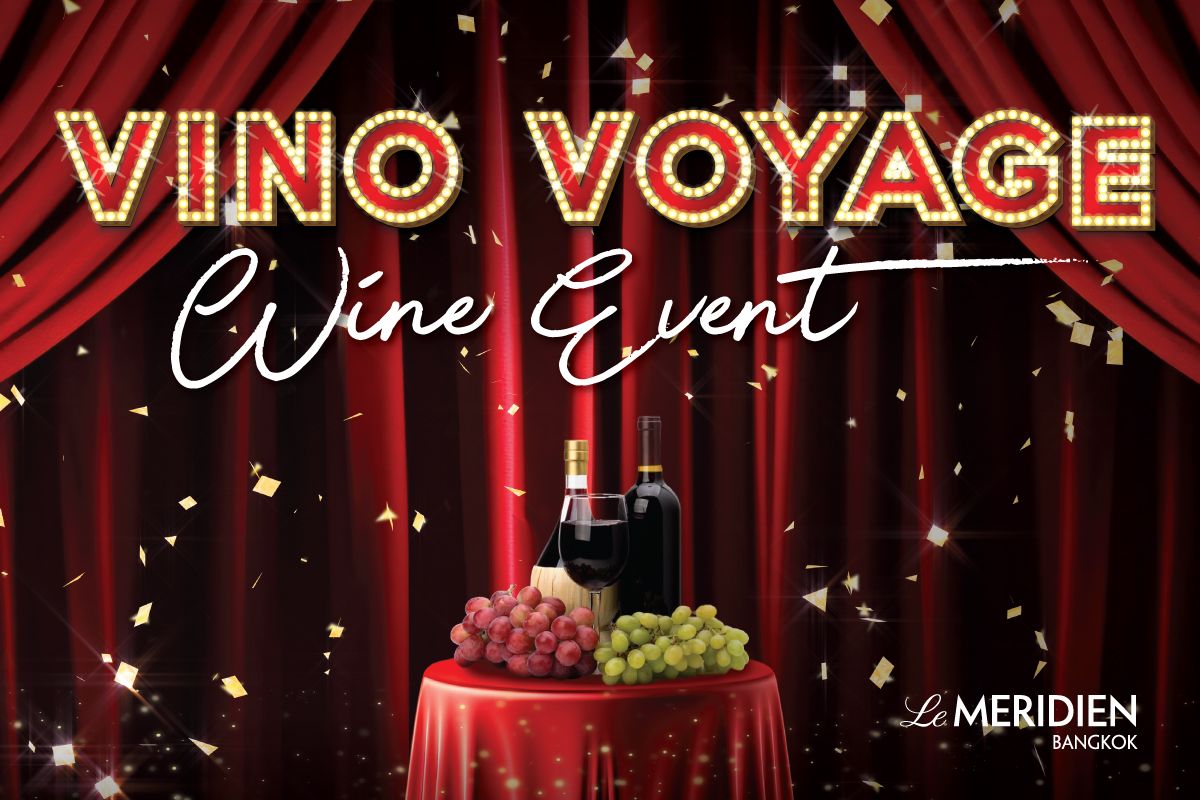 Get ready for an unforgettable evening at the Vino Voyage Wine Event, where elegance and entertainment unite. Join us on 29 September 2023 from 19:00 – 21:00, at Tempo, Le Méridien Bangkok, for an enchanting Moulin Rouge-themed soirée. Price is at THB 1, 299 net/person.
Indulge your senses with a selection of five exquisite Chilean and French wines, expertly paired with five delightful flavours that will transport you to the vineyards of these iconic regions. As you savour the symphony of tastes, the night comes alive with the electrifying beats of a live DJ.
Our wine journey begins with Undurraga, Lazo Sauvignon Blanc from Chile, a wine that delights with fruity and floral aromas and a subtle pale green hue. Paired perfectly with Crêpes Millefeuille, a dish featuring zesty crab, smoked salmon, cayenne mascarpone, and Ikura delight, this combination sets the stage for an evening of culinary and vinous excellence.
Next, immerse yourself in the effervescence of Undurraga, Sparkling Brut, a symphony of Chardonnay and Pinot Noir, paired masterfully with Tuna Tataky, accompanied by crispy Jicama, olive tapenade, and the tropical allure of mango-passionfruit mayo. These pairings are designed to elevate your tasting experience and transport you to the heart of Chile's Central Valley.
Then, journey to France with Tramier Chardonnay Vin de France, revealing a pale gold hue and distinct citrus notes. Paired with Himono Quiche, a melody of broccoli, spinach, and dry-aged grouper steak accompanied by the creamy embrace of Parmesan sauce, this pairing showcases the harmony of French flavors and wines.
Chateau de Tourtes, Le Duo Rouge from Bordeaux, France, takes center stage, offering a symphony of red fruits and a regal purple robe. This wine is a perfect match for Cromesquis, a delightful composition of pork and mushroom cakes elevated by the allure of black truffle spread.
Finally, we conclude with Undurraga Aliwen Reserva Carmenere, a modern elixir from Rapel Valley, Chile. This Carmenere wonder envelops you in freshness and juiciness, silkens with sweet tannins, and offers complexity and elegance. Paired with 'Brasato,' tender braised beef cheek accompanied by soft polenta, it creates a true symphony of flavors.
Seats are limited and available on a first-come, first-served basis. Don't miss this unique fusion of wine, culinary artistry, and music. RSVP today to secure your place at this sensational Vino Voyage Wine Event. Cheers to a night of pure elegance and sensory delight!
For more information and reservations, please contact 02 232 8888 or email service.lmbkk@lemeridien.com
Website: http://www.lemeridienbangkoksurawong.com/
Facebook: https://www.facebook.com/LeMeridienBangkok/
Line: @lemeridienbangkok