Siam Legal (Thailand) Co., Ltd.
---
Up to 50% Off for Legal Services!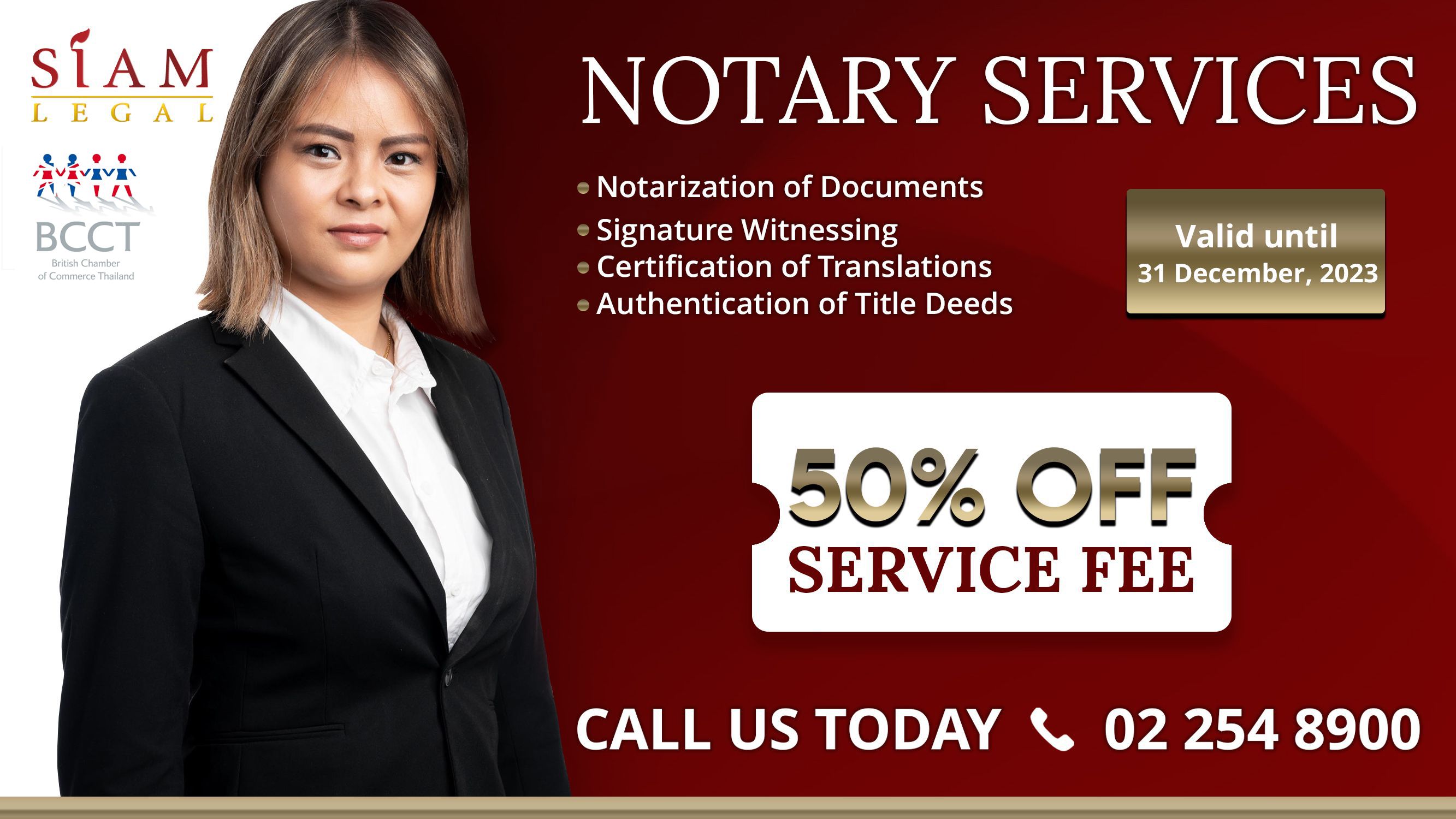 We offer a wide range of notary services to meet your needs as listed below:
Notarization of Personal and Corporate Documents

Signature Witnessing

Certification of Translations

Authentication of Title Deeds
Our experienced team is looking to provide quick and reliable notarization service for all personal and business purposes. Trust us to handle your important legal documents and the best part? Enjoy a whopping and limited-time 50% discount on all our notary services today!

Terms and Conditions: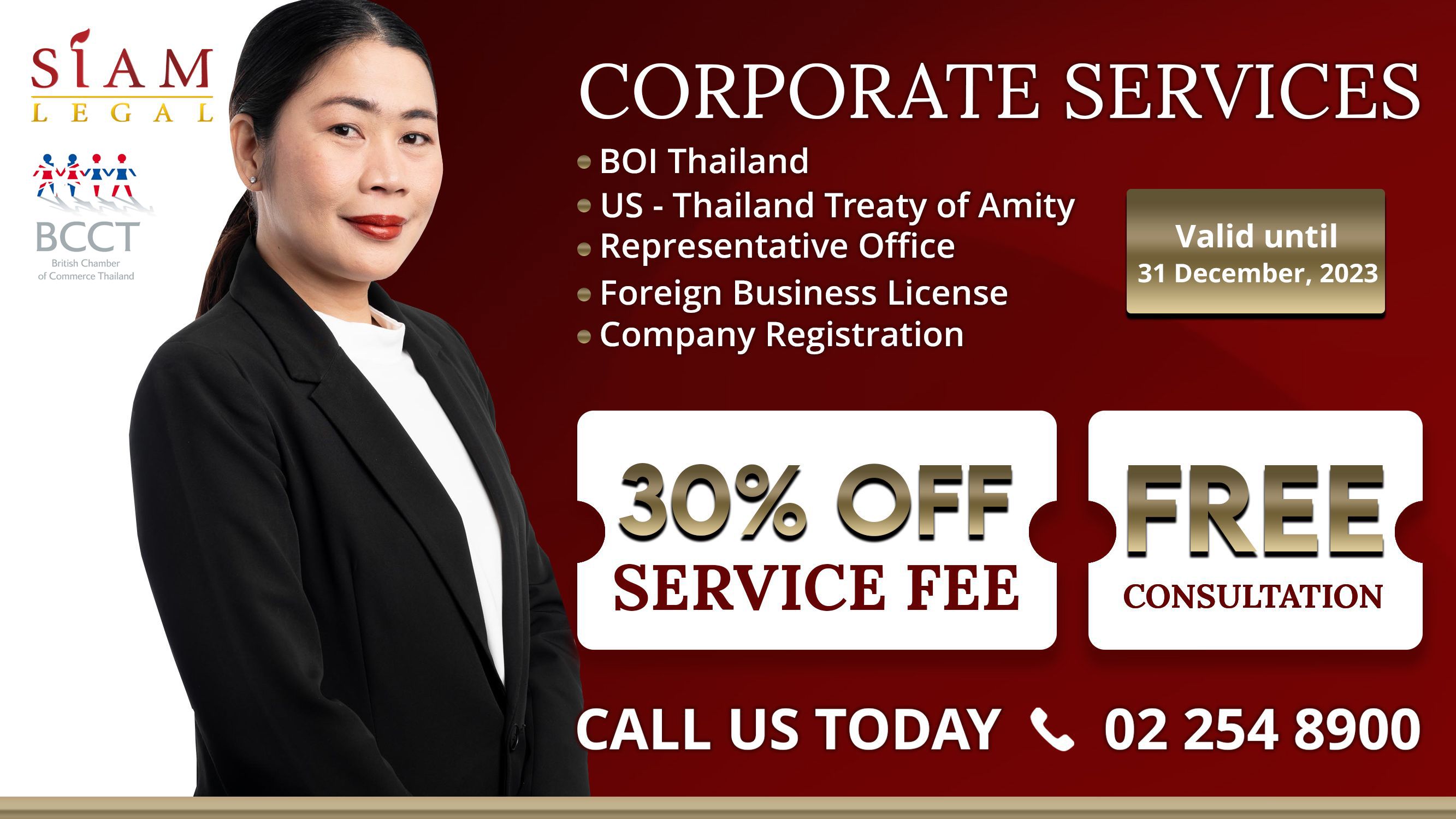 We offer a variety of corporate services as followed:
BOI Thailand Application

US-Thailand Treaty of Amity

Representative Office Registration

Foreign Business License Application

Company Registration (Limited)
Take advantage of our free consultation and business strategy meeting NOW. But wait…there's more! Currently, we are running a promotion with a huge and limited-time 30% off our legal fees. With our 20 years of experience, we are equipped with the experience and expertise necessary to deliver solutions to your corporate needs.
Terms and Conditions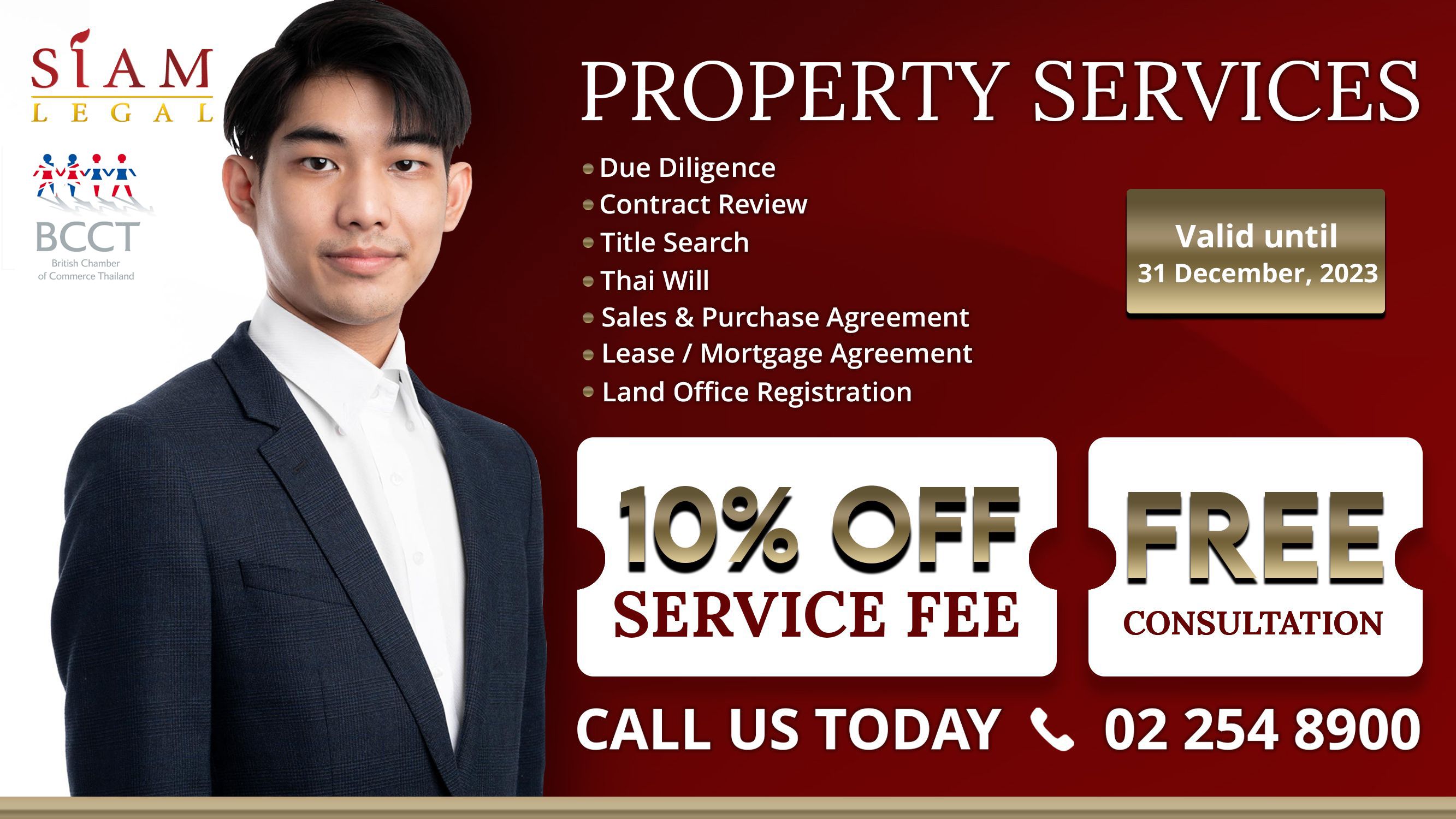 We offer several property services to assist you in various real estate aspects.
Due Diligence

Contract Review

Title Search

Thai Will

Sales & Purchase Agreement

Loan / Mortgage Agreement

Land Office Registration
With our expertise in handling real estate matters, we are confident that you will be satisfied with our comprehensive services. Start today and receive a limited-time offer of 10% discount on ALL property services.
Terms and Conditions
Please note that the BCCT promotions offered by Siam Legal cannot be combined with any other existing promotions or discounts available for our firm on different platforms. All BCCT promotions are only applicable at our Bangkok office.
For More Information
Website: Visit our homepage at https://www.siam-legal.com/, or for specific service:
Email: info@siam-legal.com
Tel: +66 2254 8900
Siam Legal International
18th Fl., Unit 1806 Two Pacific Place, 142 Sukhumvit Rd.
Khlong Toei, Bangkok 10110
About Siam Legal International - Thailand's Premier Law Firm
Siam Legal International offers a broad range of services to cater to the diverse legal needs of our clients. We have got you covered from litigation to corporate to notary to visa matters. At our organization, we combine expertise and experience to form a team of competent professionals at our disposal, ready to serve you. Situated at the heart of Bangkok, on Sukhumvit Rd., our company's prime location allows for convenient accessibility, primarily via the BTS Skytrain. Our office is located at Two Pacific Place, 18th Fl., a few meters walk from Exit 2 of the Nana Station, one station away from the intersecting transport hub of Asoke Station (or Sukhumvit Station if you travel by the MRT).
Siam Legal - "Your Success. Our Commitment."