NES Fircroft (Northern Engineering Services (Thailand) Co, Ltd)
---

Employer of Record Services
NES Fircroft make international expansion simple and hassle free!
What is an Employer of Record (EOR)?
If you are looking to expand your global presence but don't want to go through the lengthy process of setting up new entities, you need a reliable Employer of Record partner.
Do you recognise these hiring challenges?
No locally registered entity
It can be time consuming and expensive to set up local entity, requiring skilled legal and accounting support to ensure compliance. Without the right knowledge, you risk exposing your company to non-compliance with immigration laws.


Local payroll compliance
Compliance with statutory deductions from pay and local currency set up is an important aspect to consider when paying in a new country.


Localisation requirements
Meeting national workforce pressures and gaining strategic visa allocations can be tricky when you first enter a new geography.
Remote working
Remote working can help to reduce overhead costs - but with no local entity to compliantly contract and payroll, this is not easy to achieve.
The key benefits of using an EOR partner.
If you want to enter a country quickly, NES Fircroft's EOR services can help you to get established quickly without the need for your own legal entity.
You can enter a country for a short period of time and use our EOR services to ensure you are compliant, meaning you don't need to set up an infrastructure or commit long term to a presence in region.


Using an EOR partner means you can expand your business without significant overhead costs.
We will assume responsibility for employment issues around payroll, taxation, and compliance, giving you peace of mind and time to focus on seamlessly expanding your business.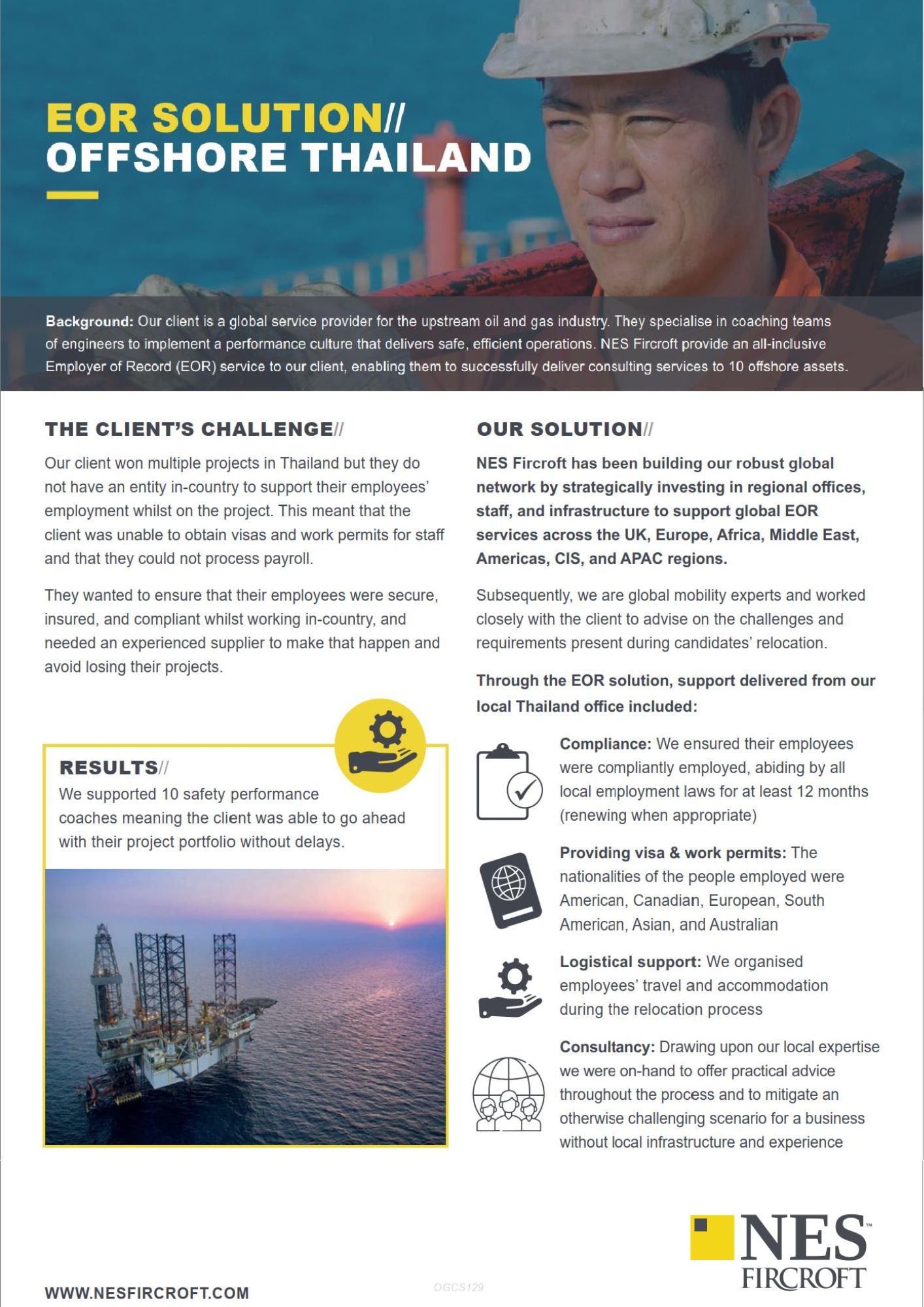 Visit Employer of Record Services | NES Fircroft to find out more about our services.
If you are interested, please contact.
Apsara Saetang
Business Development Executive
Email: apsara.saetang@nesfircroft.com
Phone: 098-269-5216