AstraZeneca (Thailand) Ltd.
---
AstraZeneca trains young peer educators for the fourth consecutive year as support for the Young Health Programme in Thailand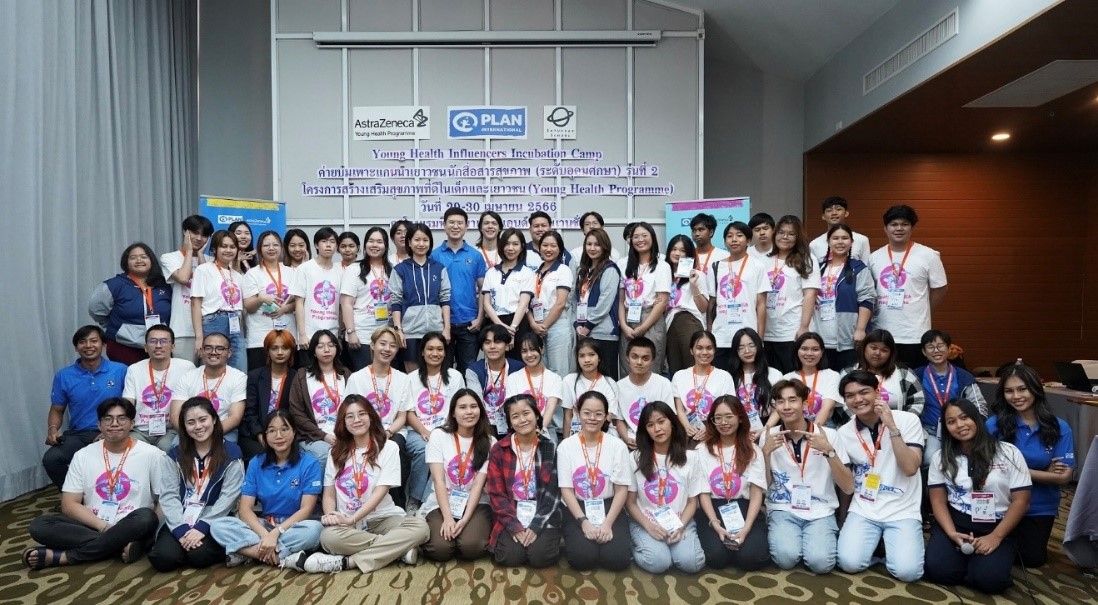 Bangkok - AstraZeneca Thailand underlined its commitment to cultivate knowledge in adolescent health, which will bring significant positive impact in the future, by collaborating with Plan International Thailand for the Young Health Programme (YHP). In its fourth consecutive year, the programme provides education and develops knowledge for Peer Educators to raise awareness on health issues and encourage them to become a voice for the next generation on the risks of non-communicable diseases (NCDs).
The YHP Thailand is part of AstraZeneca's commitment to sustainable healthcare, public health system development, and equitable healthcare access. Beginning in July 2019, the initiatives will last for five years and the current contribution is focusing on enhancing the knowledge of young people aged 10 to 24 about the prevention of non-communicable diseases such as cancer, diabetes, heart disease, and respiratory disease. At the halfway point of its mission, the programme has effectively communicated directly with more than 78,000 young people and community members and reached over 4.8 million indirect beneficiaries socially through social media campaigns.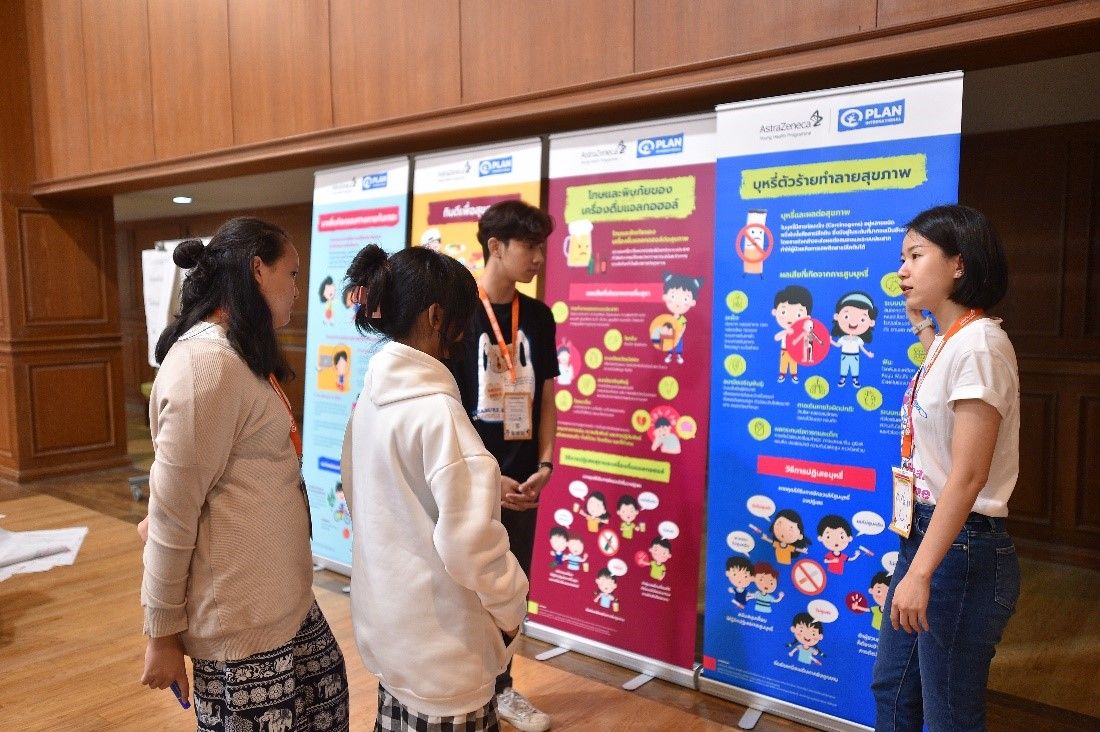 Throughout the programme, AstraZeneca Thailand and Plan International Thailand have continuously organised training sessions and development activities for Peer Educators to enhance their skills in disseminating information about behaviours and self-preventive measures against health problems, such as realising the harmful use of tobacco and alcohol, healthy eating, increase physical activity, and protection from air pollution. Earlier this year, the YHP trained 45 University-level Peer Educators from eight higher education institutions to become 'Young Health Influencers', in addition to establishing a network of more than 170 school student leaders.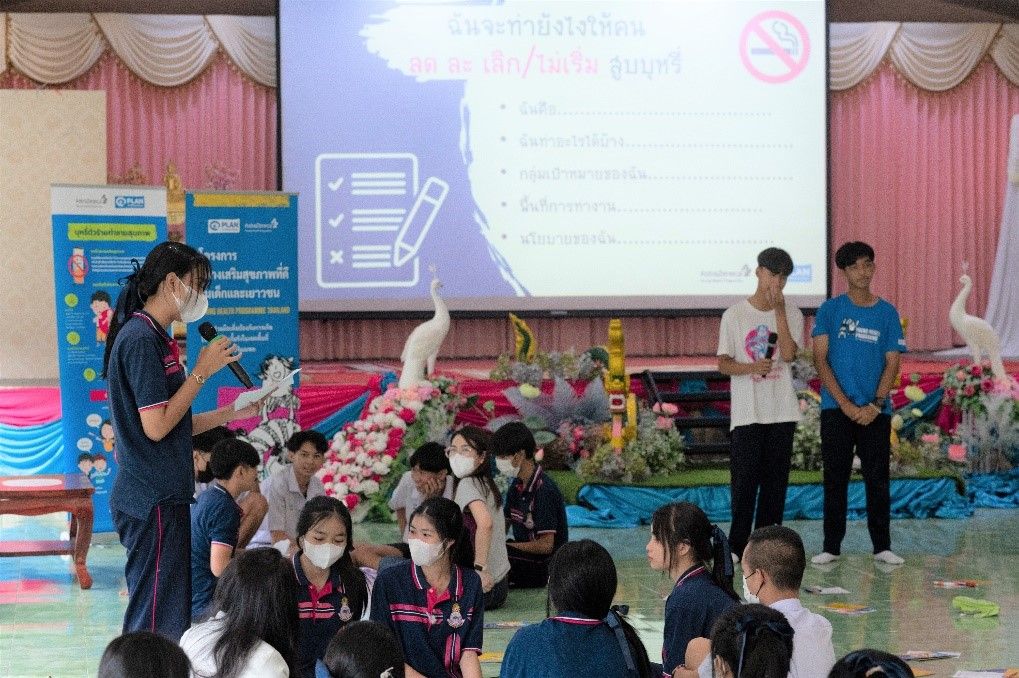 Recently, in observance of 'World No Tobacco Day', the YHP organised a "No Smoking, Reduce NCD Risks" activity for more than 90 students at the Mahaphab Krajadthong U-patum School in the Samut Prakan Province. The workshop was facilitated to raise awareness and improve young people's understanding of the ill-effects of smoking, and the negative impact of both first- and second-hand smoke on health. The students learned that smoking also harms blood vessel linings, which may possibly lead to coronary artery diseases[1]1. Such exposures also raise the risk of contracting other NCDs including lung cancer, respiratory diseases such as; emphysema, cardiovascular diseases, nervous-system issues, malfunctioning of the body, organs and many other health problems.
The YHP in Thailand is committed to increase the knowledge and encourage children and young people to make appropriate health decisions through key educational and inspiring activities on the prevention of NCDs, to maximise their health potential. The ongoing programmes include training sessions to empower Peer Educators to promote health and well-being and help drive public health policy, the creation of monthly campaigns to build knowledge on official health awareness days, trainings on standards for young people and youth-friendly services among healthcare workers and organising seminars on the prevention of NCDs.
To learn more about the Young Health Programme please visit www.younghealthprogrammeyhp.com
###
About AstraZeneca's Young Health Programme
AstraZeneca's Young Health Programme (YHP) is a global programme with a unique focus on young people aged 10 to 24, living in vulnerable environments and under-resourced settings around the world. The YHP aims to prevent the most common non-communicable diseases (NCDs) such as cancer, diabetes, heart disease, respiratory disease, and mental ill health.
Delivered in partnership with Plan International and UNICEF and informed by research from the Johns Hopkins Bloomberg School of Public Health, it has reached more than 30 countries and 12 million youth with information about NCD risk behaviours. The YHP aims to support the development of protective environments and empower young people to make informed choices about their health. A holistic and integrated programme, it combines community programmes, research and advocacy and supports the development of young leaders. The YHP is part of AstraZeneca's sustainability commitment to use our capabilities to make the most meaningful impact where society needs it - health.
To learn more about the Young Health Programme, please visit www.younghealthprogrammeyhp.com
AstraZeneca

AstraZeneca (LSE/STO/Nasdaq: AZN) is a global, science-led biopharmaceutical company that focuses on the discovery, development, and commercialisation of prescription medicines in Oncology, Rare Diseases and BioPharmaceuticals, including Cardiovascular, Renal & Metabolism, and Respiratory & Immunology. Based in Cambridge, UK, AstraZeneca operates in over 100 countries and its innovative medicines are used by millions of patients worldwide. Please visit astrazeneca.com and follow the Company on Twitter @AstraZeneca.
About Plan International Thailand
Plan International is a non-profit organization operating in more than 70 countries worldwide to promote, enhance, and protect children's rights and ensure equality for girls. Plan International Thailand has been working in Thailand since 1981 to help build a just society using a Child Centered Community Development approach that puts children's best interests as its top priority by working with children, young people, public/private partners, communities and families to drive positive changes that further children's rights and gender equality at the local, national and global level. Please visit https://plan-international.org/thailand and follow on Facebook https://www.facebook.com/plan.thailand
Contact
For further details, please contact:
Pucharapan Holim, Corporate Affairs Manager
Email: pucharapan.holim@astrazeneca.com,Tel. +66 (0) 86 999 8587
Krisda Tuprung, Young Health Programme Thailand Manager
Email: krisda.tuprung@plan-international.org, Tel. +66 (0) 94 262 6614
National Statistic Office of Thailand (2017). Thailand Statistic of people who smoke in 2017. Available here: http://www.nso.go.th/sites/2014/Pages/News/2561/N31-08-61-1.aspx