Swissotel Bangkok Ratchada
---
Grand Launch of the "Takumi" Japanese Restaurant New Menu,
Swissôtel Bangkok Ratchada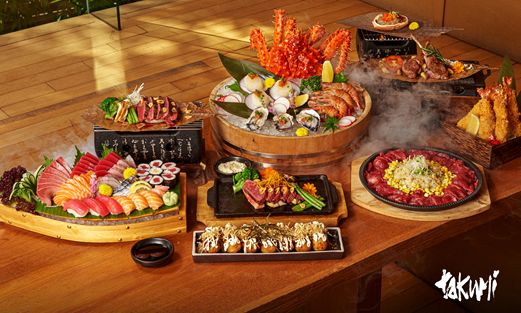 "Takumi" Japanese Restaurant is delighted to announce the highly anticipated grand launching of its new menu, "Hanamatsuri ( 花祭り)" on Friday, July 7, 2023.
More than 110 premium menu items including new signatures such as Shifudo Moriawase, Yakiniku Chahan, Kushi Yaki Oki Sara and more have been meticulously curated by our talented team of chefs, who have crafted a menu that harmonizes the freshest seasonal ingredients from local farmers with exquisite flavours and innovative creative presentation, resulting in an all new dining experience.
The opening ceremony commenced with a mesmerizing set of performances titled "Taiko Drumming and Contemporary Fan Dance," captivating the audience with a harmonious blend of traditional rhythms and contemporary choreography. Then, our chefs presented a visual feast accompanied by storytelling presentations, whereby bring each dish become a visual experience.
All attendees had the opportunity to indulge their taste buds in a tantalizing tasting experience of the new menu with an array of cocktails. "Takumi," showcases the finest flavors and ingredients that Japanese cuisine has to offer.
For more information or reservation, please call 02 694 2222 or Line OA: @swissotelbkk