MedPark Hospital
---
MedPark Hospital Medical Service Support at the Women's Volleyball Nations League, Thailand, 2023 Tournament.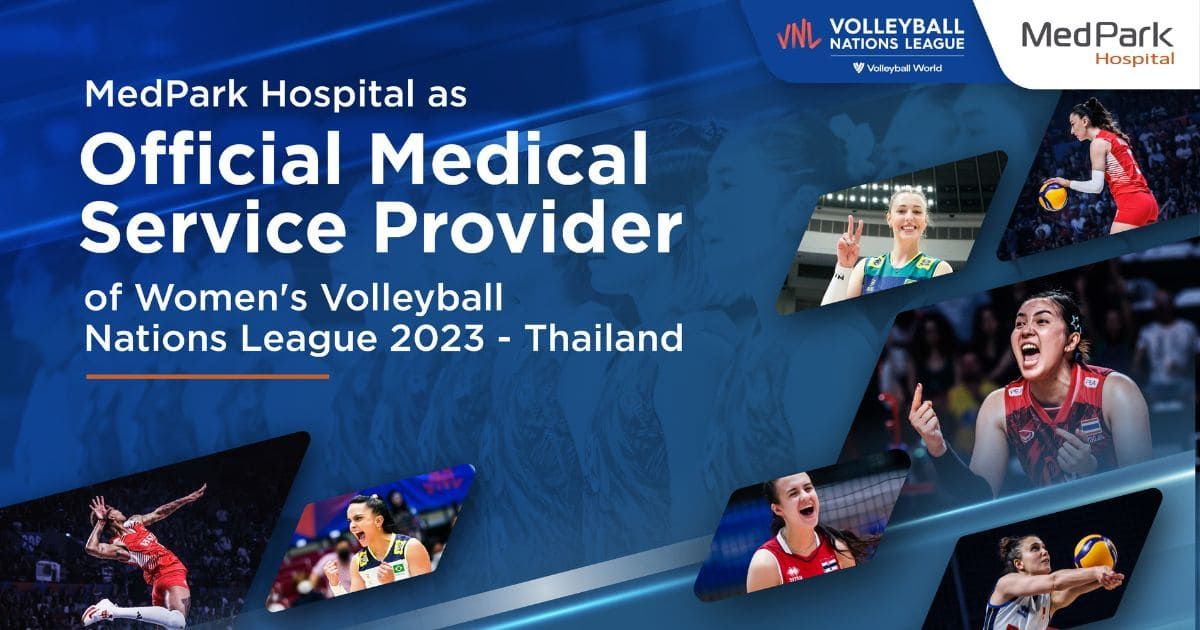 Bangkok – MedPark Hospital is proud to announce its participation in providing comprehensive medical support for the upcoming Women's Volleyball Nations League Tournament.
In support of the Women's Volleyball Nations League Thailand 2023 — an international sporting event — held at the Hua Mark Indoor Stadium from Tuesday, June 27th to Sunday, July 2nd, 2023, MedPark Hospital is honored to be the sole medical provider with a dedicated team of medical professionals, skilled nurses, lifesaving equipment, and emergency ambulance services.
Associate Professor Dr. Pongsak Yuktanandana, head of the medical team, an orthopedic surgeon, and sports medicine specialist, emphasized MedPark Hospital's roles in supporting medical and emergency care for the Women's Volleyball Nations League, an eight-nation international tournament, showcasing the hospital readiness and unwavering commitment to upholding exceptional international patient care standards, on and off the field. This initiative serves as a valuable social contribution by the hospital. As spectators, we recognize that volleyball is a demanding sport that requires peak physical conditioning, dedicated training, resilience, and exceptional teamwork. Considering that many athletes may have sustained previous injuries, it is vital for them to demonstrate perseverance and to provide them with the utmost care to ensure a healthful return to competition. We encourage everyone to zealously enjoy the games and witness the remarkable abilities of the athletes and coaching staff.
The Women's Volleyball Nations League showcases the participation of eight nations: Thailand, Brazil, Canada, Croatia, Italy, Japan, the Netherlands, and Turkey. Additionally, team officials and board members will receive meticulous medical attention, ensuring their peak performance throughout the tournament. MedPark Hospital's esteemed medical professionals, with state-of-the-art medical equipment and emergency ambulances, will be available on site for assistance at the sporting venues throughout the competition. Our dedicated team remains committed to delivering round-the-clock emergency care and responding to any medical contingencies during the athletes' stay at the hotel.
The medical personnel at MedPark Hospital, specializing in sports medicine, provide expert care for sports-related injuries and offer international standard physical rehabilitation. Additionally, our emergency physicians are well-prepared to handle all life-threatening injuries.