CBRE (Thailand) Co., Ltd.
---
CBRE Reveals Positive Signs of Foreign Demand
for Luxury Residences in Thailand with More New Projects Launching This Year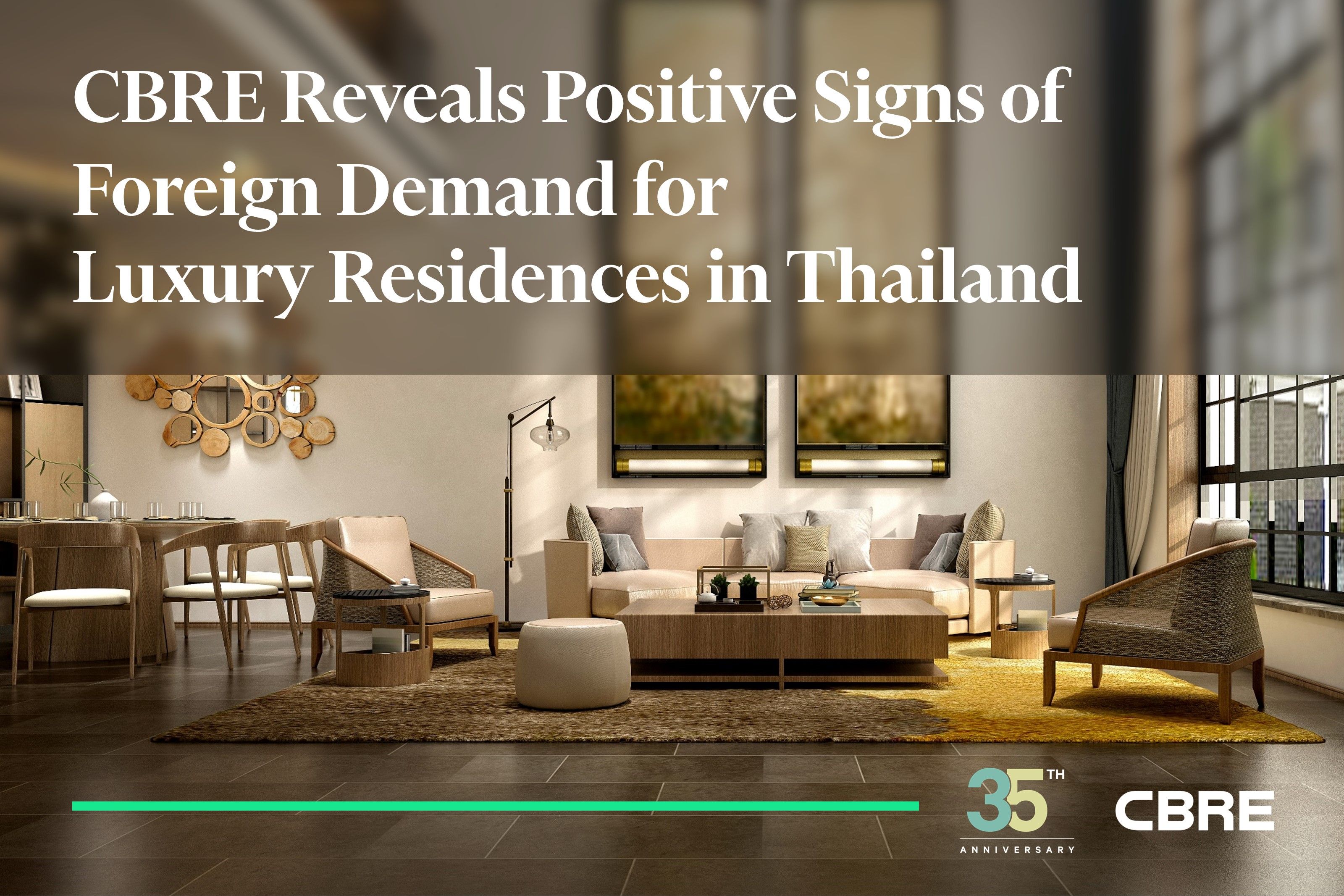 Bangkok – May 17, 2023 – CBRE, the world's leading property consultant, reveals that foreign interest in purchasing luxury residences in Thailand, including condominiums, houses, and villas in prime locations, has surged since the return of international tourists in the second half of 2022. Sales transactions through CBRE have increased by more than 200-300%, confirming this trend. In response to the growing demand, developers are gearing up to launch new luxury and super-luxury residential projects in 2023, with a particular focus on single houses.

Ms. Artitaya Kasemlawan, Head of Residential Sales-Project at CBRE Thailand, stated that "We currently represent almost 30 leading residential projects in Thailand. These projects are under our marketing and sales management and have a combined project value exceeding THB 40 billion. Of these projects, 58% are luxury and super-luxury housing, while luxury condominium projects account for 40%, and villa developments make up the remaining 2%."
CBRE is representing several new projects in the pipeline for launch in 2023, with most being single house developments—a type that remains in high demand. One such project is Nirvana Collection Krungthep Kreetha, which offers large super-luxury single houses with a usable area ranging from 553-1,005 square meters, complete with an elevator and private swimming pool. These houses are priced between THB 80-150 million and are located on New Krungthep Kreetha Road, adjacent to the Nirvana Porch Community Mall.
Arc Sukhumvit 39 is a new super-luxury housing project located in the heart of Sukhumvit 39. This rare location for a house project offers high privacy and exclusivity, with only 12 houses available for sale. These houses have received international design awards and feature large living spaces, 4-5 bedrooms, and parking for 4-6 cars. The houses are priced between THB 65-130 million.
Vi Ari, a new super-luxury single house project, is located in the heart of the Ari neighborhood, a popular destination for city dwellers. Close to Ari BTS station, it offers high privacy with only six houses and prices start at THB 82 million.
Another new project that will be the talk of the town in the single detached house market is Hyde Park Garden. Adjacent to Harrow International School and close to Don Mueang International Airport, this development has a variety of house designs to choose from, catering to the needs of small, medium, and large families with prices ranging from THB 35-80 million.
Mayfield Pinklao is a new premium townhome project that focuses on green open spaces. Located opposite Central Pinklao, it comes with prices of THB 13.9-19.8 million and is set to officially launch soon. One last example in our pipeline is The Aroon II, a premium high-rise condominium project just 100 meters from Bang Khun Non MRT station, a connecting point for three train lines and close to Siriraj Hospital.
New luxury residential projects set to launch this year that are represented by CBRE's Residential Sales - Project team are worth over THB 15 billion in total project value. This is a testament to CBRE's leadership in marketing and sales of residential projects, especially in the luxury market and higher.
Looking at the demand side, foreign travelers returned in significant numbers to Thailand in 2022, with 11.2 million travelers arriving. Of these, 64% came from Asia, 23% Europe, and 5% from North America, followed by the Middle East, Oceania and Africa. This trend indicates a positive impact on the real estate market and is consistent with growing foreign demand for buying residences in Thailand.
Ms. Artitaya stated, "According to the analysis of the projects CBRE represents, most of which are in the luxury market and above, from 2022 to early 2023, 89% were purchased by Thai buyers while 11% were purchased by foreigners. The majority of these foreign buyers looking for condominiums and houses come from Asia, particularly China, Hong Kong, Taiwan, Myanmar, Singapore, and Japan. Meanwhile, most clients interested in buying villas come from Europe, such as Russia, the United Kingdom, France, and Germany."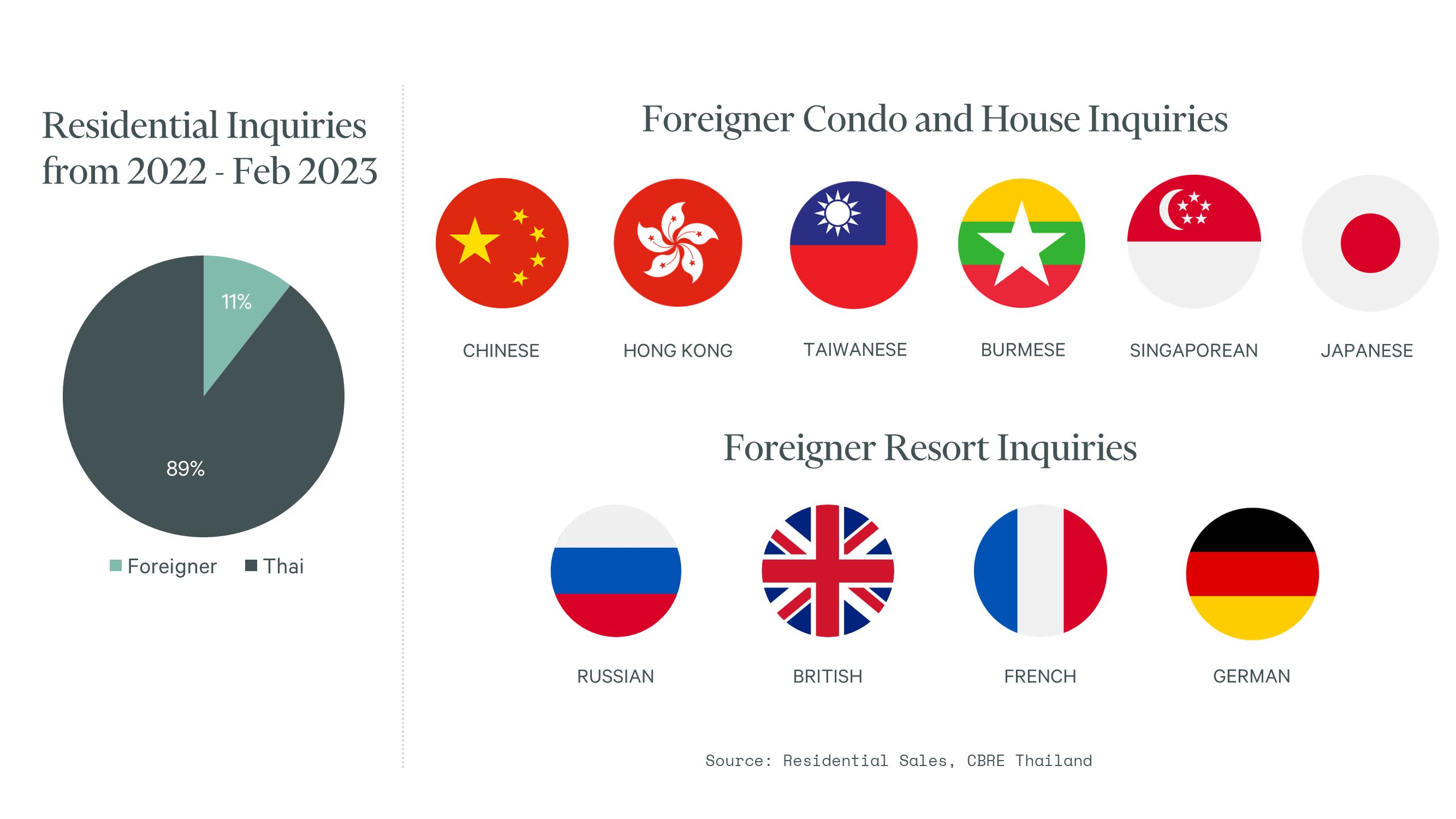 "Furthermore, CBRE found that when compared to residential sales performance in 2021, there was a 383% increase in foreign purchases of condominium projects and a 233% increase in house purchases in 2022. Most of the foreign buyers of housing projects were those who live in Thailand. CBRE also discovered that foreigners have resumed buying villas after a previous hiatus," Ms. Artitaya added.
Delving into the behavior of foreign buyers, CBRE found that they have a relatively high purchasing power. Most foreign buyers have a budget to buy condominiums in the price range of THB 15-30 million. They look for downtown condominiums in Bangkok's business areas such as Silom, Sathorn, Lumpini, Sukhumvit, Pathumwan and the riverside. 87% of this group of buyers purchase properties for their own living.
For housing projects, most foreigners have a purchase budget of THB 51-80 million and prefer locations in eastern Bangkok, downtown, and the eastern suburbs. 85% of these foreigners buy for their own use. Meanwhile, foreign buyers are interested in villas at a price of around THB 15-30 million in sought-after locations such as Phuket and Hua Hin. 71% of them make a purchase for their own living.
Based on CBRE's database focusing on the luxury segment, Chinese buyers remain at the top of the list among foreign buyers in Thailand's real estate market. Most of them look for luxury condominiums with 1-2 bedrooms in the price range of THB 15-30 million in the Silom and Sathorn areas, and mainly purchase these units for their own use. On the other hand, Chinese buyers are interested in 4-bedroom houses in eastern Bangkok, with a budget of THB 30-100 million. Most of them purchase properties for their own living.
Another foreign market that CBRE finds interesting is Myanmar buyers. In the past year, there has been a number of Myanmar purchasers who bought residences with CBRE, priced between THB 5 to over 100 million. These buyers reside in Myanmar, Singapore, and Thailand, with 91% of them intending to buy properties for their own residence. Most Myanmar buyers are interested in luxury 2-bedroom condominiums with a budget of THB 15-30 million and look for properties in the Lumpini and Sukhumvit areas. In the housing market, most Myanmar buyers prefer 4-bedroom houses in the eastern and central Bangkok areas.
Ms. Prakaipeth Meechoosarn, Head of Phuket Property Sales at CBRE Thailand, commented on the Phuket residential market, stating that "The overall sales performance of resort properties through CBRE in 2022 increased by 24% compared to the previous year. The most popular residential properties are villas or resort homes, which saw a sales increase of 69%. Foreign buyers have become more active in the Phuket residential market, while domestic demand remains similar to the previous year. There was a 93% increase in foreign buyers, and this encompassed various nationalities investing in Phuket condominiums, including Russians, Canadians, Italians, French, Chinese, and British."
"Demand in the Phuket villa market remains strong among buyers who are familiar with the island, be it existing buyers from previous projects or friend and family referrals. In terms of nationality, based on our survey in Phuket, Phuket's villa market continues to attract property investors from Russia, China, Italy, the United Kingdom, Germany, Australia, America, India, and Ireland for both end-users and for investment with rental management," added Ms. Prakaipeth.
CBRE believes that the tourism and long-stay market in Thailand in 2023 will become even more active in the second quarter to the fourth quarter. This will continue to have a positive effect on the demand for residences as second homes and investments. CBRE expects demand from foreigners to cover a wide range of market segments and locations including Bangkok and leading resort destinations. This will also create a positive sign in the rental market.
Follow us on
Facebook: CBRE Thailand LINE: @cbrethailand and @cbreland
LinkedIn: CBRE Thailand YouTube: CBRE Thailand
Twitter: CBRE Thailand Spotify: CBRE Thailand
Instagram: CBRE Residential Thailand