Lexicon Business Communications
---
Facebook & TikTok Marketing Trends in Thailand (2023)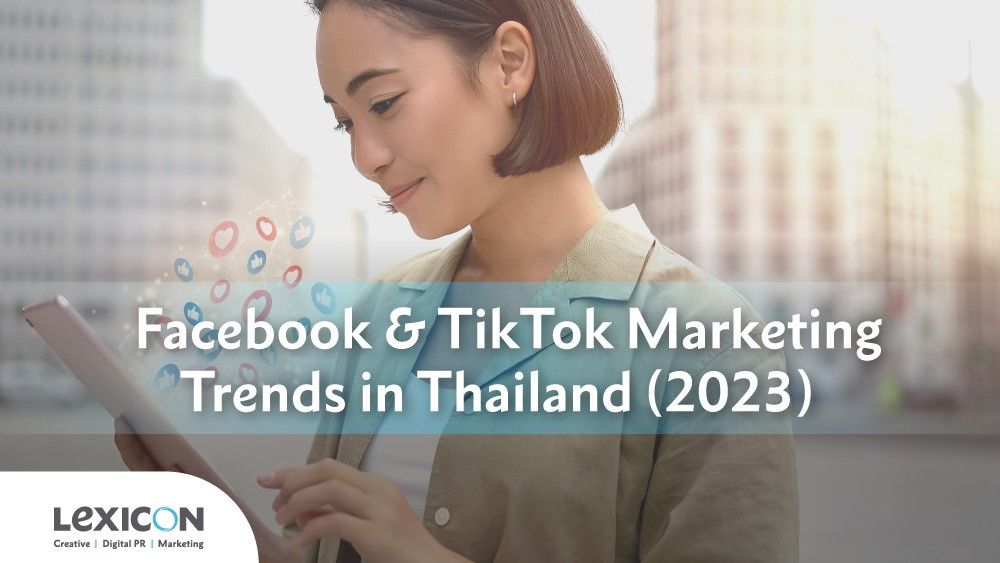 Meta/Facebook trends in Thailand (2023)
Facebook's global reputation for privacy took a serious hit during the 2016 election scandal, and the company has since lost some of its lustre.
Thus, Facebook rebranded as Meta in late 2021. On the basis of its acquisition of Oculus virtual reality technology, the current iteration of the company aims to evolve and take ownership of the Metaverse concept.
As of early 2023, this metaverse expansion strategy had failed. The company recently announced that it will drastically reduce expenditures on the project, which has cost over $100 billion in research and development to date.
The adoption of advertising opt-in privacy rules by Apple and Google has resulted in more bad news for Facebook and Meta. As a result, the company's total ad pool has shrunk, especially when it comes to accessing users' browsing histories and metadata like geolocation.
Furthermore, Meta eliminated many of its most efficient targeting and retargeting options, such as targeting users by nationality and preferred newspaper or TV channels, over privacy concerns.
Despite this, Facebook/Meta social media trends in Thailand 2023 remain an excellent advertising tool for small and medium-sized businesses and business-to-consumer enterprises (B2Cs) seeking to reach out to consumers based on demographics like age and general interests.
From a B2B point of view, advertising options are constrained by the inability to tailor messages to specific audiences based on demographic information like occupation. Nonetheless, Facebook's continued success in Thailand suggests the platform has other uses besides lead generation for B2B companies; for example, internal branding and recruitment.
Notably, the platform throttles organic reach for business pages, with unpaid reach typically averaging below 1%, in an effort to encourage businesses to pay for increased reach through advertising.
Compared to the 69.88 million users recorded in 2021, statistics for Thailand show a decline to the 48.10 million users recorded in Q1 2023. This drastic drop, however, is reflective of a shift in how the company now counts its users. Today, "potential reach of ads" is the primary metric used in calculations, which excludes inactive accounts.
TikTok trends in Thailand (2023)
As of December 2023, 49.3% of Thai social media users regularly access TikTok. This places Thailand at the top of the global market penetration rankings. In addition, this sum is greater than twice the worldwide average.
Thailand's TikTok users are predominantly female and significantly younger than the average user age of any other major platform.
TikTok, however, has one of the highest organic reach percentages (at 118%), making it one of the most popular platforms for video marketing in Thailand. This is great news for small and medium-sized enterprises (SMEs), local businesses, and influencers who can take advantage of the platform's straightforward video format.
However, there may be difficulties in ensuring brand compliance for large-scale B2B organisations. As of the first quarter of 2023, no major global professional services firm was making significant headway in Thailand via TikTok.
The platform has also been the subject of intense political scrutiny, which could pose problems for companies with local interests or operations. TikTok's rapid expansion makes it a platform worth monitoring, but for the time being, the platform isn't optimised for measurable lead generation at the audience demographic level, beyond enabling a simple form completion CTA.
About the Author
David Norcross is CEO & Founder of Lexicon. Thailand's #1 Digital Storytelling agency, which focused on telling impactful stories for brands through video production, animation, social media, branding and websites.
This article is an extract of the white paper Social Media Trends in Thailand 2023, covering all social media platforms in Thailand as well as advice on the best strategies for success with online marketing, especially for the B2B sector. If you'd like a free copy of this 4,500-word white paper, please contact David directly at david@lexiconthai.com