Miskawaan Health Group Limited
---
Free First time Medical Consultation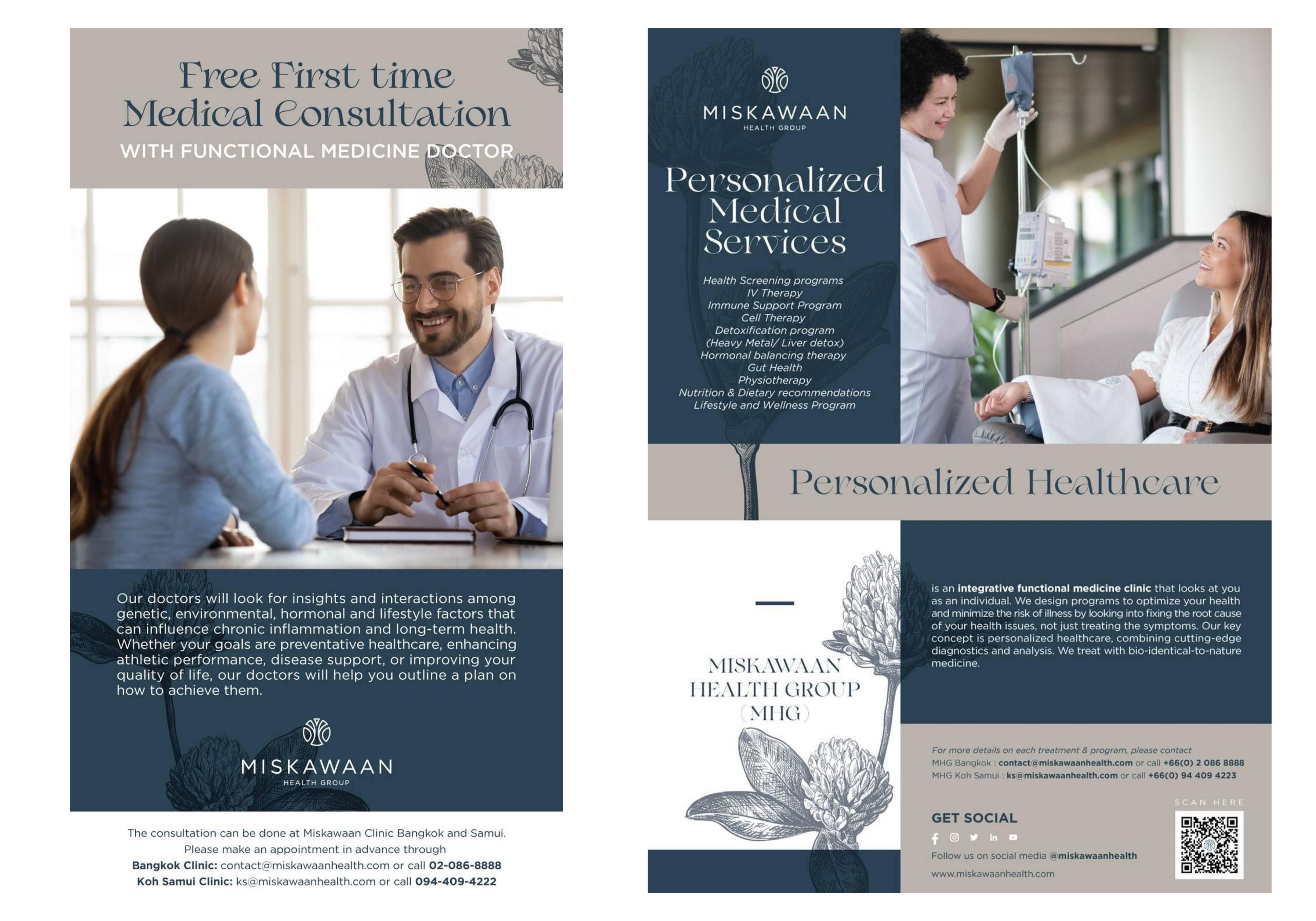 Are you tired of just treating the symptoms of your health issues, rather than addressing the root cause? Do you want a personalized approach to your health that takes into account your lifestyle, environment, and genetics? If so, we invite you to book a first-time free medical consultation with our Functional Medicine doctor at Miskawaan Health Group.
Functional Medicine is a patient-centered approach that addresses the underlying causes of illness, rather than just treating symptoms. Our highly experienced Functional Medicine doctor will work with you to create a personalized treatment plan that focuses on your unique needs, to achieve optimal health and well-being.
At Miskawaan Health Group, we are dedicated to helping you achieve your health goals and live your best life. Don't wait any longer to start your journey towards better health - book your first-time free medical consultation today.
Contact us at 02-086-8888 or contact@miskawaanhealth.com to schedule your appointment. We look forward to hearing from you soon!

#MiskawaanHealth #FunctionalMedicine #PreventiveMedicine #IntegrativeMedicine #MiskawaanBKK #MiskawaanSamui #MiskawaanClinicSamui #Wellbeing #AntiAging #HealthSpan #Wellness
Terms and Conditions:
This voucher can be used only at Miskawaan Bangkok and Samui.
Please make an advance appointment through
Bangkok Clinic: contact@miskawaanhealth.com or call 02-086-8888
Koh Samui Clinic: ks@miskawaanhealth.com or call 094-409-4222
The client will be registered to Loyalty Program (Free) before using the voucher.

Only the original voucher is accepted.

This voucher cannot be redeemed or exchanged for cash, nor is it valid toward a previous purchase.

This voucher cannot be combined with other promotions or discounts.

The voucher is not for sale by a 3rd party.

This voucher is for new customers and for first-time consultations only.

The company reserves the right to amend these conditions without prior notice.