Getty Images Digital (Thailand) Ltd
---
Getty Images Webinar Invitation | 2023 Visual Trends:
Technology – Enabling a Better Future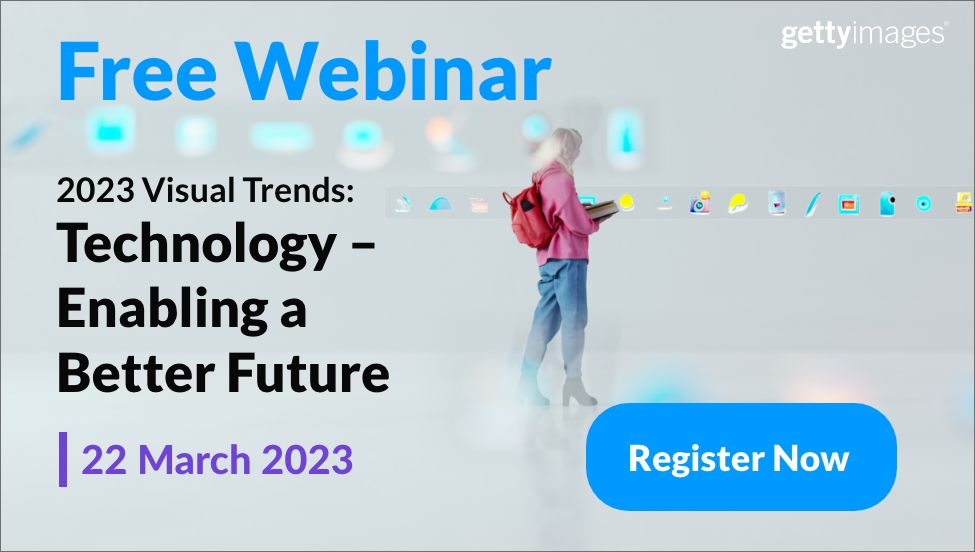 Getty Images is pleased to invite you to our upcoming webinar, 2023 Visual Trends: Technology - Enabling a Better Future. This webinar will provide valuable insights for you and your organization on visual shifts, keyword trends, data and case studies.
Technological evolution is contributing to a positive outlook on the future as people worldwide begin to recover from the pandemic. More than 75% of individuals globally believe that the emergence of a virtual world will create new opportunities for earning money and increase online shopping. However, as virtual worlds become more common, consumers expect a brand to be authentic and transparent in its communication. Does your brand's communication strategy fit your customer's expectations?
The webinar will also explore the importance of driving ethical and inclusive representation in brand communication, what real diversity, equity & inclusion means, how it looks in the real world, and how to connect with your customers in the digital world.
Topics to be explored:
2023 visual trends: what do consumers care about?

The role of businesses

What should emerging technologies look like?

How can you drive inclusive and ethical representation?
Date: 22 March 2023
Singapore l Hong Kong l Malaysia 3-4 pm (GMT+8)

Thailand l Vietnam l Indonesia 2-3 pm (GMT+7)
Speakers:
Kate Rourke, Head of Creative Insights (APAC)

Sharon Lee, Business Development Manager
Webinar language: English
The webinar is free to attend, and we encourage you to share this invitation with your colleagues and industry peers.
Seats are limited, save your spot now by registering at this link: https://engage.gettyimages.com/sea_2023visualtrends-technology-webinar_lp?utm_source=BCCT