Shrewsbury International School Bangkok (Riverside & City Campus)
---
FOBISIA Student Leadership Conference 2023 Hosted
at Shrewsbury International School Bangkok, Riverside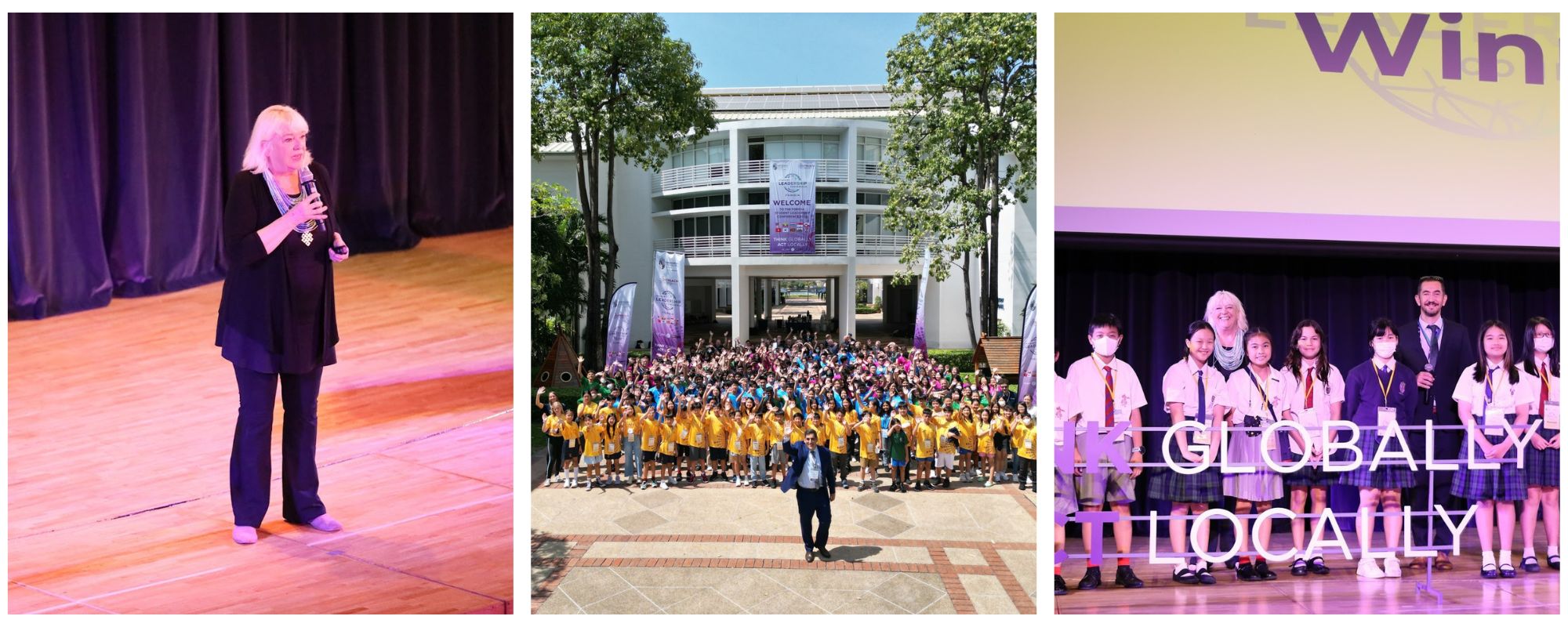 Bangkok, Thailand - Excitement is still in the air after the conclusion of the FOBISIA Student Leadership Conference 2023, where nearly 400 participants, Business Mentors, Race4Good Judges, inspirational speakers, workshop facilitators, and colleagues from 17 schools across 7 Asian countries visited the beautiful Shrewsbury International School Bangkok, Riverside Campus. This year's theme, 'Think Globally, Act Locally', sets the stage for a dynamic and impactful 3-day conference.


The conference began with the Live Race4Good Competition, led in person by the exceptional Linda Cruse and her team on Friday. Then attendees worked through a collection of engaging and thought-provoking discussions, workshops, and skills-building sessions through the "I" and "We" days. The importance of Service Learning, Global Citizenship, Equality, and Diversity is underpinning everything. Inclusive of all aspiring and established student leaders from 10 to 18 years of age. We knew the participants and their coaches and mentors will learn, grow and make new friends.
Seventeen schools joined the conference, some from as far away as South Korea and Sri Lanka! The energy shared between the students was inspirational and infectious. Students were tasked with getting to know and putting themselves in the shoes of the people from Qaanaaq, Greenland - a remote town where residents are known for their perseverance and love of their hometown - regardless of the extreme and unpredictable weather or limited financial resources.


The main message shared between all our speakers was: "leadership has drastically changed and students of this generation will be the leaders of tomorrow" - instilling them with the essential tools that can help them understand and tap into their potential will make all the difference, as we have never needed authentic, collaborative, and empathetic leaders as much as we do right now.


Speakers also touched on areas such as getting to know yourself and finding out who you are and what you stand for, as this is the cornerstone of the type of leader you will become. We are all unique individuals with different strengths, when it comes to leadership - there is no one-size-fits-all approach that will guarantee effective leadership. Coming to terms with your 'gremlins' or the voice of self-doubt and self-sabotage was another popular exercise that students were inspired by and were able to immediately make steps towards becoming the leaders of tomorrow.


The three-day student leadership conference culminated in one-on-one speed coaching sessions with our guest speakers. Giving the chance for students to select or win a coaching session with Linda Cruse, Isabel Valle, Chris Craker, İbrahim Kocagöz, Lisa Tregale, and Dr.Kraiyos Patrawat to name just to name a few. These sessions offered insight, guidance, and inspiration for students to dig deep and ask themselves: what type of leader are they, and what they can do to start becoming the leader they want to be right now? It is the combination of the small and incremental steps that will forge a path for the youth of today to become the leaders of tomorrow.


After the conference on Sunday afternoon, Linda Cruse and Greg Threlfall, Conference Director, inspired the students with their energetic encouragement to "Be the change" they want to see in the world. As they head back to their respective countries and schools, they vow to continue supporting the Qaanaaq community in Greenland and actively combating climate change, while forming new relationships and gaining a deeper understanding of global citizenship. Reunions are already being planned, and progress reporting zoom conferences are scheduled.


Greg Threlfall, from Shrewsbury International School Bangkok Riverside, expressed his pride and gratitude for his team for having designed and hosted such a transformative experience for the students. "The World class line-up of speakers, mentors, and coaches has helped the students view the world from a new perspective, adopt a proactive mindset, and empowered them to discover their identity and principles, which are essential for their future success as leaders and agents of positive change in the world."


John Gwyn Jones CEO of FOBISIA added "The FOBISIA Student Leadership Conference was an outstanding success, where over 400 students, from 17 premier British International schools across 7 countries came together to listen to inspirational leaders and business mentors, participate in challenging leadership activities, and collaborate in solving problems that allowed them to develop their leadership skills with their peers. Congratulations to Shrewsbury International School, Riverside, for being perfect hosts for this wonderful FOBISIA student event"
For further information, please contact:
Shrewsbury International School Bangkok Riverside: Kevin Kenny at tel: 02-675-1409 or email: kevin.k@shrewsbury.ac.th