ManpowerGroup Thailand
---
ManpowerGroup Launches Guide to
2023 Corporate Remunerations in Thailand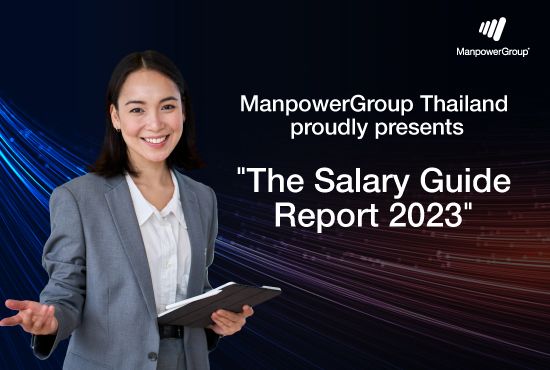 ManpowerGroup, a leading global workforce solutions provider, has issued a new salary guide that enables companies in Thailand to better plan their manpower and manage costs.
The ManpowerGroup Thailand Salary Guide 2023 provides a wealth of information on various dimensions such as job skills, position levels, and current multi-level employment types and provides comprehensive advice to organizations efficiently and accurately.
The release of the report comes in the wake of Thai labor market in 2023 becoming more adaptable and flexible.
There is an increase in short-term employment, particularly outsourced hiring as firms are grappling with workforce deficiency and employment opportunity growth, especially in the IT field, said Ms. Lilly Ngamtrakulpanit, Country Manager of ManpowerGroup Thailand.
This indicates the need for people with diverse skills in order to stay on top of the increasingly competitive labor market with these current trends.
"It is crucial that companies must be able to assess and develop concrete hiring plans and adopt cost control as well," she pointed out.
Pandemic Disruption
As the COVID-19 pandemic has shattered economies and disrupted lives, the workforce market has also been experiencing changes in various areas, triggering a widespread shortage of skilled workers.
It comes despite many organizations having resorted to more flexible employment and greater reliance on technological tools to strike a work-life balance to attract and retain skilled employees.
The recent survey contained in the ManpowerGroup Outlook report has found that global labor turnover rates have skyrocketed in recent years.
Therefore, it is imperative for organizations to be receptive to opinions and offer opportunities for growth in their workplace and avoid employees leaving the office.
ManpowerGroup Thailand Salary Guide 2023 is available at this link https://www.manpowerthailand.com/salary-guide-manpowergroup-thailand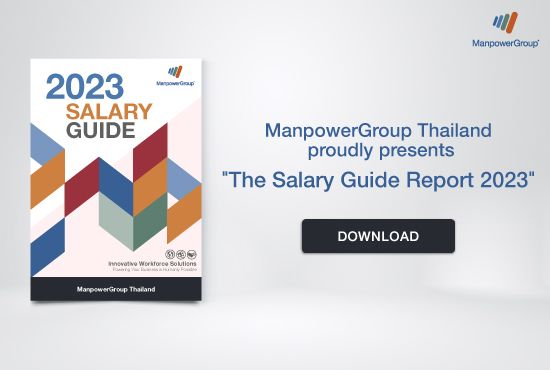 For more information about ManpowerGroup Thailand, go to https://www.manpowerthailand.com or tel. 02 171 2399 and social media platforms.
-----------------------------------------------------
About ManpowerGroup Thailand
ManpowerGroup Thailand is a wholly owned subsidiary of ManpowerGroup. Established in March 1998, it is a leading provider of solutions and insights for a wide range of industries in Thailand. There is a total of 6 offices in Thailand: Silom, Sathorn, Bangna, Cholburi, Songkhla and Lampoon. The company provides an all-encompassing service including Executive Recruitment, Permanent Recruitment, Temporary & Contract Recruitment, Outsourcing, Payroll Outsourcing, Visa & Work Permit, Outplacement as well as Japanese Service.
For more information, please check out www.manpowerthailand.com or call 02 171 2399.
About ManpowerGroup
ManpowerGroup® (NYSE: MAN), the leading global workforce solutions company, helps organizations transform in a fast-changing world of work by sourcing, assessing, developing and managing the talent that enables them to win. We develop innovative solutions for hundreds of thousands of organizations every year, providing them with skilled talent while finding meaningful, sustainable employment for millions of people across a wide range of industries and skills. Our expert family of brands – Manpower, Experis® and Talent Solutions – creates substantially more value for candidates and clients across more than 75 countries and territories and has done so for over 70 years. We are recognized consistently for our diversity - as a best place to work for Women, Inclusion, Equality and Disability and in 2022 ManpowerGroup was named one of the World's Most Ethical Companies for the 13th year - all confirming our position as the brand of choice for in-demand talent. For more information, visit www.manpowergroup.com.