Bangkok Marriott Marquis Queen's Park
---
Indulge in the World's Finest Oysters
at Goji Kitchen + Bar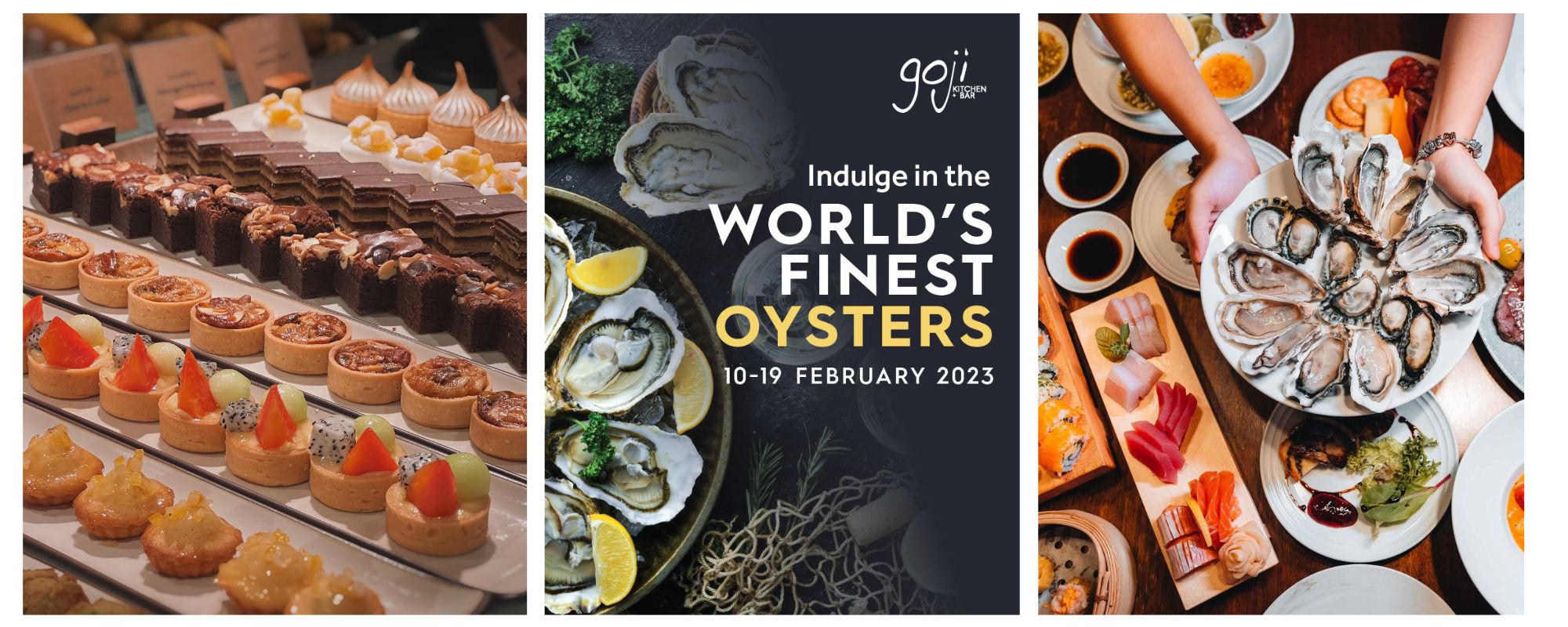 Bangkok, Thailand, 2 February 2023 – Goji Kitchen + Bar, the international culinary marketplace at Bangkok Marriott Marquis Queen's Park, is inviting guests to savor the ocean-fresh flavor of premium oysters this February, with an exclusive partnership and promotion.
Presenting the finest oysters from La Famille Boutrais, which owns five oyster farms in France and Ireland. Founded by Pascal Boutrais in 1960 in the historic French port city of Saint Malo, this family-run business is inspired by its passion for the sea and high-quality marine produce. The hotel work closely with Thammachart seafood to bring in the freshest oyster to your palette.
Following in the footsteps of his father, Hugo Boutrais now uses generations of traditional French knowhow and expertise to source some of the world's the finest oysters, which it supplies to fine-dining restaurants and five-star hotels all around the world.
From 10-19 February 2023, guests and local residents in Bangkok can discover the distinctive flavor of imported oysters, highlight including Ostra Regal, Celine, Contesse, Cuvèe Prestige, Sentinelle, Poget and Zuewesse – along with two local varieties from Chonburi and Rayong. These oceanic delicacies will be freshly-shucked by our talented team of chefs and served with a series of classic and locally-inspired condiments.
Oysters are famously considered to be an aphrodisiac in many parts of the world, and this promotion has been timed to coincide with Valentine's Day! So, whether you are seeking a romantic evening with your partner or you simply love the fresh flavor of this sublime shellfish, Goji Kitchen + Bar is the perfect place to dine this February.
In an exclusive event on Saturday 11 February 2023, guests are invited to join an "Oyster Master Class" with Hugo Boutrais, owner of La Famille Boutrais. This one-of-a-kind session will give seafood lovers the chance to meet and chat with Hugo, and learn how to professionally "shuck" (open and prepare) the oysters, followed by dinner buffet at Goji Kitchen + Bar. Limited places available so please book as soon as possible!
Oysters from La Famille Boutrais will be exclusively available in every weekday and weekend buffet lunch, dinner and brunch at Goji Kitchen + Bar throughout the promotional period (The promotion is not applicable on 14 February 2023)
Monday – Thursday Dinner | 17.30 – 22.00 hrs | THB 1,698++ per person

Friday – Sunday Dinner | 17.30 – 22.00 hrs | THB 2,299++ per person

Saturday Lunch | 12.00 – 14.30 hrs | THB 2,299++ per person

Sunday Brunch | 12.00 – 14.30 hrs | THB 2,600++ per person
Marriott Bonvoy and Club Marriott discounts apply. For more information and reservations, please call +66 (0) 2 059 5999 email restaurant-reservations.bkkqp@marriotthotels.com
Or connect with us via these channels:
Website https://www.gojikitchenbangkok.com
Facebook https://www.facebook.com/GojiKitchenAndBar/
Line @gojikitchenbar
###
About Thammachart Seafood
With our vision to create healthy lifestyle community through healthy eating, Thammachart Seafood endeavors to source its fish and seafood from sustainable well-managed fisheries and responsibly farmed aquaculture operations around the world. We work closely with our suppliers to ensure our seafood is traceable back to source whether wild caught or farmed.
Thammachart Seafood Retail Co Ltd was founded in July 2007 to offer retailers in Thailand with a dedicated and professional management for their seafood department. Working with leading retailers, we operate more than 200+ locations nationwide. To complement our retail business, Thammachart Seafood owns and operates 20 branches of Food and Beverage brands including 80'below, The Dock Seafood Bar, the Lobster Lab, and Ocean Bar by Thammachart Seafood located in Central Eatery.
Thammachart Seafood also provides its quality seafood to Food Service sector servicing high-end hotels, independent eateries, and Michelin-starred restaurants. The business also has its own online e-commerce presence.
About Bangkok Marriott Marquis Queens Park Hotel
The largest hotel in Bangkok and the first Marriott Marquis hotel in Asia Pacific, Bangkok Marriott Marquis Queen's Park is a landmark in heart of the Thai capital. The hotel offers extensive facilities, including 1,388 rooms and suites, over 5,000m² of function space across more than 30 venues, two swimming pools, 24-hour fitness center, the Quan Spa and a collection of restaurants and bars. Centrally located on Sukhumvit Road, in Bangkok's vibrant business and entertainment district, the hotel is the perfect choice for all travelers to this pulsating city.