Bangkok Marriott Marquis Queen's Park
---
Ring in the Holiday Season on Bangkok's "River of Kings" with an Exclusive Festive Dishes and Heritage Countdown Party at Sirimahannop
Bangkok, Thailand, 16 November 2022 – The end of the year is fast approaching, so make sure you celebrate in style! Sirimahannop, the reimagined Thai tall ship and refined dining destination, is inviting guests and local residents to ring in the holiday season with a festive feast and with a heritage New Year dinner and party on the Chao Phraya, Thailand's iconic "River of Kings".
From 20th to 30th December 2022, the talented chefs at Sirimahannop will be serving up a luxurious selection of à la carte dishes, crafted using the finest ingredients from around the world. Choose from a sumptuous seafood tower for THB 3,250++ (featuring fresh lobster, oysters, scallops, and tiger prawns), grilled whole Boston lobster for THB 3,388++, a platter of Sturia Oscietra caviar for THB 2,500++, pan-fried wagyu striploin steak (MB 6-7) for THB 2,899++ and an indulgent chocolate Christmas pudding for THB 290++. Reserve via http://sevn.ly/xDrcA3NK
Then on 31st December 2022, gather your family and friends and step onboard Sirimahannop, which is docked at Asiatique The Riverfront. As the sun sets on Bangkok for the last time this year, guests will be treated to free-flow beverages on the glamorous upper deck from 18:00 hrs. Celebrate the night with a delectable dinner including fantastic live food stations with an "East Meets West" theme – reflecting Sirimahannop's journeys between Asia and Europe and the exotic ports-of-call en route such as Oscietra Caviar, various kinds of fresh oysters, or grilled half Boston Lobster and more from 19:00 hrs! With a live DJ spinning upbeat tunes and a spectacular fireworks display as the clock turns to midnight, this is the perfect place to party like it's 2023!
A series of packages are available:
The Last Night Package for minimum two guests at individual table in the Upper Deck starts from THB 12,000 net per person, including food, two welcome cocktails, free-flow beer, white wine, red wine, sparkling wine and spirits

Sail Into New Year Package for up to six guests at The Bridge & Hidden Rum Bar is available for THB 120,000 net, including food, soft drinks, free-flow beer, white wine, red wine, sparkling wine, premium spirits and two bottles of Champagne.

Party Like It's 2023! Package for up to 20 guests at the Stern is available for THB 280,000 net, including food, soft drinks, free-flow beer, white wine, red wine, sparkling wine, premium spirits, four bottles of Champagne and personalized service.
For full details of packages, please call 02 059 5999 or email sirimahannop@marriott.com.
*Advanced booking and full prepayment are required via https://mtix.me/enpressrelease
For other festive promotions at Bangkok Marriott Marquis Queen's Park, please visit website https://bit.ly/3gaqVKv.
Connect with us via these channels:
Website: www.sirimahannop.com
Facebook: www.facebook.com/sirimahannop
LINE: @Sirimahannop
Instagram: @Sirimahannop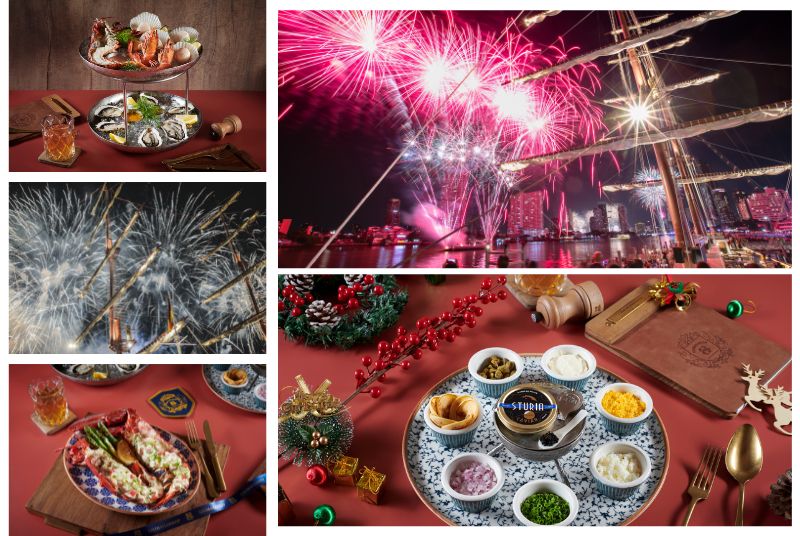 ###
About Sirimahannop
Sirimahannop is a replica of a Royal Thai navy ship, the last three-masted sailing ship used by The Royal Thai Navy, during the reign of King Rama V (1868-1910). The vessel played an important role in transporting teak wood and other goods to be sold in Europe; upon return, carrying coal to Bangkok. It was also one of six ships that protected the Thai capital from invasion in the Franco-Siamese War in 1893. The captain of Sirimahannop during the trading era was Hans Niels Andersen, who was also the founder of the East Asiatic Trading Company. With Sirimahannop having been fully completed, this glorious ship is now permanently docked at the company's historic headquarters in the heart of Bangkok, at Asiatique The Riverfront.
About Bangkok Marriott Marquis Queens Park Hotel
The largest hotel in Bangkok and the first Marriott Marquis hotel in Asia Pacific, Bangkok Marriott Marquis Queen's Park is a landmark in heart of the Thai capital. The hotel offers extensive facilities, including 1,388 rooms and suites, over 5,000m² of function space across more than 30 venues, two swimming pools, 24-hour fitness center, the Quan Spa and a collection of restaurants and bars. Centrally located on Sukhumvit Road, in Bangkok's vibrant business and entertainment district, the hotel is the perfect choice for all travelers to this pulsating city.