English

Honorary Advisors
---
Khun Arnop Phorndhiti
Khun Arnop Phorndhiti, Chairman of the Executive Committee, MSIG Insurance (Thailand) Co., Ltd.
Arnop Phorndhiti has over 40 years' professional experience in the general insurance industry.
He was appointed head of Thai operations of a leading British non-life insurer in 1988 following his return from secondment in the UK.
Arnop is well known and respected in the insurance community in Thailand and is currently the Chairman of the Executive Committee of MSIG Insurance (Thailand) Co., Ltd.
Khun Chainarong Indharameesup
Khun Chainarong Indharameesup, Chairman, Boyden Associates (Thailand) Ltd.
Chainarong Indharameesup received his Master of Public Administration degree from National Institute of Development Administrator (NIDA), Thailand, then continued his studies in Executive Programs at John F. Kennedy School of Government, Harvard University.
Previously he was the Audit Committee Chairman of the National Scientific Research Institute of Thailand. He also held positions on the Audit Committee at King Prajadhipok's Institute, and Executive Committee of The International Institute for Trade and Development. He was also an adviser to the Prime Minister of Thailand.
He is now Chairman of Boyden Associates (Thailand) Co., Ltd. and CSN Associates Co. Ltd.
Mr. David John Armstrong
Mr. David John Armstrong
Date of birth: November 25, 1947
Career
1969: Editor, Tharunka (student newspaper)
1969-75: General and political reporter in Sydney and Canberra, The Australian
1975-76: Government and private public relations
1976-80: Features writer, The Bulletin (national news-magazine)
1980-83: News editor; Deputy Editor, The Australian
1983-85: Senior feature writer; Deputy Editor, The Bulletin
1985-86: Editor, The Bulletin
1987-89: Special Political Reporter; Deputy Editor, Sydney Daily Telegraph
1989: Deputy Editor, The Australian
1989-92: Editor, The Australian
1992-93: Editor, the Canberra Times
1993-96: Editor, Editor-in-Chief, South China Morning Post, Hong Kong
1996-2002: Editor-in-Chief, The Australian
2002-03: Senior corporate executive, News Limited
2003-05: Group Editor-in-Chief, South China Morning Post
2005-06: Director, Editorial, South China Morning Post Publishers Ltd, and Deputy Chief Executive Officer, Post Publishing PCL
2006-09: President & Chief Operating Officer, Post Publishing;
Member, Executive Committee of the Board of Post Publishing;
Director, Hachette Filipacchi-Post (now Post International Magazines)
2009-2011 Adviser to President and Chief Operating Officer, Post Publishing
2010-2012: Chairman, Post Media Ltd, Phnom Penh.
Other
2003: Awarded the Australian Government Centenary Medal for services to journalism and the newspaper industry
2006: Founding Member, Asia Board, International News Media Association
2007: Passed, with credit, the Thailand Institute of Directors' "Directors Certification Program". The certificate is recognized by the Australian Institute of Company Directors
2009-10 Director, Australian-Thai Chamber of Commerce
Mr. Graham Macdonald MBE
Mr. Graham Macdonald MBE
Present
Managing Director - Aegis International Ltd (start date: January 2016)
Chairman - Macallan Insurance Brokers (start date: January 2016)
Chairman - The Cairn Advisory (start date: June 2020)
Chairman - GAT Food & Liquor (start date: November 2020)
Consultant - CtrlS Cloud4 (start date: June 2021)
Honorary Adviser to South African embassy in Bangkok (start date: December 2016)
Honorary Adviser to Rugby School Thailand (start date: January 2017)
Business – Past
Plant manager - Pioneer Concrete (UK) Ltd: 1983-1985
Sales Manager - Shire Group: 1985-1989
UK Sales Manager - Rentokil OMM: 1989-1994
MD of MBMG Group - co-founder: 1995-2016
Vice Chairman of 'World of Wine' (company gave all profits to charitable causes): 2004-2014
Regional Business Adviser - MitonOptimal Group: 2016-2017
Senior Adviser - PKF International: 2018-2022
Chambers of Commerce + South African Embassy
Founding Chairman of the British Chamber of Commerce Thailand (BCCT) - Eastern Seaboard in 1997
Director on the main BCCT Board: 1998-2012
Vice Chairman of BCCT: 2005-2010
BCCT Chairman in 2010. Re-elected in January 2011 and retired in 2012
Director of Board of Trade of Thailand: 2011-2015; 2020-2022
Chairman of South African Thai Chamber of Commerce (SATCC) - first person to be head of two foreign chambers: 2012-2016; 2020-2022
Appointed as Honorary Adviser to BCCT and SATCC in November 2016
Honorary Consul Designate for Republic of South Africa to the Eastern Seaboard of Thailand (2016-2020)
Media
A writer for various newspapers, magazines and journals based in Thailand
Regular appearances on local and national television: 1997-2016
Nominated for the Lorenzo Natali Prize for journalism. This award was created by the EU in 1992 and is for, "Excellence in reporting on human rights and democracy in the developing world."
Charity
President of 'Care for Kids': 1998-2010
Secretary of The Lighthouse Club - Eastern Seaboard: 2006-2007
Chairman of BCCT Charity Group: 2009-2012
President of the Royal British Legion (RBL) Thailand which also helps the Thai Veterans Assoc. and their local hospitals: 2009 – 2017
Committee member of BCTFN - a.k.a. Ploenchit Fair charity organisation: 2012-2014. Re-appointed January 2017 – 2019
Honorary Adviser to English for All - founded by Korn Chatikanavij, Thailand's ex-Finance Minister, to expand English in Thai schools: 2016-
Personal
Born in Birmingham, England on 25th June 1959
Educated at Repton School and graduated from University of Bradford
Awarded MBE, by H.M. Queen Elizabeth II, in New Year's Honours list 2012, "for services to British business interests in Thailand."
Conferred with the inaugural 'International Personality of the Year' award, in 2016, by International Investment Magazine
In 2018, received the highest award bestowed by the RBL, the Gold Badge, which is given for "meritorious and conspicuous service."
Recreation: Vice Chairman of Pattaya Cricket Club. A supporter of Pattaya Panthers Rugby Club, this follows from being a member of both Wasps and Moseley Rugby Clubs when in the UK. Other interests - History, Literature, Classical Music, Travel and Movies
Mr. James Pitchon
Mr. James Pitchon
James Pitchon MRICS is now retired and just an amateur observer of the Thai property market and urban environment.
He trained as Chartered Surveyor and had a 32 years career with CBRE, the world's largest commercial real estate services and investment firm, in Hong Kong, China and for the last 30 years based in Bangkok.
He was also a founding partner in CBRE's Vietnam and Cambodian operations.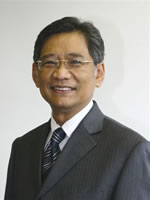 Khun Kitti Wasinondh
Khun Kitti Wasinondh
Date of birth: November 23, 1951
Career (Thai diplomat)
1978-79: Attaché then Third Secretary Southeast Asia Division, Department of Political Affairs Ministry of Foreign Affairs
1982-85: Third Secretary then Second Secretary, Belgrade
1986-87: Department of Economic Affairs: Second Secretary then First Secretary, Chief of GAAT Section, Division of International Economic Affairs
1988-90: seconded to Royal Thai Army
1991: Chief of Secretariat then Chief, Division of Economic Relations
1993: Minister Counsellor, Brussels
1997: Director, Commerce and Industry Division, Department of Association of Southeast Asian Nations Affairs
1998: Deputy Director-General, Department of Information
1999: Deputy Director-General, Department of East Asian Affairs
2000: Consul-General, Sydney
2002: Director-General, Department of Association of Southeast Asian Nations Affairs
2006: Director-General, Department of Information
2007: Ambassador Extraordinary and Plenipotentiary to the Court of St James
2012: retired from diplomatic service
2005: awarded Knight Grand Cordon (Special Class) of the Most Noble Order of the Crown of Thailand
2010: awarded Knight Grand Cordon of the Exalted Order of the White Elephant
Mr. Steve Golsby
Mr. Steve Golsby
Steve has a wealth of knowledge of operating internationally, specifically significant leadership experience in Asia. He has a strong background in consumer marketing and held senior executive positions with Bristol-Myers Squibb and Unilever, before being appointed president of Mead Johnson Nutrition, a leading global infant nutrition company, in 2004. He was president and CEO from 2008 to 2013, listing the company on the New York Stock Exchange in 2009 and a Non-Executive Director from 2013 to 2017. He was also previously a Non-Executive Director of Beam Inc., RMA Group and Masan Consumer and a Non-Executive Director and Chair of the Remuneration Committee of Tesco plc from 2016 to 2022.
External appointments.
Advisor to Thai Union Group PLC, a global leader in the seafood industry;
Honorary investment advisor to the Thailand Board of Investment; and
External advisor to Bain & Company.
Khun Sukhavichai Dhanasundara
Khun Sukhavichai Dhanasundara
Khun Sukhavichai Dhanasundara,
has been involved with the industrial sector for over 40 years in the fields of industrial development, financing and investments (Industrial Finance Corporation of Thailand – IFCT), industrial estates and factories development (Thai Factory Development Plc) including partnering with The Industrial Estate Authority of Thailand (IEAT), factory operations management with Ideal Standard and American Standard plc., as well as being a resource person for the Board of Investment. During most of this period, he was also active in the field of academia, as part-time lecturer in various BBA and MBA programs at various Thai universities, such as the AU (ABAC), Bangkok University, Eastern Asia University, Rangsit University, and Silpakorn University. During the past 12 years, Khun Sukhavichai has also been a guest lecturer at several European universities such as the Lucerne University of Applied Arts and Sciences where he was visiting professor, UCD Smurfit Graduate Business School (Eire), University of Edinburgh Business School (Scotland), the Copenhagen Business School, Denmark, and Konstanz University of Applied Sciences (Germany).
In 2018 he published a book entitled "The Global Manager and Leader", printed by the University of Silpakorn Press, and is currently working on another book for publication in 2023.
He is a founding member of the BCCT Management Development Group and continues to lead it at this time.
Khun Sunthorn Arunanondchai, CBE
Khun Sunthorn Arunanondchai, CBE, Chairman, Ek-Chai Distribution System Co., Ltd.
Sunthorn Arunanondchai is the Vice Chairman of CP Group of Companies, the largest Thai conglomerate with businesses in agricultural feeds, telecommunication and real estate amongst others. In 1998, he created a highly successful joint venture between the CP Group and Tesco PLC (UK). The company has since become the largest hypermarket operation in Thailand.
Over the past 36 years, Sunthorn has been continuously active in the field of education, lecturing regularly at local universities and sitting on boards of management. He has donated a building to the College for Graduate Studies in Management at Khon Kaen University. Furthermore, he currently serves as Chairman of the Board of Directors at the university.
Being an active and charismatic leader with diverse interests, Sunthorn is currently an Associate Judge for the Central Intellectual Property and International Trade Court. In 2005, Sunthorn received the Alumni International Achievement Award at the Sam M. Walton College of Business at the University of Arkansas.
Additionally, he was bestowed an Honorary Commander of the Civil Division of the Most Excellent Order of the British Empire (CBE) in 2007.
Khun Tiraphot Vajrabhaya
Khun Tiraphot Vajrabhaya, Ex-Chairman, The Shell Company Of Thailand Ltd.
Tiraphot Vajbhaya was born on the 1st of February 1953 in Bangkok. He holds a BA in Economics and Commerce from the University of Melbourne, Australia in which he graduated in 1976. He then received an MBA from Boston University, USA in 1981. He is married to Varita and they have a son and a daughter.
Tiraphot joined the Shell Co. of Thailand Limited in 1978 as a Senior Assistant in the Systems Evaluation Department. and worked in a variety of roles in the fields of Finance, Supply & Shipping, Personnel and Marketing in addition to an assignment at Shell International Petroleum Co., Ltd., U.K. in 1995. He then became Retail Director in 1998 and General Manager Retail for Thailand in 1999.
He retired as Chairman of Shell Companies in Thailand in 2008.
Khun Vikrom Koompirochana
Khun Vikrom Koompirochana, Chairman of the Board, Dragon One Public Co., Ltd. and past Thai Ambassador to UK
Vikrom Koompirochana graduated in History from Chulalongkorn University in 1967 and received his MA and PhD degrees in History from Michigan State University in 1972. He first joined the civil service as a lecturer in History at the Faculty of Arts, Chulalongkorn University before transferring to the Ministry of Foreign Affairs in 1973.
He has served as Ambassador of Thailand to Singapore (1991-1995), Malaysia (1996), New Zealand (1997-1999), Italy (2002) and the United Kingdom (2003-2006). During 2000-2001, he served in the Headquarters as Deputy Permanent Secretary of Foreign Affairs. Vikrom served in the Thai foreign service for 34 years until he reached the statutory retirement age of 60 in 2006.
He is now Chairman of the Board of Dragon One PCL; Chairman of the Audit Committee, Oishi Groups of Companies; Advisers to TCC Holding Co., Ltd. and TCC Land Co., Ltd.
Dr. Virachai Techavijit
Dr. Virachai Techavijit, Chairman and Founder, The Regent's Schools Thailand
Dr. Virachai Techavijit graduated in Accountancy from Thomas More College-Ft. Mitchell, KY, USA in 1973 and received his MA and PhD degrees in the same field from the University of Missouri-Columbia, USA in 1979. In the same year he also received his Certified Public Accountant (CPA) certification from the State of Nebraska USA.
After he received an Advanced Teaching Certificate in 1966 from the Ministry of Education Thailand, he undertook the position of Headmaster at Joseph Upatham School, Thailand from 1967-1969. He then worked at universities in the U.S.A. from 1975-1981. The last university he worked for was the University of California, Los Angeles (UCLA) as an Appointed Full Time Lecturer.
In 1994-1995 he was Chairman of the Board of the Mass Rapid Transit Authority (MRTA). From 1996-1997 he was an Official Adviser to The Prime Minister. Currently, he is Chairman of Ventures Group of Companies and, since 1994, Founder /Chairman of The Regent's Schools.
Dr. Wimonkan Kosumas
Dr. Wimonkan Kosumas, Deputy Director-General, Office of Small and Medium Enterprises Promotion
Education: 1999: Ph.D in Foreign Affairs (majoring in International Political Economy, University of Virginia, USA (Japan-ASEAN Scholarship), 1990: M.A. in Foreign Affairs (majoring in Soviet Studies), University of Virginia, USA (Fulbright Scholarship), 1983: B.A. in Political Science (Comparative Politics), Thammasat University, Bangkok, Thailand
Work Experiences: 2014-Present: Acting Director-General, Office of Small and Medium Enterprise Promotion. 2013-2014: APEC SME Working Group Chair. 2009-2014: Deputy Director-General, Office of Small and Medium Enterprise Promotion. 2002-2009: Director, International Cooperation and Policy Support Department, Office of Small and Medium Enterprise Promotion. 2000-2001: Policy Analyst, Policy and Planning Division, Ministry of Foreign Affairs. 1996-1999: Leave. 1991-1995: Soviet Desk Officer, Department of European Affairs, Ministry of Foreign Affairs. 1985-1987: East Asia Desk Officer, Department of Economic Affairs, Ministry of Foreign Affairs. 1984: Project Officer in charge of Technical Cooperation among Developing Countries, Department of Technical and Economic Cooperation, Office of the Prime Minister
Mr. Pisanu Suvanajata
Mr. Pisanu Suvanajata, Ambassador of Thailand to the United Kingdom , Royal Thai Embassy
Education:
M.A. (International Relations), Thammasat University, Thailand (1990)
M.A. (Political Science), Northern Illinois University, DeKalb, USA (1989)
B.A. (International Relations), Thammasat University, Thailand (1983)
Suankularb Witthayalai College, Thailand (1979)
Work Experiences:
1984 - 1986 : Office of the Prime Minister
1986 - 1989 : Southeast Asian Division, Department of Political Affairs, Ministry of Foreign Affairs
1989 - 1991 : Secretariat to the Minister of Foreign Affairs
1991 - 1994 : Attached to the Tactical Operation Centre, the Royal Thai Army
1994 - 1997 : First Secretary, East Asian Division II, Department of East Asian Affairs, Ministry of Foreign Affairs
1997 - 1999 : First Secretary, the Royal Thai Embassy, Phnom Penh, Cambodia
1999 - 2000 : First Secretary, the Royal Thai Embassy, Canberra, Australia
2000 - 2002 : Counsellor, East Asian Division II, Department of East Asian affairs, Ministry of Foreign Affairs
2002 - 2006 : Director, East Asian Division II, Department of East Asian Affairs, Ministry of Foreign Affairs
2007 - 2010 : Deputy Director General, Department of East Asian Affairs, Ministry of Foreign Affairs
2010 - 2012 : Consul-General of Thailand in Guangzhou, the People's Republic of China
2012 - 2017 : Ambassador of Thailand to the Republic of the Union of Myanmar
2017 – 2022 : Ambassador of Thailand to the United Kingdom
Publication & Research
Three Decades of ASEAN, A publication of the Thailand Research Fund,1997
Development of the Department of East Asian Affairs towards a High Performance Organization, an outstanding research of the Civil Service Executive College, 2006
Extra Training
Mini MBA Programme (Class 44), Thammasat University (1995)
Executive Programme (Class 05/1), Asia-Pacific Center for Security Studies (APCSS), Hawaii, USA (2005)
Senior Management Programme on Leadership and Governance, Lee Kuan Yew School of Public Policy,
Singapore (2007)
Executive Programme on Leadership Best Practices, Harvard Business School, USA (2009)
Other Awards and Honours
Outstanding Alumni of Suankularb Witthayalai College (2012)
Outstanding Alumni of Department of Political Science, Thammasat University (2015)
Honorary Doctorate Degree in Political Science, Naresuan University (2016)
Outstanding Alumni of Thammasat University (2020)