English

Child Protection
---
The following BCCT member companies support the CEOP/BCCT International Corporate Charter for Child Protection:-
British Airways PLC
Charter International School
D Management and Consultancy Ltd
GlaxoSmithKline (Thailand) Limited
Grand Hyatt Erawan Bangkok
Harrow International School
HSBC
Jones Lang LaSalle (JLL)
Manpower
Mazars
MBMG
PCS Security and Facility Services Limited
Shell Company of Thailand Ltd. (THE)
Shrewsbury International School
Standard Chartered Bank (Thai)
Richard James Rogers (Educational Consultancy)
All BCCT member companies are invited to join this list.
CEOP/BCCT International Corporate Charter for Child Protection
Making Every Child Matter... Everywhere
BCCT joins forces with the UK's Child Exploitation and Online Protection Centre to limit opportunities for child sex offenders.
Representatives from across major industry, children's charities, government departments and law enforcement are saying 'enough is enough' to child sex offenders who think that South-East Asia is soft on those that seek to abuse and exploit children.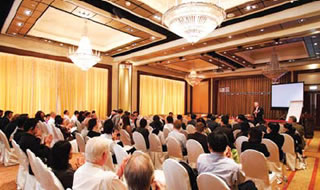 The UK's Child Exploitation and Online Protection (CEOP) Centre in partnership with the British Foreign and Commonwealth Office and the BCCT hosted a South-East Asia Regional Child Protection workshop on March 30-31 at the Holiday Inn Silom in Bangkok which saw specialist representatives from not only Thailand, but also Cambodia and Vietnam. The event also saw the signing of a Memorandum of Understanding (MOU) between CEOP and the BCCT, formalising the partnership between the two organisations.
The workshop brought together representatives from more than 25 NGO's, government departments and law enforcement agencies from each country to share best practice and explore new ideas for education resources for children and communities in their care, focussing on type, messaging and target audience to inform the creation of a resource contemporary to the region. The group were also shown the new CEOP resource for 5-7 year olds 'Lee & Kim's Adventure, Animal Magic' which was launched in Thai on the same day. This cartoon focuses on protecting young people in the online environment.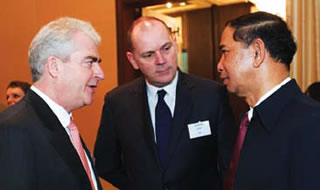 UK programme In addition, CEOP are also sharing resources from its 'Thinkuknow' programme that they have used successfully in the UK to educate nearly six million young people. Through an extensive range of materials, including games, posters and films, Thinkuknow engages and empowers young people to take control of situations they may find themselves in. Many of these resources are available at www.ceop.police.uk.
Regional leads from each of the three CEOP advisory panels in Vietnam, Cambodia and Thailand met to discuss future priorities for the panels, share current initiatives, as well as trends and concerns within child protection in South- East Asia. Panel members provided input to a needs analysis for the bespoke child protection webpages of the CEOP International Child Protection Network. These are under development to provide an online forum for communication between panel member organisations and to promote deterrent campaigns, education resources, child protection programmes and developments in the region.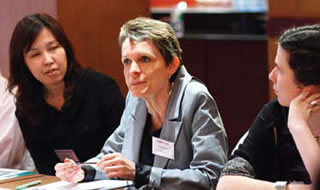 The law enforcement workgroup involved representatives from Cambodian, Vietnamese and Thai police forces sharing case studies of cross-border child sexual abuse investigations in order to share operating procedures and highlight areas where joint working can be built upon.
Corporate sector
Business representatives from major companies including PCS Group, Johnson Diversey, Manpower and Cadbury's amongst others participated in a workgroup for industry to develop ways forward to engage the corporate sector in meaningful child protection initiatives across the region.
The key outcome of the industry workgroup discussions was the drafting of the CEOP Corporate Child Protection Charter. The workgroup was led by CEOP Head of Safeguarding Dr Zoe Hilton who explained the key challenges in promoting child protection in the South-East Asia region. Participants examined these challenges and agreed that the Charter should pledge to children and young people who are suffering, or at risk of suffering abuse or neglect to:
Listen to and respect children in our communities;
Put them in touch with people who can help them;
Use our own power to help them and advocate on their behalf;
Promote services that can help them and other children in a similar situation; and
Try to ensure that other adults and professionals understand their needs and do what they can to help.
CEOP believe that it is our mutual responsibility to mitigate the risks caused by travelling sex offenders and whilst doing so raise awareness of the vulnerabilities of young people in the region to all forms of sexual exploitation. It is only by way of multi-sector partnership and collaboration can the challenges of doing this within the South-East Asia context be addressed and positive action taken.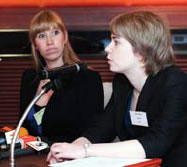 The BCCT will work with CEOP to engage members in a child protection agenda by way of the Charter and look to build on this in the future with support on adopting child protection policies, awareness raising campaigns, education and training. We hope that protecting children from sex offenders will become a policy priority in organisations across the membership; to spark change not only at the business level, but within staff families and from there to clients and communities.
Jim Gamble, Chief Executive of the UK's CEOP Centre said: "What we have seen here is the next vital step. The signing of the first ever MOU with a British Chamber of Commerce is truly ground breaking and I am confident, by working together, we will further equip child protection specialists with tools to help safeguard children and limit offender opportunity."
June 2010
---
UK Child Exploitation and Online Protection Centre
By Clive Michel
Children need protection wherever they may be. No matter where they live or in what circumstances they find themselves, we should do everything in our powers to collectively put their needs first.
Easy rhetoric you may think but that is why the UK's Child Exploitation and Online Protection Centre - or CEOP for short - tackles the exploitation of children from a totally holistic point of view. One that not only crosses geographic borders but also realises that the police cannot, and must not, work in isolation in tackling what is one of the most complex and highly emotive areas of criminality.
For some time the CEOP has been active across South East Asia working to tackle and disrupt the activities of western offenders - people who think they can leave the UK and escape detection and prosecution by abusing children abroad.
Our track record will make them think again. Time and again we are making inroads into identifying, tracking and ultimately bringing these individuals and groups to account. Each case sends a message to each liked minded individual - we will track you and we will hold you to account.
However we need to be clear. This is not, and never could be, the Child Exploitation and Online Protection (CEOP) Centre working in isolation. We are, and have to be, about partnership and inclusion has to be the hallmark of our approach.
Our preference is to capacity build - using the combined expertise of both local police and the wider NGO community to share understanding, cultural variations and ultimately work alongside our partners in the police to carry out intelligence driven investigations, and where possible arrest and hold to account offenders where they offend.
If you commit a crime in a country you should face the consequences of that crime in that country.
Established in 2006, the CEOP has been expanding its capabilities and networks over the past three years. The next key milestone along our inclusive path is the setting up of specialist advisory groups - groups that will not only work within their own jurisdictions, but that over time will form one collaborative international network. This is where the CEOP is asking for the assistance and partnership of businesses, organisations and individuals around the world.
Already groups are up and running in Cambodia, Thailand and Vietnam and more are planned. Each group will run to deliver the same goal - tackling the crime through sharing expertise, intelligence and tactics - and each body will look to close the gaps through which offenders will look to escape detection.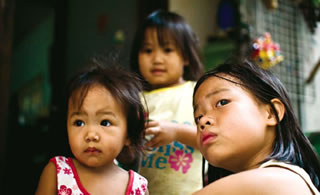 So, what is that businesses can do to help?
Across Asia, poverty and various forms of exploitation can make any environment hostile for children of all ages. It is not, however, feasible for the CEOP to deploy personnel across the world, or to lead national efforts outside the UK. But, alongside the British Embassies in all countries around the world, we can assist existing governments' and relevant organisations' own initiatives.
CEOP is looking for partners across all sectors of industry and society to join our advisory groups. Your in-country expertise, local knowledge and networks are invaluable to sustaining child protection initiatives.
Working through our secure online portal, CEOP's advisory groups are able to provide and share information on their existing initiatives which will contribute to our better understanding of local cultural sensitivities, why children may end up in abusive situations, how to reach them.
Importantly, it will also help us to track patterns of offence, whether committed by visitors or residents of the country in question.
From this we will be able to share the lessons learnt and help to facilitate the sharing of information amongst our networks.
Some major brands are already behind the initiative and NGO's and the national police forces specialising in this area of criminality are providing, along with ourselves, the main driving force.
All are there because they want to protect children and because they know and accept that the best way to do that is to work in partnership. In isolation we can make a difference - combined we can present a force.
So our appeal today is for more to come on board. To those organisations and practitioners who share our goal and who want to apply their expertise to delivering our collective aim. Come forward and express an interest. Visit us at ceop.police. uk/international and see for yourselves what others like you are doing and how they contributing.
Offenders will not like this. They for too long have exploited the gaps and loopholes and have made their trips because of the perception that children in different socioeconomic climates are easier targets, in areas where they can avoid detection.
Well the world for the offender is changing.
Please join us and make that change long lasting - let's put offenders where they belong and let's give children the freedom to live without fear of abuse.
Clive Michel is CEOP's Head of Communications and Public Affairs. He may be contacted at clive.michel@ceop.gov.uk
December 2009
CEOP/BCCT Memorandum of Understanding
BCCT Networking Evening 30-Mar-2010