Details:

BCCT PRE-CONNECTING BANGKOK TAX BRIEFING

Topic: New Revenue Department Guidelines on tax treatment of foreign source income remitted to Thailand

These new guidelines from the Revenue Department have led to much concern and generated much comment. The BCCT Legal & Tax Working Group established a sub-group of experts from these member companies – Administration Outsourcing, Baker McKenzie, Bangkok Global Law, BDO in Thailand, Grant Thornton, PKF and Silk Legal – in order to work together to create a working position on the issue. BCCT would like to thank all for their time and hard work.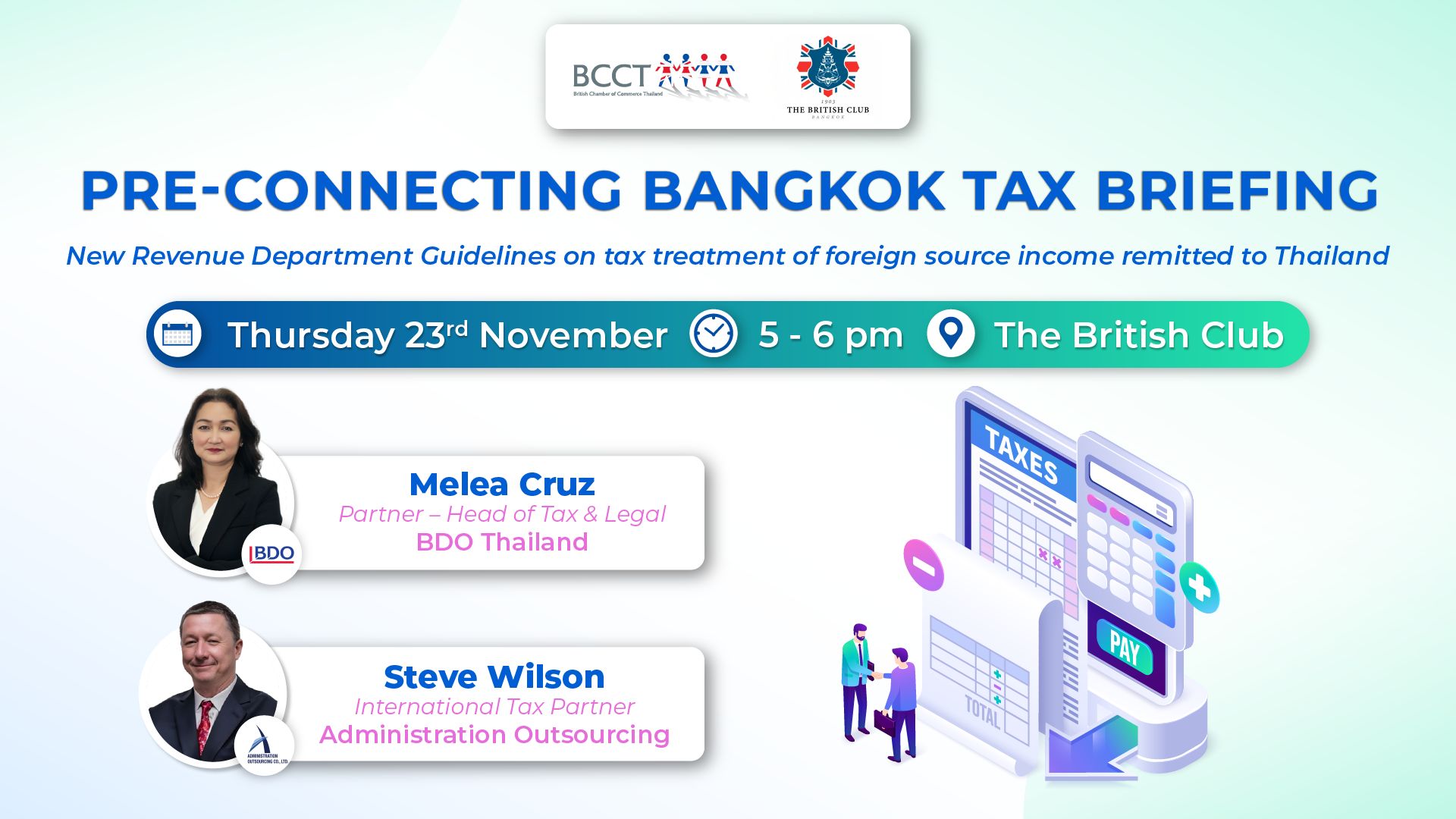 Date: Thursday 23rd November 2023

Time: 5-6 pm (immediately before Connecting Bangkok)

Venue: Club House, ground floor, British Club on Silom Soi 18 (nearest BTS: St. Louis exit 1)
Speakers:
Melea Cruz

- Partner – Head of Tax & Legal, BDO in Thailand
Steve Wilson – International Tax Partner, Administration Outsourcing
Cost: free of charge but you must book in advance. Maximum 50 seats.
More about speakers:
"Melea, Tax Partner at BDO in Thailand, has been providing tax advisory and compliance services to both corporate and individual taxpayers in Thailand and cross-border for over 25 years. Steve has over 30 years' international tax experience gained in tax consultants and corporates in London, Singapore, Moscow, Gibraltar and Thailand. Melea and Steve will togetherl be providing their insights on the newly issued tax guidelines of the 'remittance rule' of foreign source income earned by tax residents of Thailand. They may also share their views on how to navigate the new guidelines."
Parking: Car parking is not permitted inside British Club. Nearest parking is at Yellow Parking Building (Narai Hotel) on the left hand side when enter Silom Soi 18. Normal parking fee applies
---
Event Behaviour Statement: please click here