Details:

JOINT AMCHAM/BCCT YOUNG PROFESSIONALS:
Ai and the Next Generation of Leaders

"As an AI language model, I am not able to lead humans…yet".

AMCHAM's Young Professionals Committee, jointly with BCCT's Young Professionals, cordially invite you to our upcoming event on "AI and the Next Generation of Leadership".

Please join us to hear the leaders of Microsoft and Meta in Thailand as they delve into the intricate relationship between AI and the evolving landscape of leadership that follows.

Gain a deeper understanding of how AI is shaping the next generation of leaders as well as its potential to help elevate decision-making and strategic thinking. Most important of all, join us to learn how aspiring leaders should equip themselves for a future driven by AI. The subsequent Q&A session promises to generate insightful discussions and learning opportunities centered around the confluence of AI and leadership.

This is also a great opportunity to expand your network and forge valuable connections with a diverse group of professionals who share your passion for innovation and leadership. We look forward to seeing you!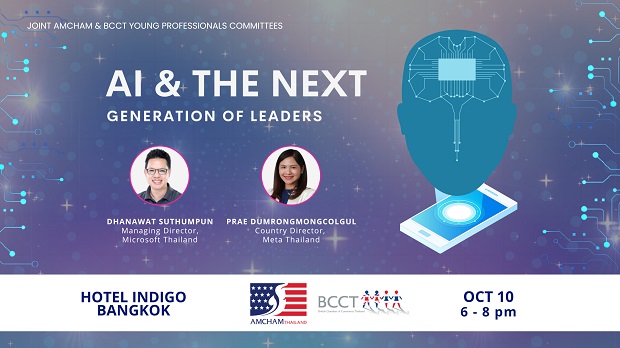 Date: Tuesday 10th October 2023

Time: 6-8pm

Venue: Hotel Indigo on Wireless Road

Fee: AMCHAM/BCCT members THB 650 and Non-members THB 800. Price includes finger food & soft drinks. Prepayment is required.
Guests are welcome to continue on to the XYW bar for continued networking after the event
Register: direct to AMCHAM link here
For more infomation or booking assistance please contact AMCHAM team - Jan at 02 119 3360 or jan@amchamthailand.com
Our speakers:

Dhanawat Suthumpun is the Managing Director of Microsoft Thailand. With over 25 years of IT industry experience, Dhanawat is excited to be part of the Microsoft family and drive the company mission to empower every person and every organization on the planet to achieve more. His key focus is to enable partners to leverage Microsoft's technologies to drive success in digital transformation and inspire exceptional innovations in Thailand.

Prae Dumrongmongcolgul is Country Director of Meta Thailand. Prae joined Meta in June 2020 and has since served as the Country Director of Facebook Thailand. Prae was previously the Managing Director and Partner at The Boston Consulting Group. Prae holds an M.B.A. degree from the Wharton School of the University of Pennsylvania and a bachelor's degree in Systems Engineering from the University of Virginia