Details:

VIRTUAL WORKSHOPS ON DIGITAL POLICY ENGAGEMENT

*From USAID, DAI, and MangoTango Asia*

We are excited to invite you to join us for two 90-minute virtual workshops happening over two days on June 7th and 8th from 9:00 am to 10:30 am (GMT+7).

These workshops will cover:
What you need to know about the digital policy landscape across ASEAN and the Indo-Pacific Region, with a deep dive into digital policy for Cambodia, Indonesia, Laos, Mongolia, Myanmar, and Thailand

How these digital policies are shaping the future

Implications for SMEs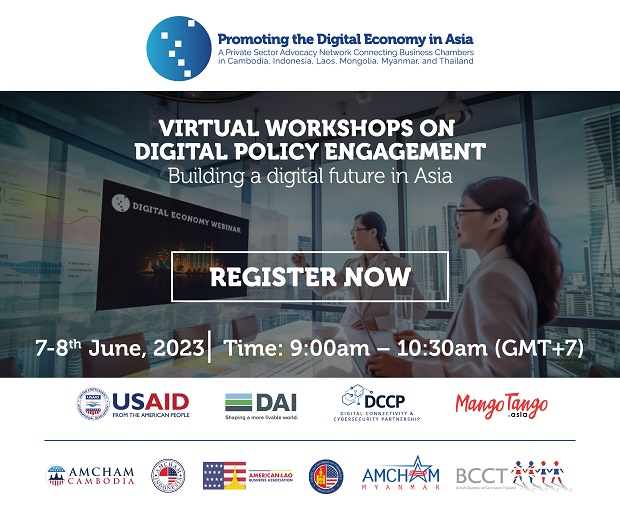 Learn from experts who will explain how businesses can be part of the conversation that shapes tomorrow's digital policies and discuss hot policy issues that countries are facing today.
Join us for two online sessions that will expand your perceptions and inspire you to be part of the future of the digital economy.
Register here: http://bit.ly/digital-economy-virtual-workshops
Learn more about the workshops: https://digitalpolicy.asia/virtual-workshops/
For inquiries, please contact: panhapich@mangotango.asia
We look forward to seeing you there.
Sincerely,
USAID, DAI, and MangoTango Asia