Details:

4/11 - BCCT WEBINAR ON THAILAND HOTEL MARKET UPDATE AND 2022 OUTLOOK

The British Chamber of Commerce Thailand, in cooperation with Horwath HTL, would like to invite you to join this webinar on "Thailand Hotel Market Update and 2022 Outlook", with a guest speaker from the company, Nikhom Jensiriratanakorn, Director.

In this upcoming webinar, we will provide an update of current hotel market performance for key destinations such as Bangkok, Phuket, Pattaya and Hua Hin. We will also highlight demand and supply trends and help the audience form a realistic expectation of 2022.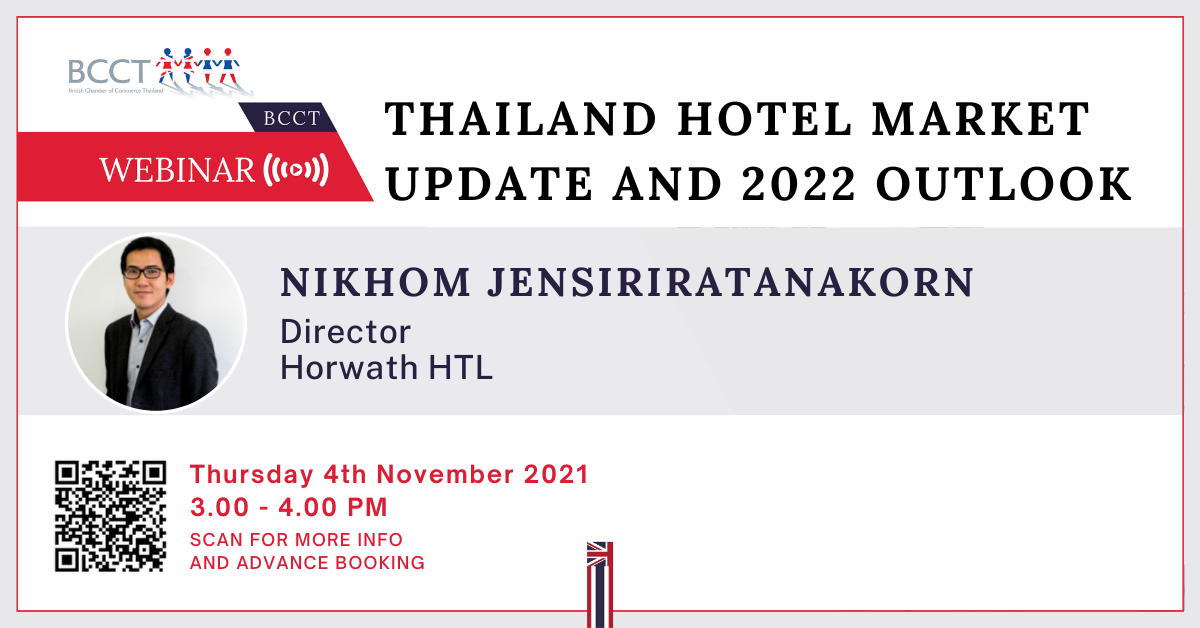 Date: Thursday 4th November 2021
Time: 3.00 - 4.00 pm presentation including Q&A
Cost: free of charge
Booking: to register in advance for this webinar please click below or email banthita@bccthai.com
The Zoom webinar link will be sent directly to your email one day in advance before the event date.
Speaker: Nikhom Jensiriratanakorn, Director, Horwath HTL
Based in Bangkok, Nikhom Jensiriratanakorn represents Horwath HTL in the Thailand market, advising both local and international clients on hospitality projects in various locations such as Bangkok, Phuket, Samui, Krabi, Phang Nga, Hua Hin and Chiang Mai. He has brought with him comprehensive skills in feasibility analysis, investment underwriting and asset management, and well-rounded regional experience from years with hotel operators, investors and consulting firms.