Details:

17/9 - BCCT WIBG'S WEBINAR: WE CARE - COVID-19 VACCINE: WHAT YOU NEED TO KNOW

Date: Friday 17th September 2021

Time: 11.00 am - 12.00 pm including by Q&A

Cost: free of charge

Booking: to register in advance for this webinar please click below or email banthita@bccthai.com

The Zoom webinar link will be sent directly to your email one day in advance before the event date.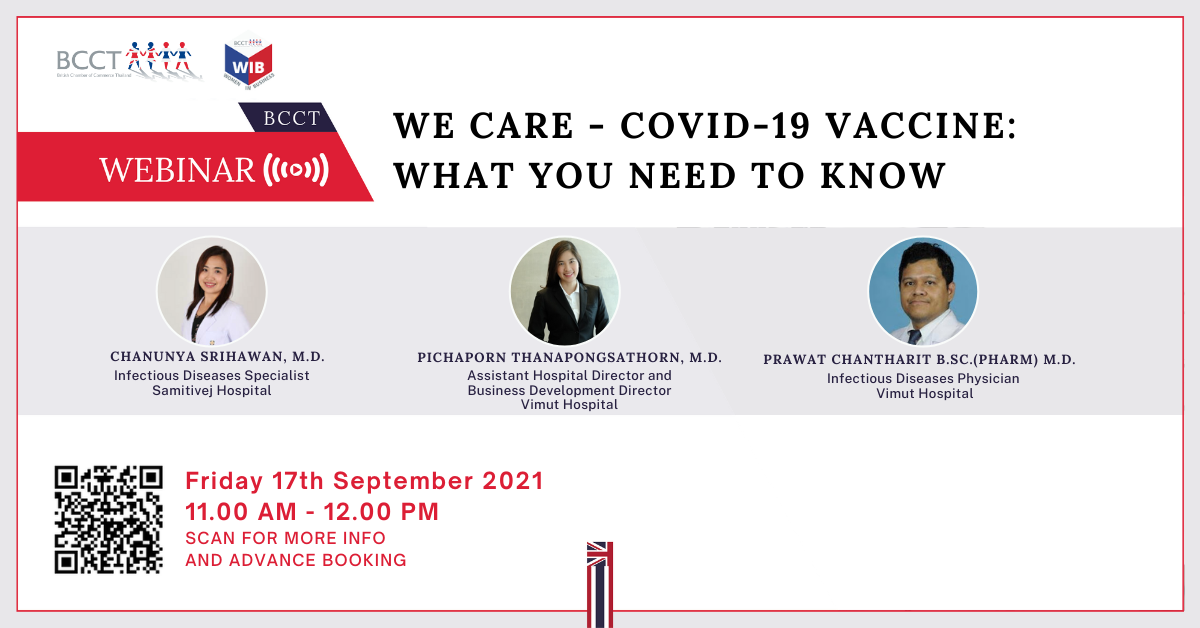 Speakers:
Chanunya Srihawan, M.D., Infectious Diseases Specialist, Samitivej Hospital. Profile
Pichaporn Thanapongsathorn, M.D., Assistant Hospital Director and Business Development Director, Vimut Hospital. Profile
Prawat Chantharit, B.Sc.(Pharm) M.D., Infectious Diseases Physician, Vimut Hospital. Profile
Topics:
By Samitivej Hospital: Covid Vaccine's Characteristics
How the vaccine works, how long does the protection last, can children-pregnant/breast-feeding women-elder people be vaccinated, does the vaccine works differently with different genders and ethnicities, what are the risk associated with this vaccine, how the vaccine could help or prevent us from the Covid 19 & future trends of vaccine development in correlation with the transformation of the virus.
By Vimut Hospital: How to safely return to business as usual
How to safely return to business as usual? How to conduct a proper ATK test and how important or often to have the staffs be tested? How to act if being suspicious of infection, home isolation, emergency contacts?
Objectives:
To give authoritative, scientific and professional information on vaccines and how they work

How to safely return to business as usual

To encourage female representatives of member companies to engage in the chamber and provide a forum where they can network with all members.

To raise the profile of the WIB committee