Details:

20/9 - BCCT WEBINAR ON HOW TO HANDLE WORKFORCE RESTRUCTURING IN THAILAND DURING THE COVID-19 PANDEMIC

The British Chamber of Commerce Thailand and DFDL are pleased to invite you to our joint webinar on 'How to Handle Workforce Restructuring in Thailand During the COVID-19 Pandemic'. In this session, Kraisorn Rueangkul (Partner – DFDL Thailand) will discuss the current pandemic situation in Thailand along with its effects on employers and employees. This session will cover the top 5 questions on the minds of all affected sector participants and stakeholders when it comes to matters of workforce restructuring. This will cover such matters as employee redundancies/layoffs, employment contract changes and remote working arrangements. Participants will learn how to minimize labor challenges and avoid unnecessary labor disputes in compliance with local laws along with practical tips on how to avoid long, protracted and costly negotiations. In this webinar, these and many more noteworthy considerations for employers will be laid out when it comes to implementing workforce restructuring options in Thailand.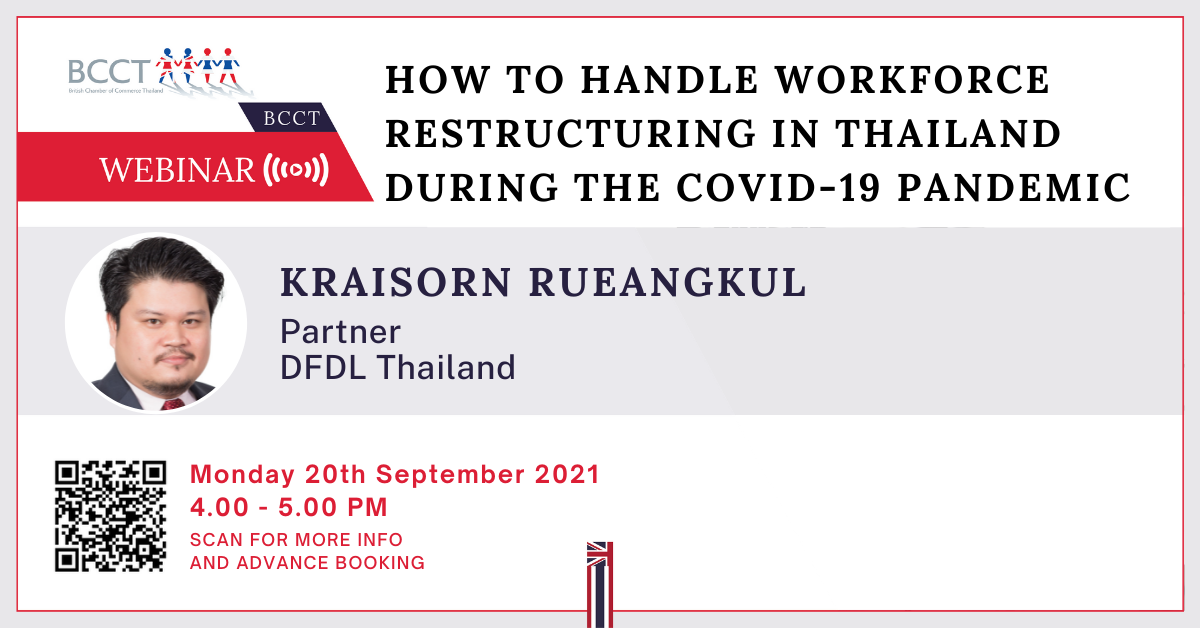 Date: Monday 20th September 2021
Time: 4.00 - 5.00 pm including Q&A
Cost: free of charge
Booking: to register in advance for this webinar please click below or email banthita@bccthai.com
The Zoom webinar link will be sent directly to your email one day in advance before the event date.
Speaker: Kraisorn Rueangkul, Partner, DFDL Thailand
Kraisorn specializes in merger and acquisitions, foreign direct investment, public-private partnerships, corporate and commercial matters, regulatory compliance, competition law, and human resources and employment. He is also experienced in cross-border mergers and investments in the Mekong region. Kraisorn has in-depth expertise in many industries including oil and gas, energy & renewable energies, EPCs, aviation, food & beverage, manufacturing, trading including commodity trading, banking & finance, FinTech, tech-startups. He holds an LL.B. from Thammasat University, Thailand and an LL.M. from Durham University, UK. Full Profile