Details:

29/7 - BCCT WEBINAR: HOW IoT IS POWERING THE FUTURE: HOME APPLIANCES, LOGISTICS AND SMART CITIES

The Internet of Things is a concept that you will be hearing more of in the coming years. As the costs of production go down, interactive home appliances will be increasingly accessible remotely, while major buildings and entire cities will be wired with IoT to enable greater energy saving and real time operational data.

So what does this mean for your business? Potentially a lot as IoT is a key part of the Thailand 4.0 initiative. Join us on this webinar for 30 minutes of all things IoT.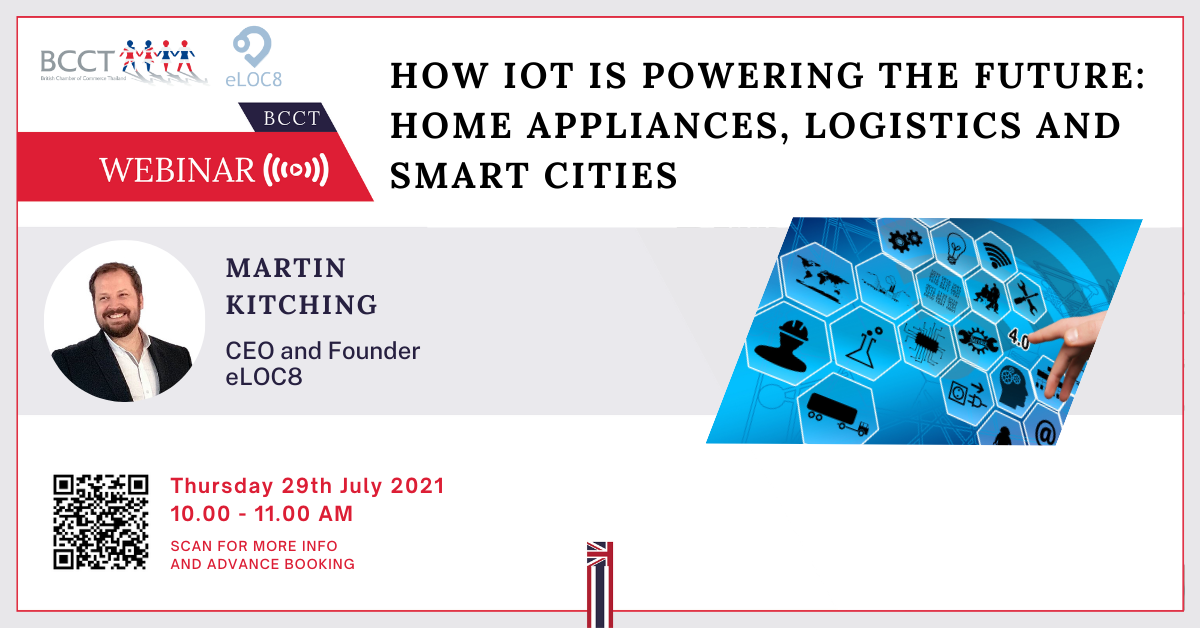 Date: Thursday 29th July 2021
Time: 10.00 - 11.00 am presentation followed by Q&A
Cost: free of charge
Booking: to register in advance for this webinar please click below or email banthita@bccthai.com
The Zoom webinar link will be sent directly to your email one day in advance before the event date.
Speaker: Martin Kitching, CEO and Founder, eLOC8
Up until recently, the Global Vice President Of Operations for one of the World's Largest Producer of RFID Components, where combining Operational Excellence, Profit Enhancement and Affordable Digital Solutions was successfully implemented.

An Experienced International Senior Operations Executive and Operational Excellence Expert with a background in Automotive, White Goods, Electronics, Power Generation and RFID.

This experience was gained working in numerous global locations including USA, UK, East Europe, Russia, India, China, Singapore and Thailand.