Details:

5/8 - BCCT WEBINAR ON DEBT RESTRUCTURING: IDENTIFYING THE ISSUES AND EARLY PLANNING


The British Chamber of Commerce Thailand, in cooperation with South Asia Law, would like to invite you to join this webinar on "Debt Restructuring: Identifying the Issues and Early Planning", with a guest speaker from the firm, Gary Biesty, Partner.

This webinar will specifically cover practical early reorganisation for prudent business owners and managers. SMEs and MNCs have issues particular to their businesses, but also have many threats in common. Actions to be discussed:
An honest appraisal of the financial situation;

Dealing with/negotiating with creditors/banks/suppliers;

Relationships with customers and clients;

Appraisal of workforce capacity and relationships with employees;

Dealing with landlords;

Raising more capital from shareholders/directors/external loans;

Strategic disposal of the business;

Planning to transition reorganisation into more formal restructuring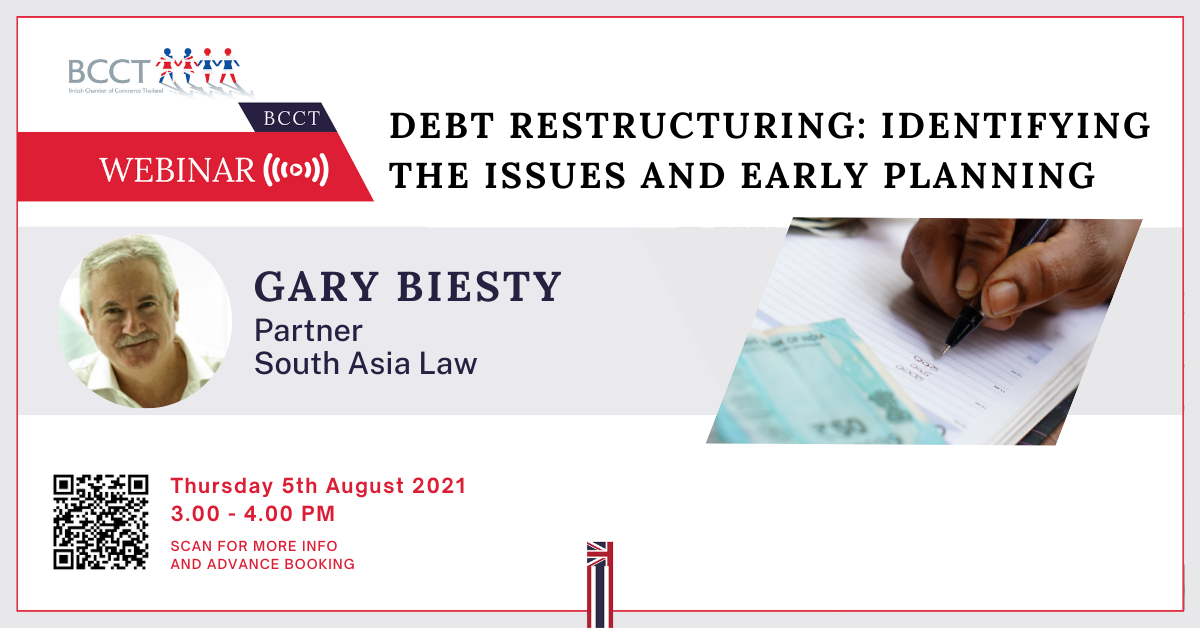 Date: Thursday 5th August 2021
Time: 3.00 - 4.00 pm presentation followed by Q&A
Cost: free of charge
Booking: to register in advance for this webinar please click below or email banthita@bccthai.com
The Zoom webinar link will be sent directly to your email one day in advance before the event date.
Speaker: Gary Biesty, Partner, South Asia Law
Gary Biesty is one of the four founding partners of South Asia Law. He delivers strategic advice on complex commercial matters, corporate acquisitions and financings for both domestic and international clients.
As a lawyer working in Asia since 1987 Gary has provided counsel to both domestic and foreign investors offering his experience in a commercial and pragmatic manner. His geographical experience includes working on projects and commercial transactions in: Thailand; Vietnam; Cambodia; Laos; and Myanmar. His industry experience includes: Hotel and Leisure; Banking and Restructuring; Real Estate and Development; Manufacturing. Prior to founding South Asia Law Gary spent 27 years with the global firm, JSM Mayer Brown, where latterly he was Managing Partner South Asia.
During that time he established offices in Thailand and Vietnam. Myanmar was also a favoured destination and for several years, from 1995, Gary worked on new investment into Myanmar; guiding mainly HK investors in the hotel and manufacturing sectors. South Asia Law established an office in Myanmar in 2010 and has been involved in many significant FDI projects.
Following the Asian financial crisis in 1997, Gary established a leading team of insolvency professionals who were involved in several billions of dollars of Thai corporate restructurings.
For 17 years he represented the Government of Ireland as their Honorary Consul to the Royal Thai Government.
Gary was admitted as a solicitor in England and Wales in 1984 and in Hong Kong in 1987.