Details:

23/7 - BCCT/BELUTHAI WEBINAR: EMPLOYMENT LAW AND COVID

The British Chamber of Commerce Thailand, in cooperation with ILCT Co.Ltd., would like to invite you to join this webinar on Employment Law and COVID, with a special guest speaker from the firm, Wasantachai Watanavongvisudhi, Partner. This webinar will seek to clarify some of the key issues surrounding employment law in Thailand during the COVID-19 pandemic. Specifically, it will cover:
Temporary and permanent closure of a business for economic reasons

Temporary and permanent closure due to a government order

Transferring an employee to another location

Suspending and dismissing an employee

Wage cuts – can an employer reduce wages for a short period or permanently, or postpone its obligation to pay wages?

Can an employer enforce working from home/gardening leave?

If an employee contracts COVID, is the employer bound to allow paid sick leave? And does the employer have to pay for medical treatment?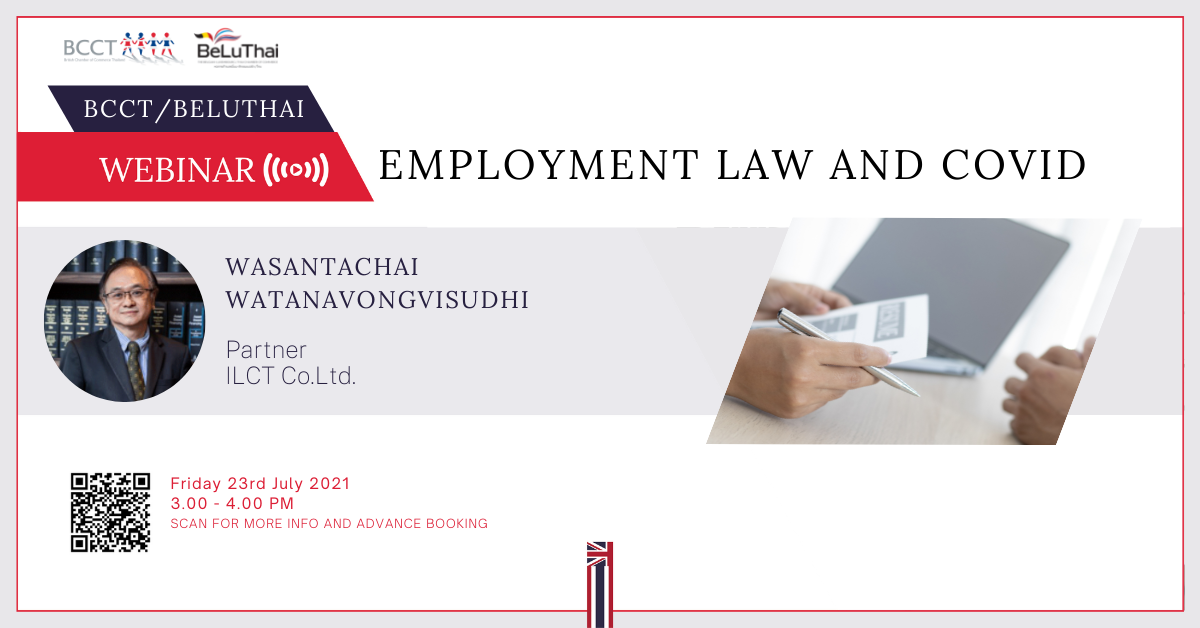 Date: Friday 23rd July 2021
Time: 3.00 - 4.00 pm presentation followed by Q&A
Cost: free of charge
Booking: to register in advance for this webinar please click below or email banthita@bccthai.com
The Zoom webinar link will be sent directly to your email one day in advance before the event date.
Speaker: Wasantachai Watanavongvisudhi, Partner, ILCT Co.Ltd.
Wasantachai Watanavongvisudhi has over 32 years of experience in practice area of Commercial Laws. His practice area focuses on Labour Litigation. He gives advice related to Labour Laws to various industries. He has expertise in litigation on various matters in Court as well as arbitration in Thailand. His experience also included preparing, drafting and negotiating employment and termination agreements.
His current position is a Litigation Partner of ILCT Co.Ltd. He is member of the Lawyers Council of Thailand.
Professional Qualifications:
LL.B.(Hons), Ramkhamhaeng University (1979)

Diploma in Business Shipping, Chulalongkorn University (1985)

LL.M.(Business Law), Thammasat University (1987)

Diploma in U.S. Business Law, Legal Institute, Michigan University, U.S.A. (1999)

LL.B., Thammasat University (2000)

Graduate Diploma in Business Law, Thammasat University (2007)
Other Activities:
Committee of Foreign Affair, Law society (1989)

Committee of Disciplinary Investigation, Lawyers Council of Thailand (2011)

Law Lecturer (Visiting instructor), Siam University