Details:

29/7 - BCCT AND DIT EDUCATION WEBINAR: MARKET OVERVIEW - THAILAND

*Registration is closed on Friday 23rd July at 6.00 pm Thailand Time*

Are you a UK-based school, education provider or investor interested in working with schools or education agents in Thailand? The Department for International Trade (DIT), Thailand is hosting its first Education sector webinar with the British Chamber of Commerce Thailand (BCCT), alongside prominent British and international education consultants, including the British Council, Evolve Global Solutions, and ISC Research. This session gives you an overview of UK education in Thai international schools and vocational schools, exploring opportunities and challenges, while also promoting partnership and investment.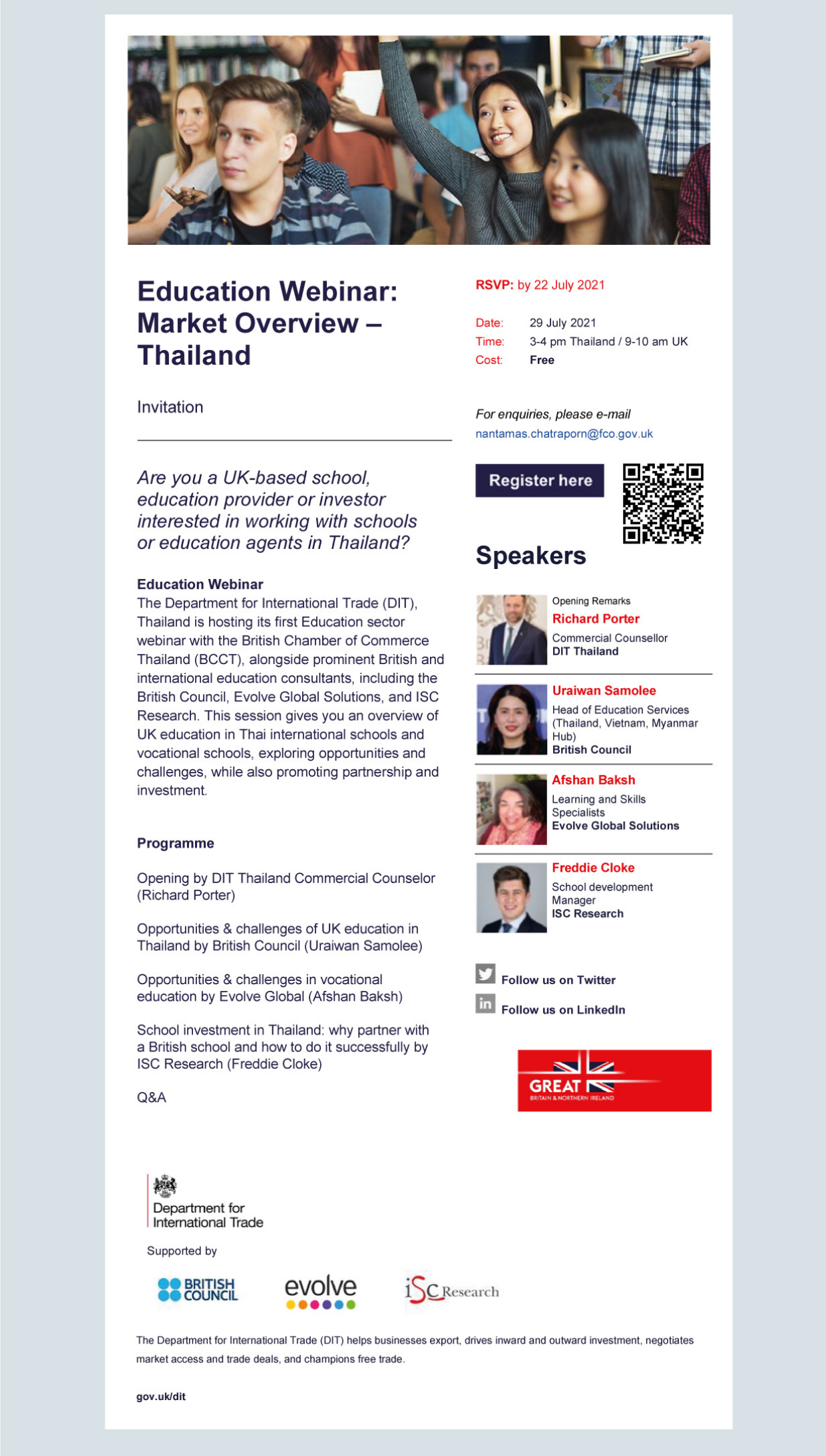 Date: Thursday 29th July 2021
Time: 3.00 - 4.00 pm Thailand Time
Cost: free of charge
Booking: to register in advance for this webinar please click below or email banthita@bccthai.com
The Zoom webinar link will be sent directly to your email one day in advance before the event date.
Programme & Speakers:
Opening by Richard Porter, Commercial Counselor, DIT Thailand

Opportunities & challenges of UK education in Thailand by Uraiwan Samolee, Head of Education Services (Thailand, Vietnam, Myanmar Hub), British Council

Opportunities & challenges in vocational education by Afshan Baksh, Learning and Skills Specialists, Evolve Global Solutions

School investment in Thailand: why partner with a British school and how to do it successfully by Freddie Cloke, School Development Manager, ISC Research

Q&A