Details:

BCCT BRIEFING ON DIGITAL TECHNOLOGY 2021 OUTLOOK:
MARKETING, AUTOMATION & DIGITAL TRANSFORMATION

2020 was a year in which digital transformation went into hyperdrive as businesses around the world sought innovative solutions to the challenges of the pandemic.

The BCCT Digital Technology committee event of 2021 will bring together leading experts in the Thailand digital technology field to give you a glimpse into the future of digital marketing/advertising, robotic process automation and the world of digital transformation.

Date: Thursday 25th February 2021

Time: 6.00 - 8.00pm

Location: Lexicon Events Space, 25th Floor, Wall Street Tower, Surawong Road. Map

Cost: THB 500 for BCCT members and THB 900 for non-members. Price includes finger food, soft drinks and alcoholic drinks (subject to government decree).

Booking: please follow booking link below or email banthita@bccthai.com

Payment: Pre-payment secures booking. Pre-payment options are available here. No payment on the door.

*Due to Covid-19 restriction and limited event space advance booking is required. No walk-ins please. Thanks for your co-operation*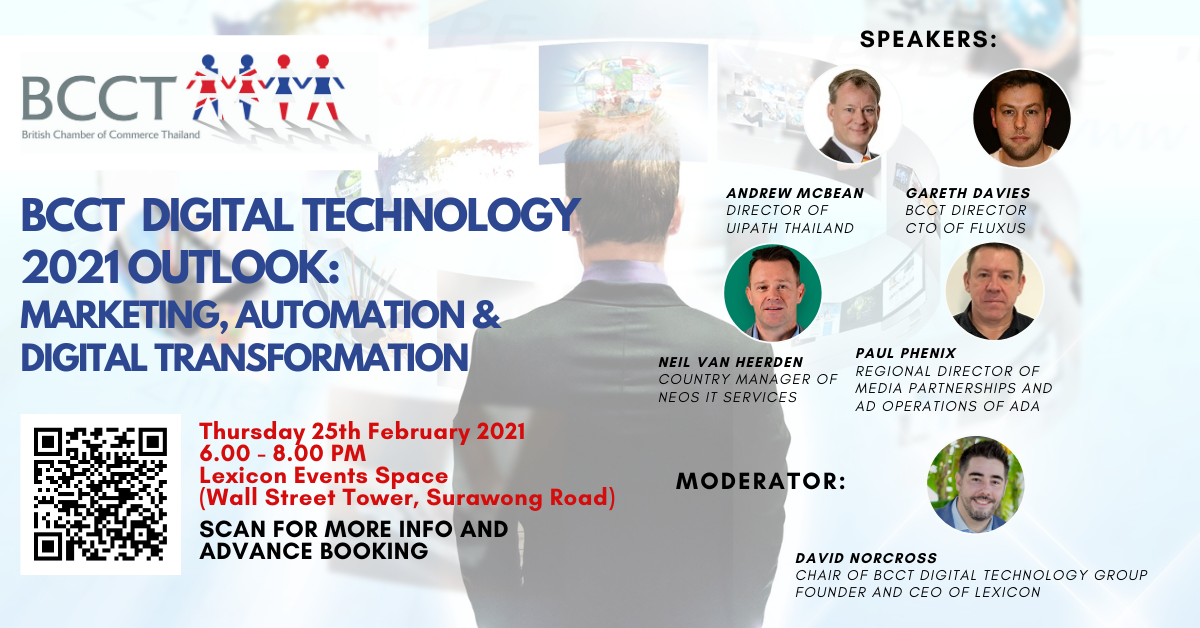 Andrew McBean works for the world's largest Robotic Process Automation software company. He has worked in a variety of technology roles including as Managing Director Microsoft Thailand. Andrew holds a BSC (Hons) in Natural Sciences (Chemistry) and is currently studying for an MSc in Space Science and Technology.
Gareth Davies is CTO & Digital Transformation Lead at Fluxus. As a consultant, Gareth build and lead digital teams who work with clients to improve core systems and processes using the latest technology.
Neil van Heerden is Country Manager Thailand for Neos IT Services: a company that enables Business Transformation through Business Optimization, Protection, Acceleration and Digitization by providing consultation, implementation, governance and operations.
Paul Phenix is Regional Director of Media Partnerships and Ad Operations at ADA. one of the leading data and artificial intelligence companies in SEA that designs and executes integrated digital, analytics, and marketing solutions. Paul currently manages over $60M (p.a) of data targeted ad spend across the region.
Your moderator
David Norcross is Chairman of the BCCT Digital Technology committee, as well as the Founder & CEO of Lexicon: A digital PR agency in Bangkok, focusing on Multimedia Storytelling.