BCCT/DCT/DIT INDUSTRY INSIGHT: Thailand's Thriving Start-up Sector
Are you a start-up company from the UK that is interested in learning more about what Thailand's thriving tech sector has to offer you? If so, we have an event that is just right for you!
We are delighted to announce that the British Chamber of Commerce Thailand (BCCT) and the Digital Council of Thailand (DCT), with support from the British Embassy Bangkok, will be co-hosting our first ever 'Industry Insights: Thailand's Thriving Start-up Sector' event!
Thailand is home to a vibrant and dynamic start-up ecosystem. The value of investments into Thai start-ups increased a hundredfold from $3 million in 2012 to $311 million in 2021 (S. Juasrikul and P. Vandenberg, 2022). Thailand's rapidly growing start-up ecosystem is driven by an increasingly tech-savvy population, flagship national economic policies such as 'Thailand 4.0.' and the 'Bio Circular Green Economy', and its strategic location at the heart of Southeast Asia, which supports the ease of doing business and access to multiple other regional tech hotspots.
This ecosystem continues to be strengthened by a suit of pro-innovation policies and measures – seven of which the DCT has played an instrumental role in implementing since its creation in 2019. As an influential trade organisation with a membership of more than twenty-two digital associations and four-thousand business representatives, DCT plays a central role in attracting talent, innovation, and boosting competition across Thailand's digital sector.
Through an interactive presentation and Q&A session with Dr. Atip Asvanund, Director of the DCT, this event will offer a fantastic opportunity for UK start-ups and investors to learn more about the seven measures and incentives that Thailand recently implemented and why Thailand is an attractive destination for UK start-ups and investors. The event will also offer valuable opportunities for networking with influential business leaders, government officials, and start-up organisations operating in Thailand.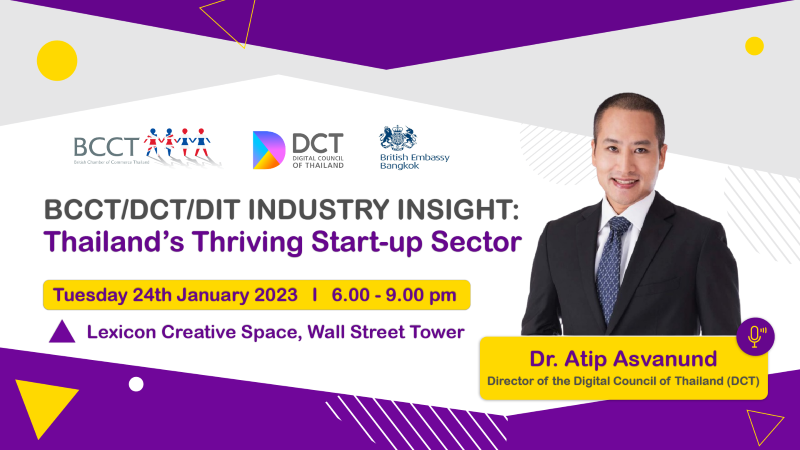 Event details
Date: Tuesday 24 January 2023.
Time: 6-9pm
Venue: Lexicon (Head Office) at 25th Floor, Wall Street Tower, Surawong Road.
Parking is available at Wall Street Tower. Normal parking fee applies.
Cost: free of charge for all on first-come first-served basis.
Booking: this event is available in both in-person and virtual formats.

In-person please click HERE Finger food & drinks are provided.
Virtual please click HERE Zoom link will be sent direct to your email one day in advance.
If you have any further questions please contact lead for the BCCT Digital Technology Group, Gareth Davies: gareth@ddxtransformation.com.