Extend your South-East Asian footprint to Indonesia
1-2-1 meeting opportunities, exclusively for BCCT Corporate members.
Chris Wren, Executive Director of BritCham Indonesia will be in Bangkok and available to meet BCCT members with British interests on Friday 2 December, from midday to 3.30pm (30 minutes slot) at BCCT office, 23rd Floor, M-Thai Tower, All Season Place on Wireless Road.
There are only 8 slots available - request your slot by clicking HERE (reply with links to your company website and timing preference) or email businesscentre@britcham.or.id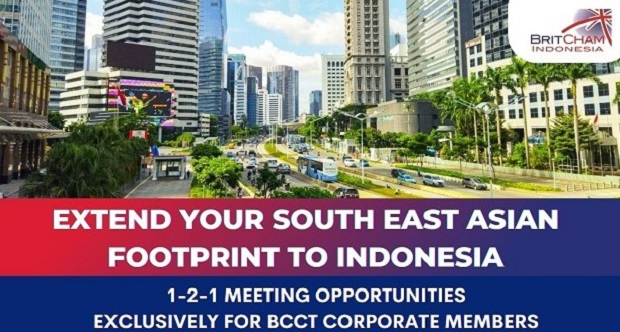 Your success in Indonesia is assured if you embrace the best ecosystem for market access and on-going guidance.
BritCham Indonesia has that fully comprehensive eco-system.
The size of Indonesia means that there are opportunities across all sectors. However, the following sectors are currently particularly attractive:
Healthcare

Education

Manufacturing & Technology

Niche Technology

Professional Services

Digital

Food, Beverage, and Retail
As you already have a South-East Asia footprint and if you are serious about exploring extending that footprint to Indonesia -trade or investment- Chris would be happy to meet you for an introductory chat as a pre-cursor to BritCham business service support for market entry.
To see all about BritCham Indonesia, click HERE
To view data on Indonesia, click HERE