BCCT SME WORKING GROUP MEETING
On Thursday 24th November at Ramada Plaza by Wyndham Bangkok Menam Riverside from 5.00 to 6.15 pm (i.e. immediately before the T3 Networking) – Members only.

Free entry. Booking please click HERE

To keep the sessions succinct, the number of attendees is limited to 15 pax including a moderator. We will publish the topics for discussion in advance, and invite our members to join on a first-come first-served basis.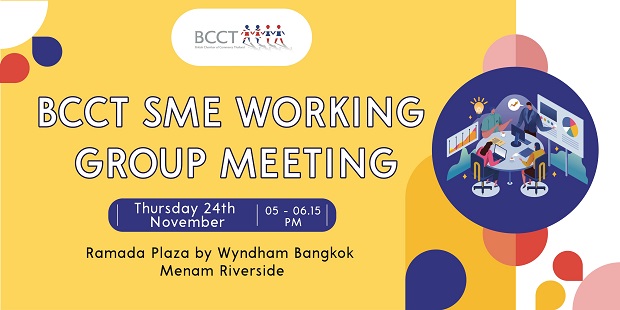 In this months BCCT SME Focus Group meeting,
We will conduct the first quarterly review of the SME group, gathering feedback on work done so far and progress on the following areas:

New 'find a member section'

Knowledge base / wiki

Promotional deck for members

BCCT social media

Working groups as member managers

Review BCCT website 'Layout / Information Architecture'

Revisit website / member social media links etc
The session will be moderated by former BCCT Board Member Gareth Davies of DDX.