BCCT MULTI-CHAMBER EASTERN SEABOARD CHRISTMAS EVENING
*Special thanks to our sponsors Budget/Payless, Bangkok Hospital Pattaya, RSM Edge Worldwide Logistics & Tellus*
* * * Come and join us from 5.30 pm for sunset drinks at the Beach Bar at the Royal Varuna Yacht Club (RVYC). Food is available from 6.00 pm and the formal event ends at 8.30 pm. Thereafter, drinks will be available from the RVYC main bar on attendees own accounts * * *
BCCT, in cooperation with AMCHAM, AustCham, BeLuThai, CanCham, GTCC, NTCC, SATCC & STCC, cordially invites you to BCCT Multi-Chamber Eastern Seaboard Christmas Evening.
Date: Friday 18th December 2020

Time: 5.30 - 8.30 00 pm (last drink ordered at 8.00 pm).

Venue: Beach Bar, Royal Varuna Yacht Club Map
Cost: THB 700 for BCCT and participating chambers members and THB 1,200 for non-members. Price includes food and free flow of soft drinks, beer and wine.
Booking & payment: HERE or email banthita@bccthai.com
Payment: Pre-payment secures booking. Pre-payment options are available here. No payment on the door. No walk-ins please. Thanks for your co-operation
Accommodation: Royal Varuna Yacht Club is offering special room rate THB 1,260/THB 1,575. RSVP: generalmanager@varuna.org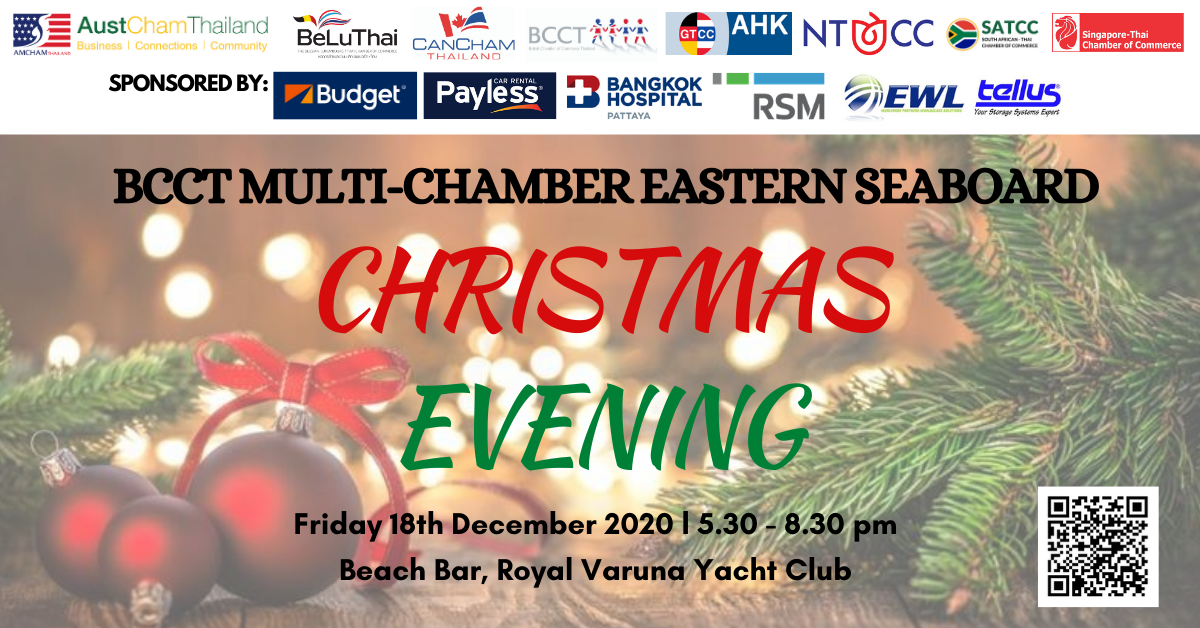 Menu:
Carvery: Whole Turkey + Cranberry; BBQ Ham + Mustard; Roast Beef + Horseradish
Hot Dish: Falaffel + Dips; Spinach Cream Cheese Roll; Bacon and sausage chipolata & Spring Rolls
Desserts: Mini Mango Passion Cake; Mini Chocolate Raspberry; Mango Sticky Rice
Transport: BCCT offers a transport leaving Bangkok at 1.00 pm (sharp) to Pattaya and returning the same night after the event. Cost is THB 500/person. If you are interested in joining us please email banthita@bccthai.com