BCCT MULTI-CHAMBER EASTERN SEABOARD CHRISTMAS EVENING
*Special thanks to our event sponsors*
Budget/Payless, Bangkok Hospital Pattaya, RSM, Edge Worldwide Logistics & Tellus
BCCT, in cooperation with AustCham, BeLuThai, CanCham, GTCC, NTCC, SATCC & STCC, cordially invites you to BCCT Multi-Chamber Eastern Seaboard Christmas Evening.
Date: Friday 18th December 2020

Time: 6.00 - 9.00 pm (last drink at 8.30 pm)

Venue: Royal Varuna Yacht Club Map
Cost: THB 700 for BCCT and participating chambers members and THB 1,200 for non-members. Price includes food and free flow of soft drinks, beer and wine.
Booking & payment: HERE or email banthita@bccthai.com
Payment: Pre-payment secures booking. Pre-payment options are available here. No payment on the door. No walk-ins please. Thanks for your co-operation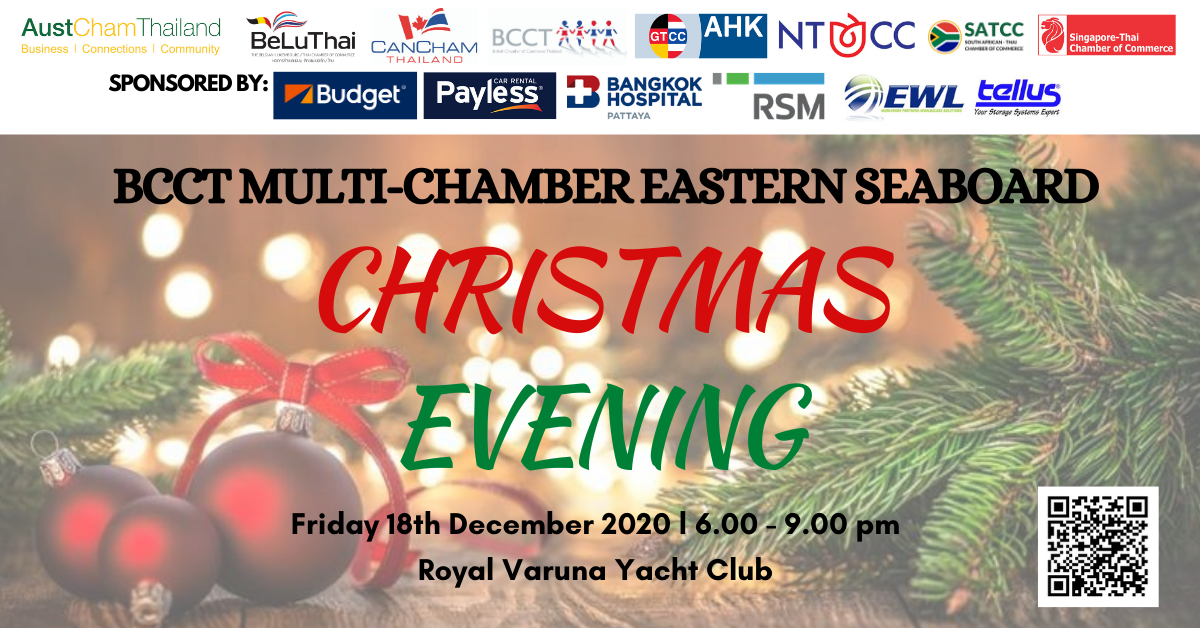 Menu:
Carvery: Whole Turkey + Cranberry; BBQ Ham + Mustard; Roast Beef + Horseradish
Hot Dish: Falaffel + Dips; Spinach Cream Cheese Roll; Bacon and sausage chipolata & Spring Rolls
Desserts: Mini Mango Passion Cake; Mini Chocolate Raspberry; Mango Sticky Rice
Transport: BCCT offers a transport leaving Bangkok at 1.00 pm (sharp) to Pattaya and returning the same night after the event. Cost is THB 500/person. If you are interested in joining us please email banthita@bccthai.com