BRITCHAM VIETNAM WEBINAR - RENEWABLE ENERGY: INVESTMENT OPPORTUNITIES IN VIETNAM
The British Chamber of Commerce Vietnam, supported by partners in SE Asia and in the UK, will be hosting a webinar on "Renewable Energy: Investment opportunities in Vietnam".
During the first half of the webinar, local experts in the Renewable Energy industry will provide an update of Vietnam's economy and a guide to investment in Renewable Energy via which attendees will be able to gain a deep insight into the country's industry. This solid foundation will help keen investors adopt an appropriate approach to pitches by local developers presented at the second half of the webinar.
With the participation of Mr. Ken Atkinson - Senior Board Advisors at Grant Thornton Vietnam, Mr. Denzel Eades - Co-founder & Managing Director at Pioneer International Consulting, and renowned project developers in Vietnam, the webinar promises to offer no less than practical knowledge to the audience helping them to plan wise Renewable Energy investments in Vietnam.
Date: Wednesday 16th September 2020
Time: 4.00 pm Vietnam time
Booking: Please click here
You can also contact BritCham Vietnam directly for support - Mr. Tuan Thieu (Toby) - tuan.thieu@britchamvn.com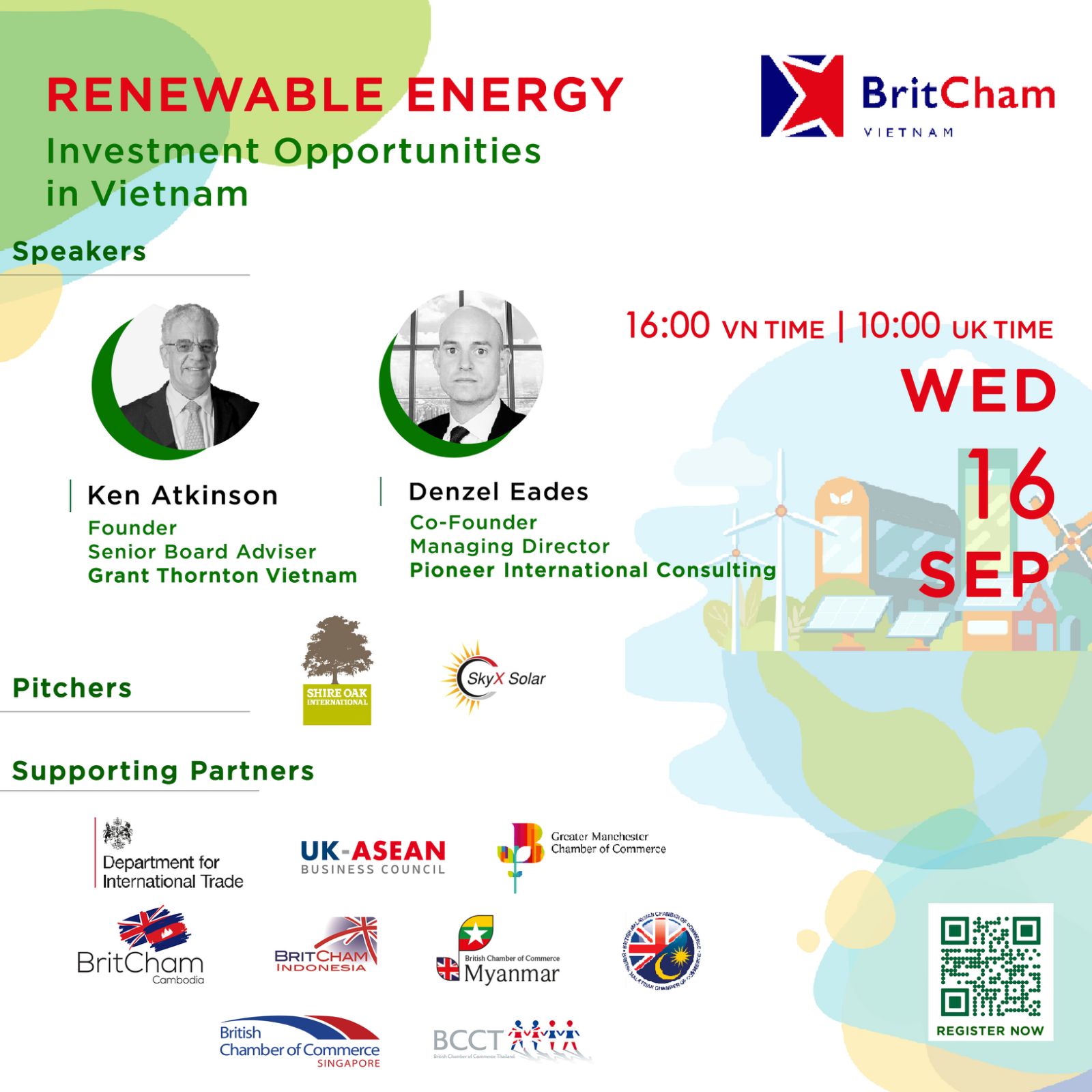 BRITCHAM SINGAPORE WEBINAR - INTERNATIONAL WOMEN'S DAY VIRTUAL CONFERENCE
BritCham Singapore is delighted to be hosting Dany Cotton, the former London Fire Commissioner, alongside speakers from Mercer, the University of Bath, Cisco and the Singapore Human Resources Institute during the conference. There will be breakout sessions and plenty of opportunities for Q&A.
Date: Tuesday 22nd - Tuesday 29th September 2020
Time: 4.00 pm Singapore time
Booking: Please click here
You can also contact BritCham Singapore directly for support - Ms. Lucy Haydon - lucy@britcham.org.sg