Bangkok Marriott Marquis Queen's Park
---
Experience "Signature Sensations" at Quan Spa this February & March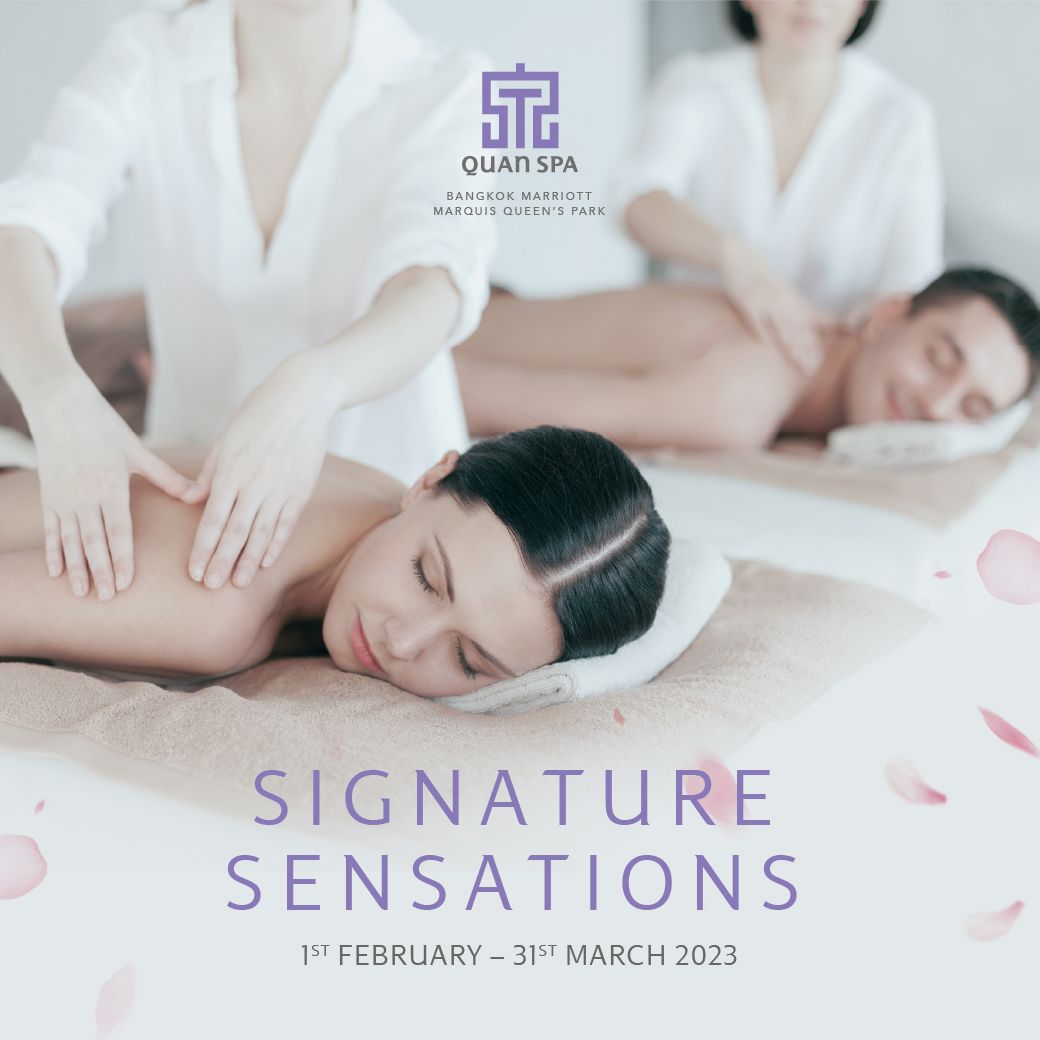 Bangkok, Thailand, 19th January 2023 – Quan Spa, the serene wellness sanctuary at Bangkok Marriott Marquis Queen's Park, is inviting guests to relax their bodies and revive their senses this February and March with a series of signature therapies.
Under the exclusive "Signature Sensations" promotion, wellness seekers can choose from three of Quan Spa's most iconic spa treatments, which blend ancient Asian wisdom and contemporary techniques to help guests achieve complete wellbeing. With options tailored to singles and couples – ideal for romantic Valentine's Day experiences – these signature therapies will help every guest to achieve mental, physical, and spiritual bliss. Simply choose from the following treatments:
Siam Oriental Massage (90 mins, THB 3,000 ++ per person)
Quan Spa's most popular treatment embraces the time-honored traditions of ancient Thai wellness and aromatherapy. A deep rhythmic massage with gentle twisting and stretching is combined with aromatic oils to ease tense muscles, increase circulation and boost the flow of energy around the body.
Acupressure Point Massage (60 mins, THB 1,900 ++ per person)
This traditional Thai ritual is wonderfully invigorating, targeting the body's natural pressure points to soothe tight muscles, increase circulation and enhance the circulation of "qi" energy around the body. Practiced without oil, this treatment will induce a deep sense of rejuvenation and renewal.
Aroma Fusion Massage & Mini Facial (90 mins, THB 3,200 ++ per person or THB 6,200 ++ per couple)
This wellness journey harnesses the natural healing power of essential oils to ease the muscles, relieve anxiety, and induce an overall sense of tranquility throughout the mind and body. Following a 60-minute aromatherapy massage, singles or couples will be fully refreshed with a mini facial.
For the Siam Oriental Massage and Aroma Fusion Massage, a choice of four oils is available, "Lavandula" which offers the floral fragrance of lavender, "Spirit" which exudes the natural aroma of rosemary and peppermint, "Energizing" which embraces the healing essence of yuzu, and "Hypo Allergenic" for people with sensitive skin.
The "Signature Sensations" promotion is available at Quan Spa every day (11.00 – 21.00 hrs.) from 1st February to 31st March 2023. For more information or reservations, please call + 66 (0) 2 059 5832 email mhrs.bkkqp.spa@marriotts.com or book via https://megatix.in.th/events/signature-sensations
To learn more about Bangkok Marriott Marquis Queen's Park, please visit:
Website: www.bangkokmarriottmarquis.com
Facebook: https://www.facebook.com/bangkokmarriottmarquis
Instagram: @Marriottmarquisbkk
###
About Bangkok Marriott Marquis Queens Park Hotel
The largest hotel in Bangkok and the first Marriott Marquis hotel in Asia Pacific, Bangkok Marriott Marquis Queen's Park is a new landmark in heart of the Thai capital. The hotel offers extensive facilities, including 1,388 rooms and suites, over 5,000m² of function space across more than 30 venues, two swimming pools, 24-hour fitness center, the Quan Spa and a collection of restaurants and bars. Centrally located on Sukhumvit Road, in Bangkok's vibrant business and entertainment district, the hotel is the perfect choice for all travelers to this pulsating city.
For media contact:
Rungkamol Kamolnithi (Game)
Cluster Director of Marcom & PR
+66 (0) 85 261 5665
Warapat Nithirujiyanun (Anne)
Senior Marcom & PR Manager
+66 (0) 65 519 9164
Warapat.Nithirujiyanun@marriott.com