Details:

BCCT MULTI-CHAMBER BREAKFAST BRIEFING: PDPA, a Perfect Backdoor for Hackers?

Everyone has heard about PDPA, the recent Global Data Privacy Regulation applicable in June 2022, in which any company that possesses data about any individual must comply with their request to verify, correct, or even erase the data in their database

Conforming means replying to satisfy everyone's request and accepting to disclose the information you are holding and accept to validate it, edit it, or possibly erase it.

Despite great intentions to protect the privacy of personal information, the implementation seems to have resulted in exactly the opposite.

Do you want to know how is this possible?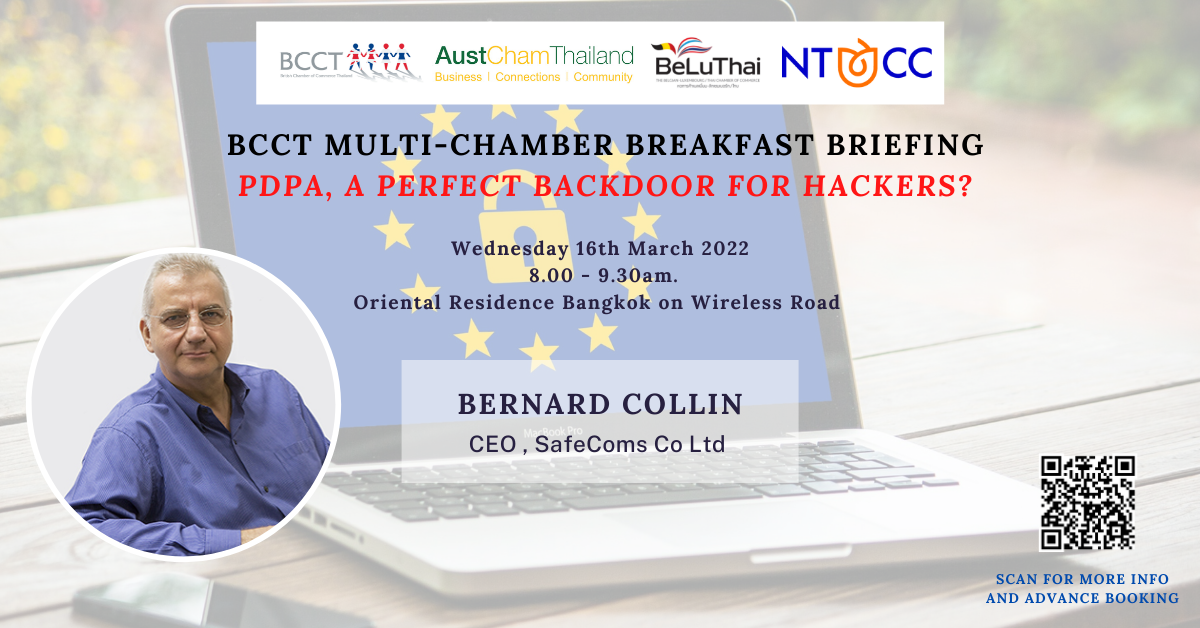 BCCT, in collaboration with AustCham, Beluthai and NTCC, is delighted to invite you to join us for a breakfast briefing on PDPA, a Perfect Backdoor for Hackers?
Event details:
Date: Wednesday 16th March 2022
Time: 8.00 - 9.30am (breakfast at 7.30)

Venue: Oriental Residence Bangkok on Wireless Road (BTS Ploenchit exit 2)

Speakers: Bernard Collin, CEO, SafeComs Co Ltd. Profile
Cost: THB 1,000 for BCCT/AustCham/Beluthai/FTCC/NTCC members and THB 1,500 for non-members.
Booking & payment: please follow booking link below or email rungjit@bccthai.com
*Pre-registration and pre-payment are required to confirm your booking. Payment options are available here. No payment on the door. No walk-ins please. Thank you for your co-operation*
Payment and Cancellation Policy:
- Advance payment is required to confirm your registration
- Free cancellation within 2 days before the event and payment will be refunded or transferred to next event's credit.
- Cancellation received less than 2 days and no-show are not able to receive refund or credit
*Proof of negative ATK test taken within 48 hours of arriving at the event to be shown at registration. A simple photo of a negative result with something that indicates date/time included will suffice.*