Details:

BCCT/AUSTCHAM/FTCC AIR QUALITY EVENING PANEL DISCUSSION

*Special thanks to IFS Facility Services, Meinhardt Thailand, Smart Build Tech and ACOEM *

BCCT, in collaboration with AustCham Thailand and Franco-Thai Chamber of Commerce, is delighted to invite you to join us for an evening panel discussion which can help you to understand Air Quality (both Pollutant and Pathogen (Covid) and its health impacts on you, your employees and your business both indoors and outdoors.

Event details:

Date: Thursday 24th February 2022

Time: 6.00 - 8.30 pm (6pm networking at Maxicana restaurant & 7pm briefing at Ballroom)

Venue: Rembrandt Hotel on Sukhumvit Soi 18 (BTS Asoke exit 6 or MRT Sukhumvit exit 2)


Speakers:
Eddie Loughrey, Director - Operational Excellence, IFS Facility Services Co. Ltd
John Mugford, Associate Director, Meinhardt (Thailand) Ltd.
Jon Pickford, Chief Executive Officer, Smart Build Tech International
Patrice Pischedda, Asia COO, ACOEM
Click here for more about speakers.
Cost: THB 800 for BCCT/AustCham/FTCC members and THB 1,000 for non-members including food, soft drinks, beer and wine.
Booking & payment: follow booking link below or email banthita@bccthai.com
*Pre-registration and pre-payment are required to confirm your booking. Payment options are available here. No payment on the door. No walk-ins please. Thank you for your co-operation*
Payment and Cancellation Policy:
- Advance payment is required to confirm your registration
- Free cancellation within 2 days before the event and payment will be refunded or transferred to next event's credit.
- Cancellation received less than 2 days and no-show are not able to receive refund or credit
*Proof of negative ATK test taken within 48 hours of arriving at the event to be shown at registration. A simple photo of a negative result with something that indicates date/time included will suffice.*
Menu:
Cold: Tomato mozzarella salad/ Mexican corn salad/ Spicy salmon and lemongrass salad/ Corn Chips & Salsa/ Bread Station with butter/ Yam woonsen with shrimps
Hot: Samosa/ Steamed Gyoza with soya sauce/ BBQ pork rib/ Deep-fried shrimp cake/
Main: Beef stew with soft polenta/ Seabass with lemon-butter sauce/ Butter chicken / Naan/ Roasted duck red curry with grape/ Jasmine rice
Carving: Roast honey ham serves with apple sauce
Dessert: Vanilla roll/ Green tea cake/ Blueberry cheese cake/ Mango & sticky rice in cup/ Churros with ice cream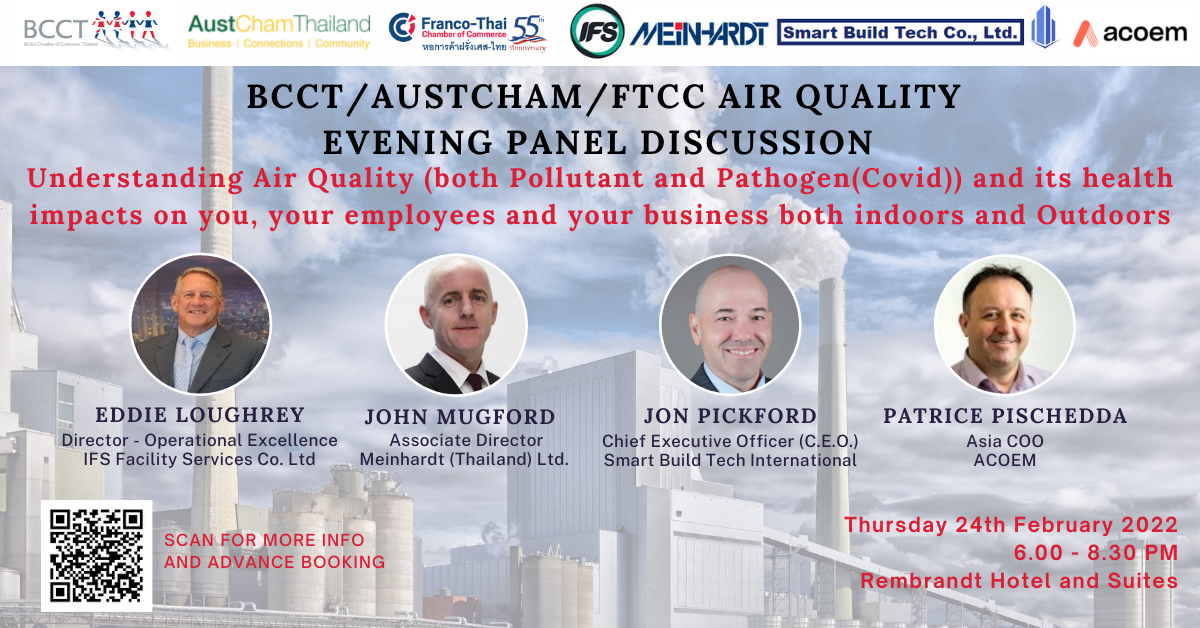 Air pollution is a critical issue in Thailand. According to the State of Global Air 2020 Report, there were about 32,000 premature deaths in Thailand in 2019. We know that exposure to air pollutants can have short-term health effects, such as irritation of the eyes, nose, throat and lungs, coughing, runny nose and shortness of breath. But the long-term effects of air pollution are much worse.
Outdoor air is clearly and issue, but consider that we spend over 90% of our time indoors and whilst we believe that we are safer indoors, the US EPA has advised that Indoor Air Quality is actually 2-5 times worse than outside air. Furthermore, our hermetically sealed buildings are breeding grounds for moulds, bacteria and virus (including Covid). What is your OH&S responsibility to your staff and visitors?
The more you know about the air you breathe, the more you can protect your health and take steps to make the air cleaner and healthier and we will cover in this presentation the following topics and is directed at Facility Managers, HR Directors and Managers, Senior Management and Property Owners:
Gases, PM, AQI: what are the different pollutants and what are their impacts?

Reference measurements and Ambient Air Quality Monitoring Stations: source of reliable data

Monitoring of Air Pollution in Thailand: The Thai Pollution Control Department and their achievements

Evolution of the outdoor Air quality in Thailand and possible action plans.

Indoor Air Quality - Why is it worse than outside air.

Indoor Air Quality Monitoring

Indoor Air Quality Solutions

What is a "Sick Building" - Micro-organisms and pandemic control in our buildings and offices