Details:

2/9 - BCCT WEBINAR ON DEBT RESTRUCTURING: THROUGH THE COURT - THE BASICS

The British Chamber of Commerce Thailand, in cooperation with DLA Piper (Thailand), would like to invite you to join this webinar on "Debt Restructuring: Through the Court - The Basics", with a guest speaker from the firm, Waranon (Warren) Vanichprapa, Partner and Co-Country Managing Partner.

This webinar will specifically cover key benefits and problems in a court supervised rehabilitation procedure in Thailand. This includes key parties in the process, an overview of the procedures and end results achievable.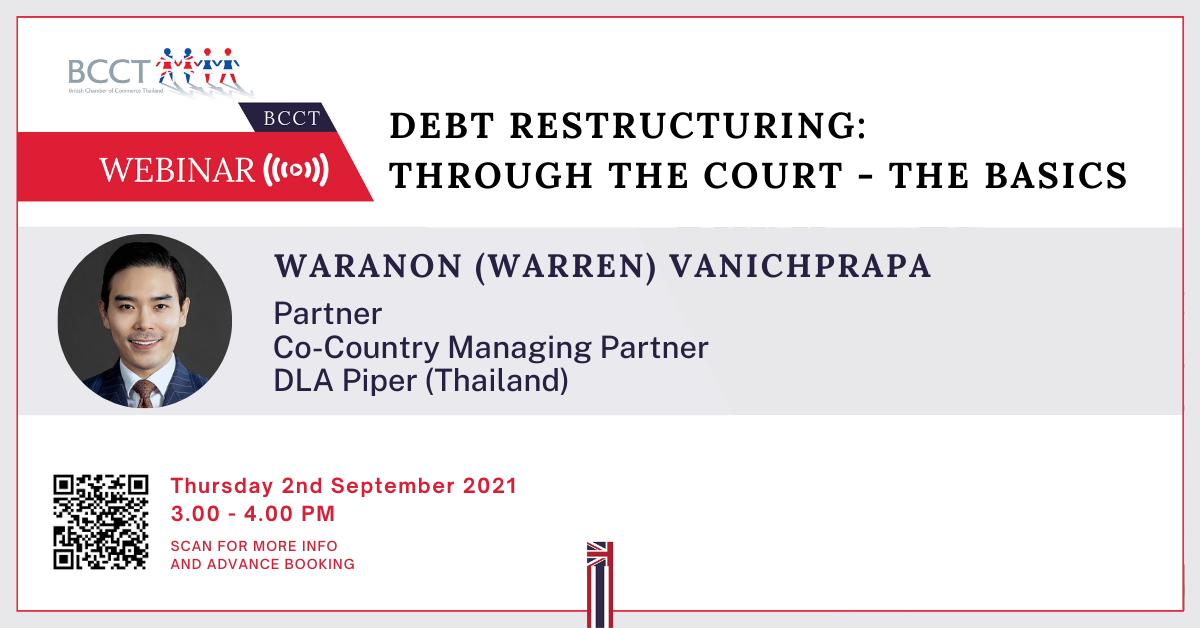 Date: Thursday 2nd September 2021
Time: 3.00 - 4.00 pm presentation followed by Q&A
Cost: free of charge
Booking: to register in advance for this webinar please click below or email banthita@bccthai.com
The Zoom webinar link will be sent directly to your email one day in advance before the event date.
Speaker: Waranon (Warren) Vanichprapa, Partner and Co-Country Managing Partner, DLA Piper (Thailand) Limited
Waranon (Warren) Vanichprapa is a leading banking lawyer in Thailand and he focuses on all types of bank lending transactions, cross-border deals, acquisition finance, structured finance, interbank lending, export credit financing, projects and debt restructuring. Warren has substantial experience in advising leading financial institutions and multi-national corporations on their most complex financing and restructuring transactions, financing regulatory matters, bankruptcy and commercial law issues.
With his professional background including years of practice in London, Hong Kong and Singapore, Warren has been appointed to advise foreign clients on their demanding inbound investment as well as leading domestic clients on their most complex and often first outbound investments.
Warren has been recognised by various leading legal directories and publications such as Chambers Asia Pacific, Legal 500 Asia Pacific and IFLR1000 over the past 14 years. His recent deals won many prestigious awards including "Best Deal of the Year: Best Acquisition Financing" and "Best Cross Border Financing" where he acted for leading banks in Thailand. Profile