Details:

1/6 - BCCT DIGITAL TECHNOLOGY WEBINAR: WFH - SOLUTIONS FROM TECHNOLOGY, ORGANIZATION & LEADERSHIP

As the realities of COVID and the "new normal" settle in, companies of all sizes across all industry segments are grappling to adjust their business models and ways of working. The pandemic has initiated the world's largest experiment on remote working and it is clear that working from home is here to stay. WFH will be the next topic covered by the Digital Technology Committee of the BCCT looking at actionable best-practise and solutions provided by technology, organization and leadership.

Covering the topics of technology will be Neil van Heerden, Country Manager Thailand, Neos IT Services Ltd. and Vasupon Thankakan, Microsoft Azure Business Group Director, Microsoft (Thailand). Learn more about how having large parts of your organization working remotely and accessing sensitive customer data can pose challenges from a security and collaboration perspective and learn what technology tools are available to help you address these issues.

Barny Swainson, Senior Director, Capital Markets & Investment Services, Colliers International will be shedding light on the changing landscape of office space and how companies are adjusting to the new normal. Discover what alternative options there are to the traditional office space to not only manage costs effectively but also continually engage both your employees and customers.

The topic of leadership will be covered by Jean-Paul Binot, Head of Outsourcing, Grant Thornton, who will shed light on modern leadership and organizational tools available to continue engaging your employees and drive high productivity.

Our moderator is Tanrak Chiengtong, Head of Marketing (Food), foodpanda Thailand.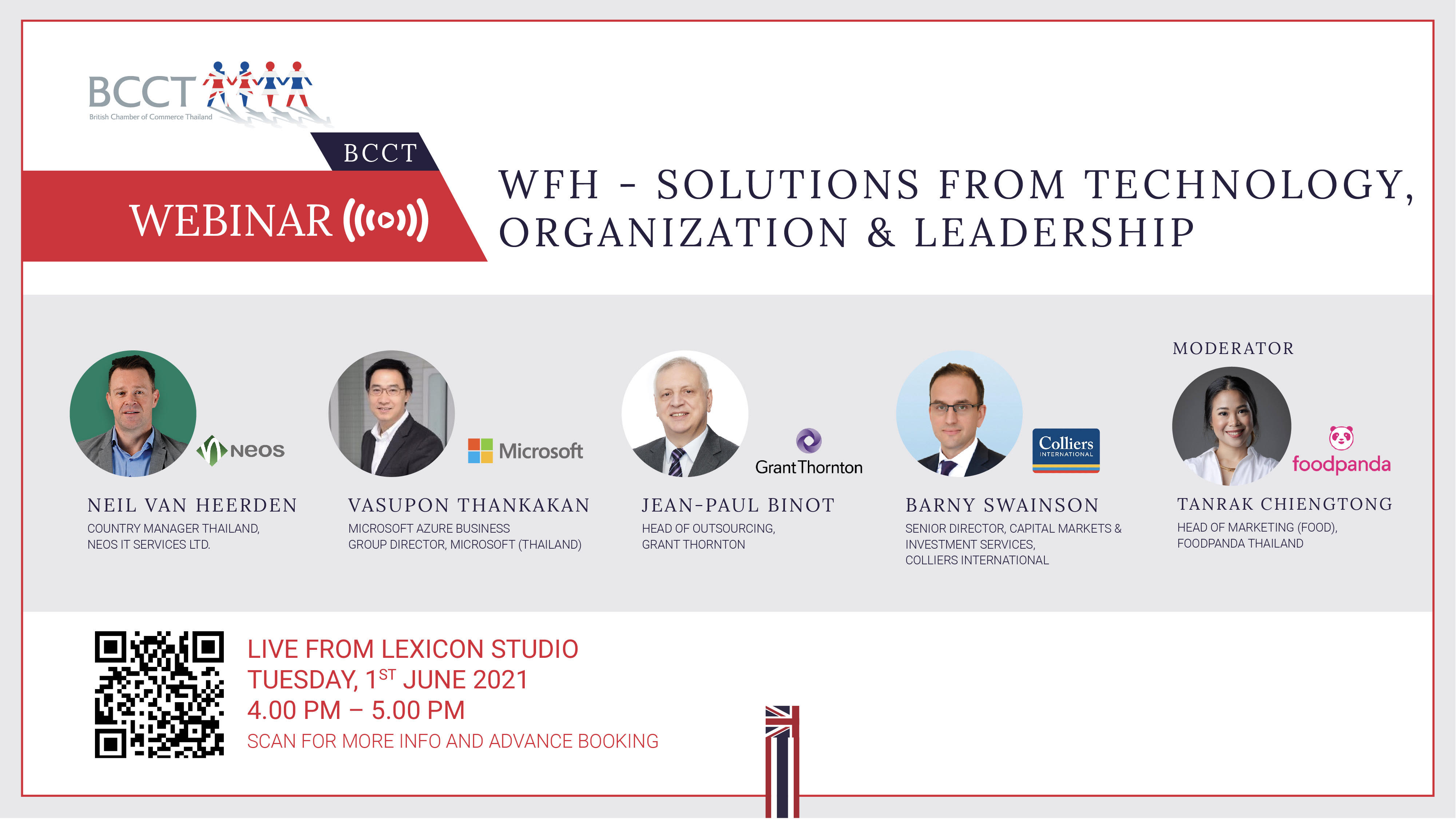 Date: Tuesday 1st June 2021
Time: 4.00 - 5.00 pm presentation followed by Q&A
Cost: free of charge for BCCT members only. THB 500 per person for non-members.
Booking: to register in advance for this webinar please click below or email banthita@bccthai.com
The Zoom webinar link will be sent directly to your email one day in advance before the event date.
Speakers:
Technology
Neil van Heerden, Country Manager Thailand, Neos IT Services Ltd.
Vasupon Thankakan, Microsoft Azure Business Group Director, Microsoft (Thailand)
Organisation
Barny Swainson, Senior Director, Capital Markets & Investment Services, Colliers International
Leadership
Jean-Paul Binot, Head of Outsourcing, Grant Thornton
Moderator:
Tanrak Chiengtong, Head of Marketing (Food), foodpanda Thailand