Details:

BELUTHAI, BCCT & NTCC EVENING

QUICK REVIEW 2020, FAST FORWARD INTO 2021:

A SECTORIAL OVERVIEW AND PROGNOSIS OF THE YEAR TO COME

BCCT members are invited to join our co-branded event on Tuesday 1st December at BarSu underneath the Sheraton Grande hotel near Asoke for an interactive straight talk discussion together with our BeluThai and NTCC friends.

The current 2020 year which started off well for most industries and sectors, changed into a complete unprecedented scenario never seen before and heavily impacted us all.

Together with Rob Hurenkamp, Managing Partner of the recently rebranded Mazars Thailand we'll zoom into a few important sectors for the Thai economy and how the outlook for the new year 2021 looks like.

Will we see the same levels of business confidence as before, who are the clear winners or will things get worse for some specific sectors? How does a "new normal" actually looks like in the near future?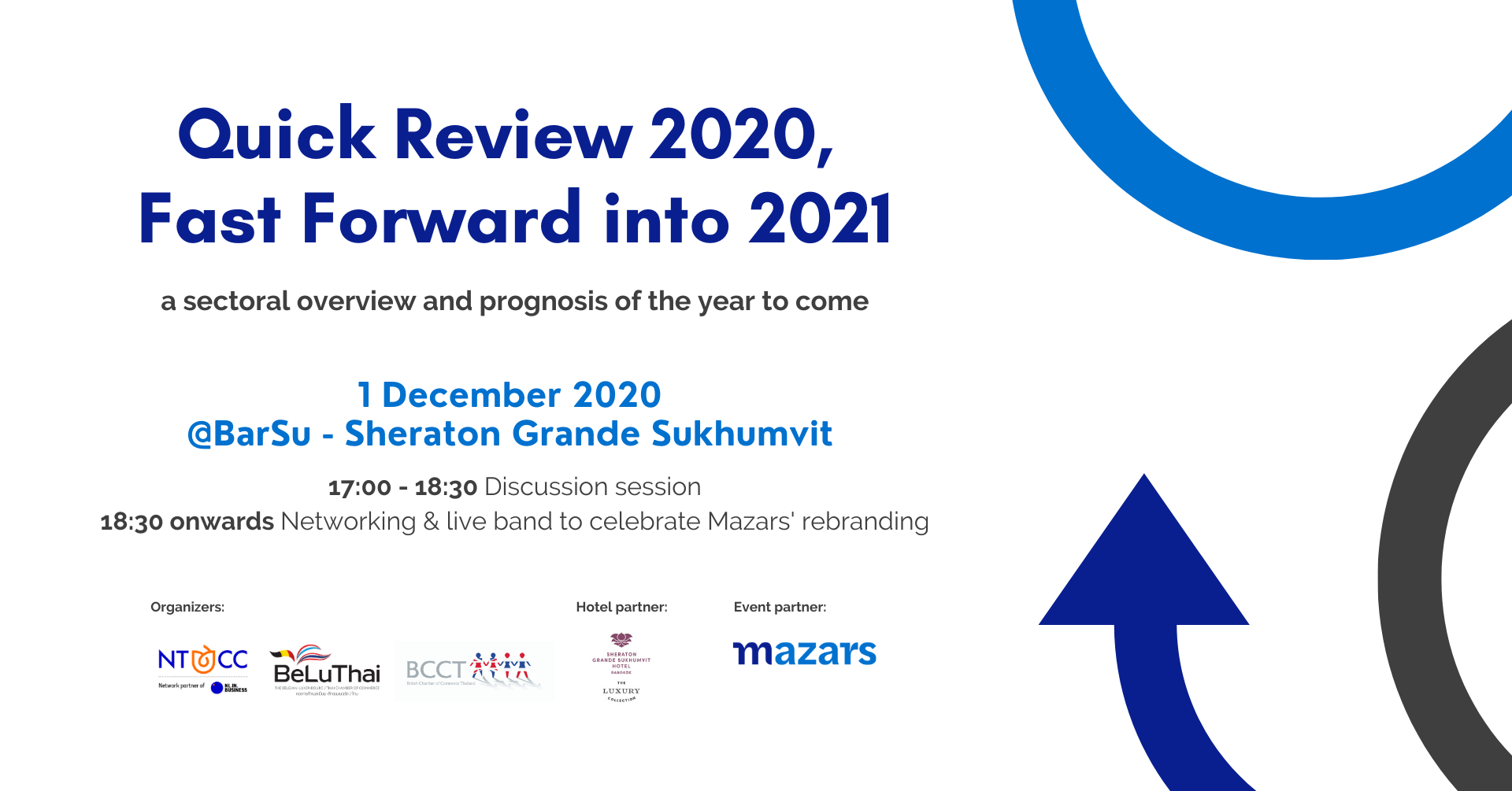 Event Details:
Date: Tuesday 1st December 2020

Time:
5:00 – 5:30 pm Rregistration (maximum seating 80 persons, first-come first serve basis)
5:30 – 6:30 pm Panel discussion moderated by Mr. Rob Hurenkamp, Managing Partner Mazars Thailand
Panelists: Representatives from the NTCC, BeLuThai and BCCT
6:30 pm Rebranding Mazars networking event with live band entertainment!
Venue: BarSu (underneath Sheraton Grande)

Cost: Free of charge. First drink offered by Mazars Thailand and special reduced prices for alcoholic beverages will be applicable.

Booking: HERE