Details:

BCCT/AUSTCHAM/CANCHAM EVENING PANEL DISCUSSION ON NEW E-COMMERCE AND PROPERTY TAX

BCCT in cooperation with AustCham and Cancham invite you to attend the Tax Briefing on New E-Commerce and Property Tax, with open panel discussion on other recent changes in Thai taxation.

After much consideration, Thailand is set to regulate tax revenues from foreign digital transactions by reforming Thai E-Commerce tax laws to impose VAT on foreign electronic service providers and foreign digital platforms, such as: social media, hotel bookings, online booking platforms, and streaming media. John Casella, Partner at PKF Tax and Consulting Services (Thailand) Ltd., will deliver a brief presentation on the new e-VAT Services Act and its implications on E-Commerce in Thailand.

Similarly, after its effective date in March 2019, the new Land and Building Tax Act B.E. 2562 starting to see significant enforcement throughout parts of Thailand, after multiple Royal Decrees enacted to soften the COVID-19 impacts for tax filings in 2020. Khun Picharn Sukparangee, Partner at Bangkok Global Law, will deliver a brief presentation on the latest updates and implementation of the new Property Tax in Thailand.

Then Khun Picharn and John will be joined by Jonathan Stuart-Smith, Tax Partner at EY Thailand, in an open panel discuss to accept attendees' questions from the floor on the above topics and any other recent changes in Thai taxation.

Event details:

Date: Tuesday 27 October 2020

Time: 6.00 – 8.00 pm

Venue: Sheraton Grande Sukhumvit (directly connected to Skytrain Asoke exit 5 or MRT Sukhumvit exit 1)

Cost: THB 800 for BCCT/AustCham/Cancham members and THB 1,000 for non-members including food, soft drinks, beer and wine.

Payment: Pre-payment secures booking. Pre-payment options are available here. No payment on the door. No walk-ins please. Thanks for your co-operation

Booking: to follow booking link below or email banthita@bccthai.com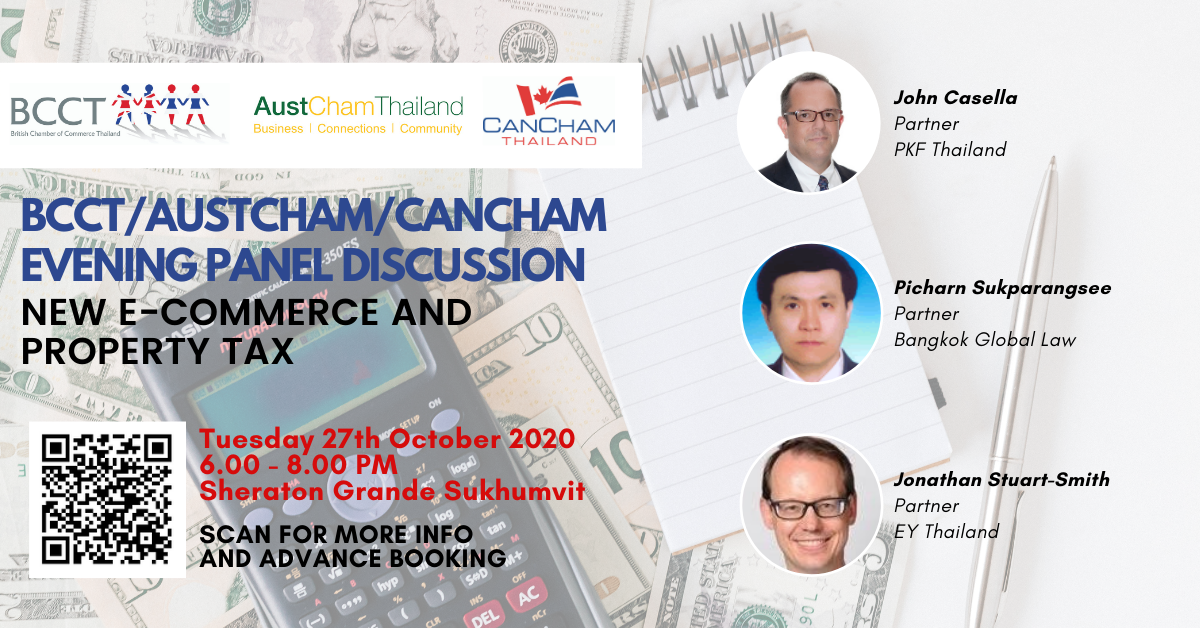 More about speakers:
John Casella (PKF Thailand) has over 28 years' experience in tax, accounting and consulting services for a wide range of companies and projects in South East Asia and North America. He joined PKF in 2013 after building up a strong team at Baker Tilly, where he was partner in charge of Tax and Business Solutions. At PKF, John is directly focused on the growing the tax advisory and corporate legal teams, as well as provision of integrated services to accounting and payroll clients.
Picharn Sukparangsee (Bangkok Global Law) is a founding partner of Bangkok Global Law. Specialised particularly in finance, securities and taxation law, he is also an experienced litigation law and handles very important cases involving legal disputes. Picharn is an active member of the Legal and Tax Committee of the British Chamber of Commerce Thailand and the American Chamber of Commerce in Thailand.
Jonathan Stuart-Smith (EY Thailand) is a Tax Partner at EY, specializing in International Tax, Transfer Pricing and Transactions. He started his career in London and has worked in Asia for 20 years; in Japan, Hong Kong, Singapore and, since 2019, Thailand. He is a UK Chartered Accountant and is an active member of the BCCT.