Details:

BCCT ONE-DAY WORKSHOP - LEADING THROUGH UNCERTAIN TIMES

Event details:

Date: Wednesday 26th August 2020

Time: 9.00 am – 5.00 pm

Venue: Amara Bangkok on Surawongse Road (BTS Chongnonsri exit 3/4 or MRT Samyan exit 1)

Speaker: Paul Marks, Managing Director, Change Works International

Language: This workshop will be conducted in English.

Cost: THB 7,500 for BCCT members and THB 8,500 for non-members including course materials, lunch and coffee breaks. To reserve your seat, please follow booking link below or email banthita@bccthai.com.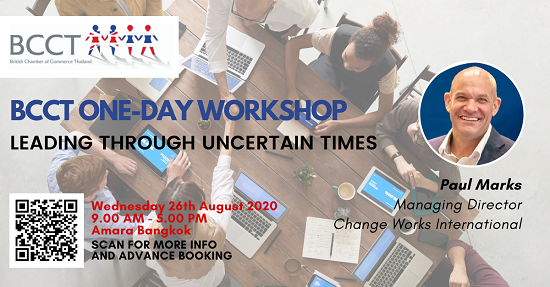 Overview:
The COVID19 pandemic has made us rethink about the way we do business now, and into the future. In recent months, organisations across the planet have experienced tremendous amounts of uncertainty, ambiguity and change. COVID19 has shown us that we cannot always control events, but we can choose how we wish to respond. For some organisations, it has been a valuable lesson and for others it has been their downfall. Those organisations that have been successful are those that have effectively mobilised their people to adapt, change and manage uncertainty with confidence.
In this one-day session, you will explore strategies, key attributes and skills that leaders need to develop or acquire in order to effectively lead followers through uncertainty with purpose and confidence.
Incorporating cognitive psychology and neuroscience, we will explore how uncertainty impacts people, their thoughts, emotions and behaviours. We will introduce and identify key strategies and steps that you can take as a leader to ensure that your people maintain good mental health, focus and performance while navigating change, ambiguity and uncertainty.
Agenda:
Introduce to leading through uncertain times

The brain and how people respond to change

Establishing a psychological safe environment

Creating a sense of certainty within uncertainty

Leading with empathy, connecting the dots and empowering others

Moving forward - My leadership action plan
About the Speaker:
Paul Marks is a business owner, entrepreneur with over 25 years' experience in international business and leadership. Over the last 15 years, Paul has facilitated and delivered leadership and team development programs to thousands of professionals from more than 55 countries across the globe. Making the connection between neuroscience, leadership and team performance, Paul endeavours to prepare and equip professionals with the knowledge and skills to thrive in an age of exponential change and disruption. Paul is known for delivering engaging, highly interactive programs with a positive energy. Profile