Details:

This event is kindly sponsored by Hill & Associates and PCS

BCCT WEBINAR #32 - HE EFFECTS OF THE CORONAVIRUS ON BUSINESSES IN THAILAND

Date: Friday 10th July 2020

Time: 6.30 - 8.00pm

Venue: via ZOOM

Speakers:

-Ian Betts, Country Manager of Hill Risk Consulting (Thailand) and Director of Mainland Southeast Asia, and Head of Risk Intelligence of Hill & Associates

-Martin Hurley, General Manager of Lancaster Bangkok and BCCT Board Director

-Bryan Bowman, Plant Director of Lucy Electric (Thailand)

Cost: free of charge

Booking: to follow booking link below.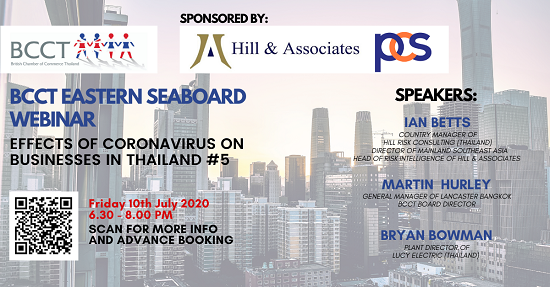 Ian Betts: with over 25 years of experience in Asia, Ian is Hill & Associates' Director for Mainland Southeast Asia, Country Manager for Thailand and Service Line Leader for Risk Intelligence. Ian joined Hill & Associates in Indonesia in 2007, serving as Country Manager there until 2014 when he relocated to London as Global Head of Risk Analysis for G4S. In 2017 he returned to lead the company's operations in Thailand and the region from Bangkok, managing a team of analysts throughout Asia. A published author, Ian provides expertise and strategic consulting on a broad spectrum of risk and security fields. Fluent in Danish and Indonesian, Ian has a B.A. (Hons) in the Humanities and an M.A. in International Studies.

Martin Hurley: General Manager of Lancaster Bangkok and BCCT Board Director & Chair of the BCCT Travel & Tourism Group. Prior to relocating in Bangkok Martin worked in London as a General Manager for the same owning company, having worked as a General Manager in London for over ten Years for both the Intercontinental Hotel Group and Whitbread Hotels. In 2018 he established a Bangkok Hotel General Managers networking group; with a following of over 120 GM's who meet regularly to discuss the issues facing the tourism industry, and enjoy industry specific business briefings.