Details:

BCCT SITE VISIT TO TILLEKE & GIBBINS COUNTERFEIT MUSEUM

Counterfeit products that infringe upon the intellectual property of companies and individuals not only fool consumers and take money away from the creators, but also can endanger the users and those around them. Thailand and other Southeast Asian countries are making significant strides in combatting the trade in these counterfeits, and as the region's leading law firm for IP enforcement, Tilleke & Gibbins has been on the front lines of this ongoing struggle.

Over the years, the firm has amassed a large collection of counterfeit products. Originally, these were simply collected as evidence, and left to take up space in the firm's offices until it was decided in 1989 that these had the potential to educate others about the damage caused by trade in counterfeit products. Today the Tilleke & Gibbins Museum of Counterfeit Goods is one of only a handful of such museums worldwide. It contains some 4,000 examples of counterfeit goods, spanning a startling and unexpected range of products, from high-tech industrial equipment to every imaginable kind of consumer goods.

Sukontip Jitmongkolthong, a partner in the firm's IP practice, will introduce the general principles of IP enforcement in Thailand. The discussion will cover IP enforcement strategies, measures, and authorities in Thailand, and will also highlight the modern challenges of IP enforcement in the online environment, and the new frontiers created for counterfeiters by online distribution channels.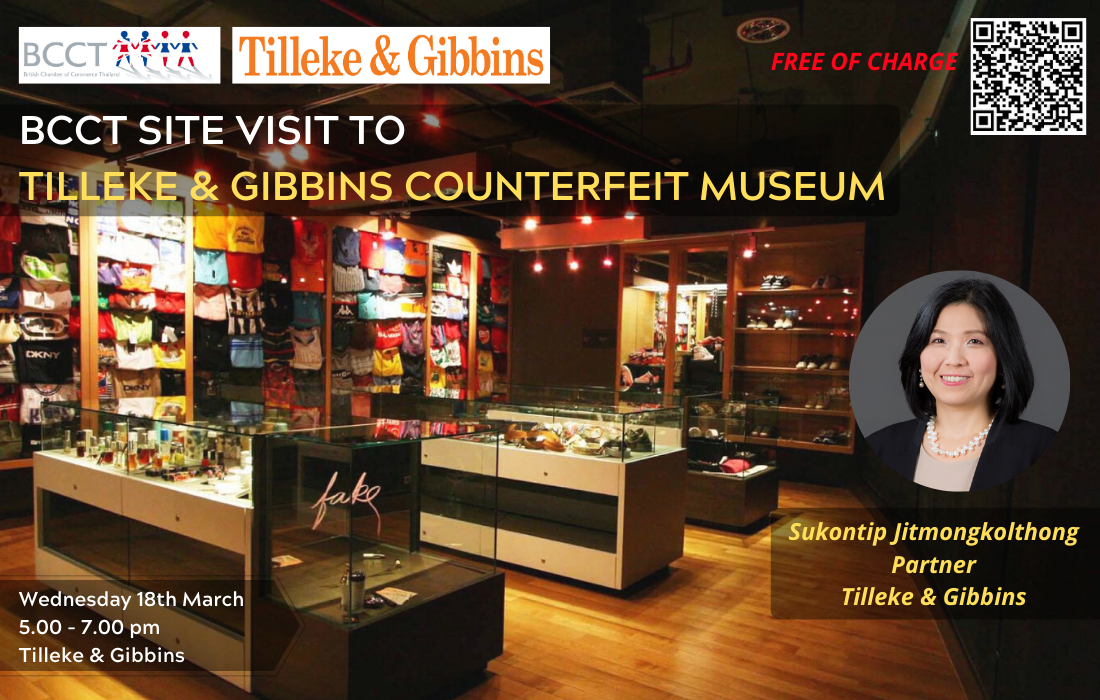 Event details:
Date: Wednesday 18th March
Time: 5.00 – 7.00 pm
Venue: Tilleke & Gibbins, 26th Floor, Supalai Grand Tower, 1011 Rama III Road, Chong Nonsi, Yan Nawa, Bangkok 10120 (map)
Cost: Free of charge. Complimentary finger food, wine, and soft drinks will be available throughout the evening.
Booking: Pre-registration is required. NO WALKS-IN. To reserve your seat, please click HERE or email banthita@bccthai.com
Agenda:
5.00 – 5.30 pm Registration & Networking
5.30 – 6.00 pm Presentation
6.00 – 7.00 pm Museum Visit and Networking
7.00 pm Close
About the speaker:
Sukontip Jitmongkolthong is a partner in the Tilleke & Gibbins intellectual property group. An expert in trademark, copyright, patent, and trade name legislation, Sukontip is routinely selected by international corporations for her proficient enforcement of valuable IP rights, with a focus on apparel, automotive, electronic, and fashion products, among other industries.
Her work includes pre-litigation assistance in cancellations and appeals against Board of Trademarks decisions, reviewing and/or drafting nondisclosure agreements and warning letters, mediation and negotiation, and coordinating with investigators, the Royal Thai Police, the Department of Special Investigations, and Customs in raid actions and other enforcement measures. Sukontip also frequently trains government authorities on product identification and is steadfast in making sure they continue to monitor Thailand's borders, ports, and marketplaces for counterfeit goods bearing our clients' marks.
Sukontip is an active member of the International Trademark Association (INTA), and sits on the Famous and Well Known Trademarks Subcommittee. She obtained her most recent professional training in Cross Border Technology Transactions from the Lex Mundi Institute in Monterey, California, and has also completed training in arbitration and patent law. She has also completed the Barrister-at-Law requirements of the Institute of Legal Education, Thai Bar Association.
IMPORTANT NOTICE: The Ministry of Public Health on 9 March issued a letter stipulating that (a) entrants to Thailand from the following countries: China (including Hong Kong and Macao), South Korea, Italy and Iran must stay in a Thai government approved quarantine area for 14 days after entering Thailand and (b) entrants to Thailand from the following countries: Taiwan, Singapore, Germany, France, Japan (Hokkaido, Tokyo, Aichi, Wakayama, Kanagawa, Chiba, Okinawa, Kyoto, Osaka prefectures) and Spain must be registered and self-quarantine themselves for 14 days after entering Thailand.
Accordingly, we must ask that any person who enters Thailand from any of the countries listed in (a) or (b) above, within a period of 14 days prior to the event date to PLEASE NOT ATTEND this event.
BCCT regrets having to impose this requirement, in the interests of safeguarding the health of all who do attend this event.
Should there be any further announcements from the Ministry of Public Health, they will be emailed to all to whom this event flyer has been sent.